Once again the bulls were able edge the bears out last week, though it was another 'just barely' case. Stocks advanced an average of 0.28%, which was even lass impressive than the prior week's 0.33% gain. The last two weeks are now the weakest two-week stretch we've seen since early December; the momentum is fading
We'll validate that conclusion with hard data below, but first, our usual look at some key economic numbers…which sent a very mixed message.
Economic Calendar
While the overall feel of recent economic announcements has been (very) mildly bullish lately, last week's wasn't as wholly encouraging - it was half good, and half bad. Let's break it down by those categories.
The good:
Pending home sales were up a solid 2% for January, so it comes as no surprise that Consumer Confidence shot up to 70.8 for February (confident people are willing to buy homes). That's the second highest score since early 2008, and almost topped that high pre-Fukushima reading of 72.0 for February of 2011.
Maybe that higher confidence level has something to do with more people finding jobs - even if not great jobs - than has been the case of late; initial and ongoing claims are at multi-year lows. And as it turns out, Q4's GDP growth was even better than first thought. Economists now say the economy grew by an annualized rate of 3.0% last quarter, rather than the initial guess of 2.8%.
The bad:
Durable orders fell hard. Real hard, as in a multi-year low dip of 4.0% with cars, but still lower by 3.2% excluding cars. It's a complete turnaround from December's 3.2% uptick in durable orders. Hopefully January's weakness was just a temporary reaction following December's big growth.
The Case-Shiller home price index said home process fell again, by 4.0% in December following November's 3.8% decline; no wonder pending home sales are up. Construction spending slumped 0.1% in January as well. It doesn't seem like a drastic decline, but considering the pros were expecting a 1.0% improvement following December's 1.4% increase, this is a concern.
Everything else is on the table below.
Economic Calendar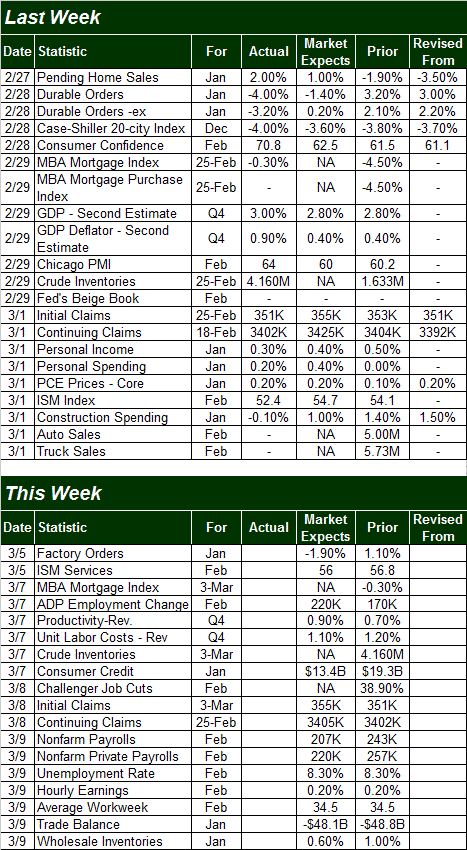 The coming week will be a moderate one, but an important one on the jobs front. Both ADP as well as government numbers are expected to show net job growth of more than 200K payrolls, although that's not expected to move the unemployment rate any lower than last month's 8.3%.
It's also going to be interesting to see how February's consumer credit levels have changed. The experts are looking for another dramatic increase, with this one being a $13.4 billion jump. The question is, will it be anything besides student loans pumping the number up? Most investors may not recognize that's the only reason the credit levels have been growing so enormously for the past few months.
S&P 500
After all was said and done, the S&P 500 Index (SPX) (NYSEARCA:SPY) only managed to gain 0.28% last week, up 3.89 points to close at 1369.63. Even with the gain though, there's just something flimsy about the rally now.
Above all else, it IS losing steam. It actually started losing steam in mid-February when the MACD lines gave us a crossunder and we started to see a bearish MACD divergence. It's been mild so far, and the SPX has been able to make forward progress despite the bearish MACD clue.
As was said above though, the last two weeks are the weakest we've seen in the last fourteen. We know that all big trends start out as small ones, but it's equally true that many new trends don't begin until the prior one final fades away. The clues say the prior bullish trend is finally fading away.
Even without the MACD lines though, you can visually see how the S&P is starting to make a slow, arc-shaped rollover effort. Causing at least part of that downward pressure is the upper 20-day Bollinger band (gray) moving down and into the SPX's daily bars; you can also see that the 20-day upper Bollinger band is starting to pull back from the upper 50-day Bollinger band (orange). This is another subtle clue that momentum is waning. Take a look.
S&P 500 - Daily
click to enlarge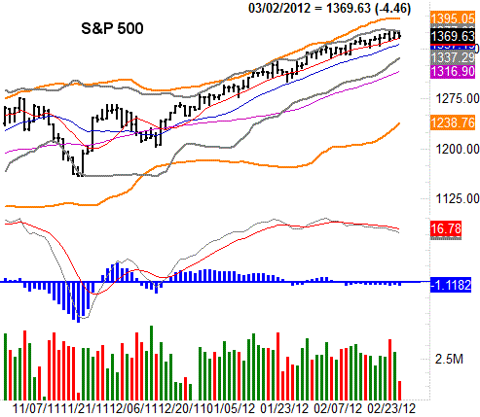 While several - too many - bearish red flags are falling into place, there's one undeniably bullish reality that should give pause to any bearish assumptions…. the market is still trading above its 10-day moving average line (red). It's even using it as a floor to hold off the bears' attacks. Until it falls, we can't even begin to talk too bearishly, and really, the 20-day average line (blue) at 1357.2 is the ultimate make-or-break level here.
Bottom line? There's a ton of vulnerability built in here, though we've been saying that for three weeks. Each passing week, however, the bears make a bigger dent.
You'll notice the CBOE Volatility Index (VIX) (NYSEARCA:VXX) (NYSEARCA:VXZ) is omitted on this week's chart. That wasn't an accident - it's just not telling us anything important. It's just milling around the 18/19 area, on hold, while traders make a decision about what's in store for stocks next. Trouble is, very few of them are sure of what's in the cards.
Breadth & Depth
This is actually part of an analytical look we took at the market's undertow in the Investor's Edge service a couple of weeks ago, but the feedback was so positive we though it would be worth sharing with everyone - and even expanding it to the NASDAQ Composite (COMP), where the red flag is really waving now.
In simplest terms, we want to get a feel for the market's underlying strength by gauging participation and interest in the rally. We can do that by plotting the volume of rising stocks versus the volume of falling stocks, and by comparing the sheer number of stocks making forward progress versus the number stocks that are falling; t hose numbers are available for each exchange, so we've chosen to do the analysts for the NYSE as well as the NASDAQ.
Now, the day-to-day data is too erratic to analyze, but we can spot a trend, or trends, by plotting moving averages of all that data. That's what we've done below (the heavier lines), starting with the NYSE's breadth (advance/decline) data and depth (up volume/down volume) data, compared to the S&P 500.
S&P 500 with NYSE Breadth and Depth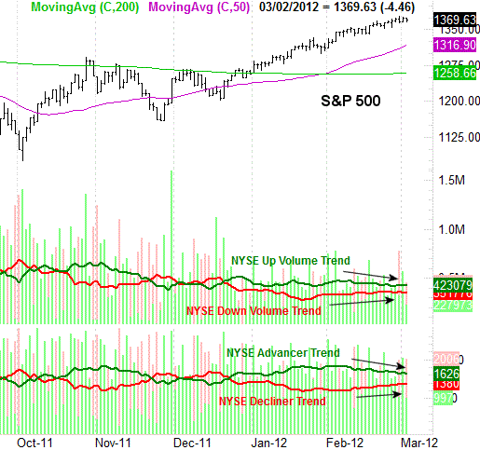 While it looks like the NYSE's volume has stabilized before turning negative, the advancer/decliner trend is still moving towards a bearish crossover. As for the NASDAQ Composite...
NASDAQ Composite with NASDAQ Breadth and Depth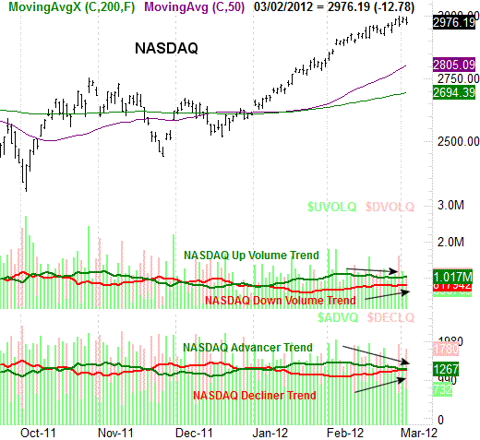 Like the NYSE's volume, the NASDAQ's volume trend staved off a bearish reversal after threatening to turn bearish in mid-February. We're still not out of the woods though. The NASDAQ's advancer decliner trend is literally on the verge of turning more bearish than bullish, and could do so with just one more bad day. [It's also pretty clear the NASDAQ's highly vulnerable following the 18% runup since mid-December; the sellers are testing the waters there.]
Clearly breadth and depth isn't an exact science, but it's a good clue about the market's true condition when the index and market (NYSEARCA:IWM) (NYSEARCA:DIA) (NASDAQ:QQQ) momentum aren't painting a very clear picture. If one or two (or more) of these breadth and depth trends give us bearish crossovers even if the market seems healthy at the time, we need to be very concerned.
Disclosure: I have no positions in any stocks mentioned, and no plans to initiate any positions within the next 72 hours.