"Basically, everything I try to do is to present an alternative to what somebody else is doing." - Matt Groening
Last Friday, Dominic Chu at Bloomberg reported on different ways to play the oil trade. The segment can be viewed here and provides a nice summary of the different alternatives to getting exposure to Oil, from going long the United States Oil Fund (NYSEARCA:USO) on the commodity futures side, to buying the Market Vectors Oil Services ETF (NYSEARCA:OIH) on the equity side. In the segment, Dominic referenced one idea I had for those who actually wanted to bet against Energy by going long Airlines.
Take a look below at the price ratio of the Guggenheim Airline ETF (NYSEARCA:FAA) relative to the Energy Select Sector SPDR ETF (NYSEARCA:XLE). As a reminder, a rising price ratio means the numerator / FAA is outperforming (up more/down less) the denominator / XLE.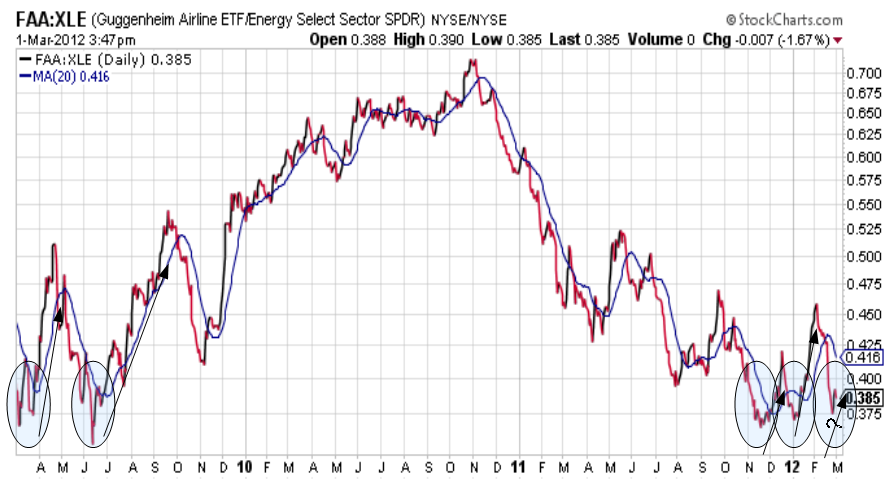 Clearly rising energy costs negatively impact airline profitability, but if history is any guide, Airlines may be on the verge of a period of strength given the industry's relationship to Energy stocks. I've annotated the chart to show that the price level we are currently at has been hit four other times in the past three years, after which Airlines began to outperform. Notice in February how severely the ratio declined as Oil prices moved higher.
As March begins, it does look like some potential improvement is happening. While it certainly is not a guarantee that Airlines perform well, I do think in many ways it may be a "safer" way to bet against rising Oil prices. I say this because if I am right about this reflation theme, whereby risk assets perform similarly to how they did in 2003 and 2009, then shorting anything in general becomes a difficult strategy.
Disclosure: I have no positions in any stocks mentioned, and no plans to initiate any positions within the next 72 hours.
Additional disclosure: Pension Partners, LLC, and/or its clients may hold positions in securities mentioned in this article at time of writing.