The media may want to continue its focus on Dow 13000. Moreover, perma-bulls appear determined to stick with the stories that could feed a buying frenzy, whether it is the Yelp IPO or a series of seemingly strong economic reports.
That said, there are a few things that are a bit hard to ignore. For instance, when the "risk-on rally" bounced off October lows, investors gravitated to riskier assets such as U.S. small caps. Since mid-February, however, small-cap enthusiasm has given way to large-cap resilience.
The S&P 500 and the Dow have been outperforming smaller companies in the Russell 2000 for nearly 1 month now. The evidence of the change can be seen in the SPY:IWM price ratio.
click to enlarge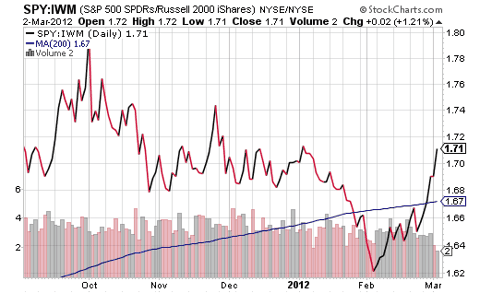 And this change in leadership is not the only warning sign. The Dow Jones Transportation Index is one of the few stock benchmarks that is currently below a 50-day moving average – a possible indication of future weakness by industrial corporations. Similarly, the weakness in the U.S. dollar at 2012's inception appeared to usher in an appetite for risk in global stocks and commodities. However, Powershares DB Dollar Bullish (NYSEARCA:UUP) literally trampolined off its 200-day trendline in the past week.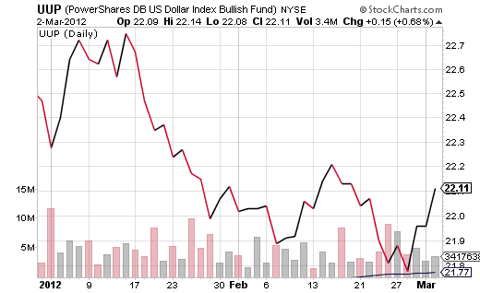 In truth, I would hardly characterize Dow Theory warning signs or flurries of U.S. dollar strength as death blows for the bulls. That said, the probability of corrective activity is exceptionally strong.
Of course, health-restoring pullbacks bring opportunities. With the world's central banks nearly united on traditional easing measures (e.g., lowering interest rates, lowering bank reserve requirements, etc.) as well as controversial quantitative easing endeavors (e.g., U.S. Fed, Europe's ECB, Japan's BOJ, etc.), reflation of stock and commodity prices should continue into year's end.
After the probable market hiccup, then, you may want to diversify with commodities that benefit from central bank policies. Some of the better ones include iPath DJ Sugar (NYSEARCA:SGG) on worldwide demand, ETF Physical Platinum (NYSEARCA:PPLT) on a current spot price below gold and Teucrium Soybean (NYSEARCA:SOYB) on humongous China imports as well as U.S. processed food needs.
ETF Expert Radio Show – 3/4/2012
Disclosure: Gary Gordon, MS, CFP is the president of Pacific Park Financial, Inc., a Registered Investment Adviser with the SEC. Gary Gordon, Pacific Park Financial, Inc, and/or its clients may hold positions in the ETFs, mutual funds, and/or any investment asset mentioned above. The commentary does not constitute individualized investment advice. The opinions offered herein are not personalized recommendations to buy, sell or hold securities. At times, issuers of exchange-traded products compensate Pacific Park Financial, Inc. or its subsidiaries for advertising at the ETF Expert web site. ETF Expert content is created independently of any advertising relationships.