In the past two years, I have written several articles describing companies in the healthcare sector. I am convinced that this sector has the potential to provide long-term, sustainable returns that exceed the overall market. Demographic trends and technological changes provide support for this thesis. Changes to the healthcare payment system are inevitable. Changes may include creation of a single payer system as envisioned by the current debate or they may reflect a different model. The unsustainable burdens of Medicare and Medicaid make the need for change compelling. In my opinion, the optimal solution would include a market-driven approach. The Medicare Advantage is a successful model that allows for individual choice while providing for cost containment.
In recent years, ambulatory surgical centers have emerged as a lower cost alternative to in-hospital surgical procedures. I believe this type of service embodies the goals of both consumers and insurers, i.e. individual choice and lower cost with better service and quality outcomes.
Amsurg (NASDAQ:AMSG) is a small player in this particular segment. FY11 revenues totaled only $786.9 million. However, the company has experienced steady, if unspectacular revenue growth. The one year, three year, five year and seven revenue growth rates are 11.9%, 10.2%, 12.3% and 13.4%, respectively. This consistency is important in that it makes the future a little more visible. In a similar vein, the operating margin, at 30.8% is off slightly from the three average of 32.23; the five year average of 33.38%; and, 34.11% for seven years.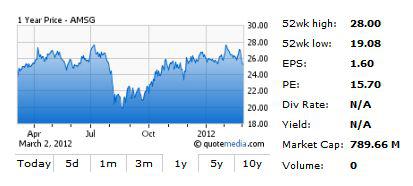 AmSurg is an ambulatory surgical center (ASC) operator. The company operates both single specialty centers and multi-specialty centers. According to the Centers for Medicare and Medicaid Services, there are approximately 5,300 Medicare-certified ASC's in the U.S. AmSurg has more than 200 ASC's in 33 states. The company's single specialty ASC's provide gastrointestinal endoscopy, ophthalmology and orthopedic procedures. The multi-specialty centers perform general surgical procedures, as well as procedures in the specialties.
The company is not the direct owner of these centers. They form limited partnership or limited liability companies and enter into limited partnership agreements with physician partners. The company usually has a majority stake in each limited partnership or limited liability company. Under these agreements, AmSurg receives a percentage of the net income and cash distributions of the entity equal to its percentage ownership interest in the entity. AmSurg's role is to manage each partnership and to oversee the business office, contracting, marketing, financial reporting, accreditation and administrative operations of ASC. The physician partners provide medical services and other front office operations.

The company has a December fiscal year end. For FY11, revenues grew 11.9% to $786.9 million from $703.4 million in FY10. For FY12, analysts estimate revenues in the range of $822.9 million to $1,011.45 million, with an average of $991.81 million. The consensus estimate would represent a surge of 26.0% and would be consistent with the 22% increase in revenues for 4Q11 over 4Q10. Revenue increases are attributed to a 15% rise in procedures and a 6% increase in revenues per procedure due to greater efficiencies.
The company is not immune to the increasing costs of doing business. Operating expenses increased 28.3%, year-over-year due to higher salary and benefit costs, supply costs and other operating expenses. The higher operating costs are reflected in the lower operating margin we see for FY11. As noted above, the company's operating margin is historically 200-400 basis points higher than it is now. The challenge for AmSurg is to stabilize its operating costs relative to revenue and then to wring greater efficiencies from its operations.
AmSurg's growth strategy hinges, at least in part, on acquisitions. During 2011, the company acquired 17 centers from National Surgical Care, Inc. In this transaction, AmSurg sold its interest in one center back to the physician partners. The company divested minority interests in three other centers for a net gain of 14 centers.
These, and other acquisitions, account for the relatively high debt levels the company reports. Long-term debt is $448.0 million, whereas cash and cash equivalents is $40.7 million. Long-term debt to capital is 42.1% and long-term debt to equity is 72.7%. These debt ratios are normally higher than what we would consider prudent. However, free cash flow is about $221.3 million and the coverage ratio is about 15.8X. The current ratio is 2.7, so we think this debt level is manageable.

Valuations based on the market price metric suggest that AmSurg is undervalued. Because of the high debt levels, valuations based on enterprise value metrics suggest that AmSurg is fairly priced if not overpriced.
We think AmSurg is undervalued based on free cash flow. If we assign a 5.8x multiple to the trailing free cash of $7.25, we get a value of $42.00. If we rationalize EV/invested capital and EV/Sales based on our assumptions of sales growth, ROIC, debt, operating margins and tax, we can estimate a value in the $40-$42 range. This confirms our estimate based on free cash.
Disclosure: I am long AMSG.