Legendary investor Peter Lynch once said: " Insiders might sell their shares for any number of reasons, but they buy them for only one: they think the price will rise." So investors should keep their close eyes on the insider buying news to spot the investment opportunities.
I recently came across microcap stock Spine Pain Management (OTCQB:SPIN). Spine Pain's CEO and 10%, owner, William Donovan, has been buying in Spine Pain since April 2011. Just recently, at the end of February, Spine Pain and NorthShore Orthopedics, which is wholly owned by Donovan, have reached an agreement to convert more than $1 million of the outstanding debt owed to NorthShore into SPIN common stock at the price of $1.83 per share. In return, Spine Pain would issue to NorthShore more than 557,000 restricted shares of common stock. This conversion can be considered the "insider buy" by Donovan, the company's CEO and 10% owner.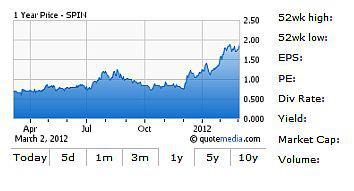 At the beginning of 2011, the share price traded at only $0.62. The stock price kept increasing and now it is $1.89 per share. So should the investors follow the CEO's recent "big buy" of his own company stocks?
Spine Pain is in the business of delivering turnkey solutions to spine surgeons, orthopedic surgeons and other healthcare providers for necessary and appropriate treatment of musculo-skeletal spine injuries. In Spine Pain's most recent balance sheet, the significant asset is account receivables (both short and long-term), with the total balance sheet value of more than $5.5 million. Even with the profit reported in fiscal year 2010, the cash flow from operation was negative. It resulted from the large increase in the receivables, which pushed up the revenue without generating any cash flow for the company.
Looking deeper into the debt conversion, NorthShore has an agreement of providing medical services as Spine Pain's independent contractor. The company's outstanding debt to NorthShore was incurred via this agreement. So Donovan, Spine Pain's CEO and 10% owner, has related transactions with Spine Pain via his wholly owned company. At the current price of $1.89 per share, the market is valuing SPIN at 21.3x P/E and 18.5x book value pre debt conversion and 9.8x book value post debt conversion. Personally, I do not think that this high valuation, combined with the negative cash flow generation, there will be a high probability of delivering good returns to investors. Investors should look deeper beyond the SEC filings to understand the real transaction of the "insider buy".
Disclosure: I have no positions in any stocks mentioned, and no plans to initiate any positions within the next 72 hours.