Yelp (NYSE:YELP) is a website that shows reviews for local businesses. The company made its public debut on Friday. There was great demand for the company's shares, which were offered at $15 per share. The opening trades took place at $22 per share and shares ended the day 64% higher to close at $24.58, valuing the company at $1.5 billion.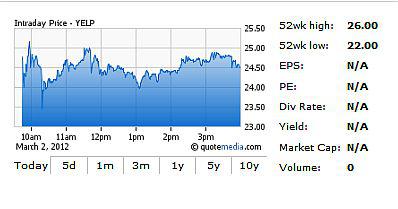 The offering
Underwriters set the initial price range at $12-$14 per share, but eventually Yelp sold 7.1 million shares at $15, thereby raising $107 million. Given the great success, the underwriters will undoubtedly exercise the green-shoe clause thereby selling another 15%, or roughly 1 million additional shares, raising the total amount of capital raised to $122 million. Analysts are enthusiastic about the offering, citing that the IPO market is becoming "hot" again ahead of the much-anticipated offering of Facebook (NASDAQ:FB).
Business model
CEO Jeremy Stoppelman sees "local" as an overlooked opportunity by bigger firms. The former EBAY (NASDAQ:EBAY) employee who left in 2002 started Yelp in 2004 and has expanded the website to a point where it now holds 25 million reviews and attracts 66 million unique visitors per month. Stoppelman believes that focusing on local environments allows for much more targeted marketing efforts and thus higher advertising rates for companies like Yelp.
Competition
Yelp has one direct competitor which already went public last year. Angie' List (NASDAQ:ANGI) which went public in November 2011, saw a first day return of 25% when shares closed at $16.26. Shares in that company fell 5.5% on Friday in reaction to the successful IPO of Yelp and now trade at $15.25- which values the company at $1 billion.
Besides the direct competition from sites like Angie's List, there are always the usual tech moguls which could become sizable competitors anytime. Google (NASDAQ:GOOG) bought restaurant review company Zagat last year, while Facebook already offers the possibility to review the outlet at which visitors have "checked-in".
Valuation
Like many IPOs, Yelp is not yet profitable. It saw spectacular growth in recent years, but at the same time saw losses expanding as well. For the full year of 2011, Yelp generated $83 million in revenue on which it lost $17 million. At this metric, the company is valued at 18 times revenues.
In comparison, Angie' List generated $90 million in revenue in 2011, but it lost a staggering $48 million. Angie's revenue multiple comes in at 10 times. The greater losses of Angie's do threaten the financial security in the medium term as the company burns through its entire cash position in two years, at this rate.
Besides the fact that Yelp has lower losses, it also shows much faster revenue growth. In 2011, Yelp showed 73% revenue growth vs. 50% for Angie's List, and the company is on track to surpass its competitor in total revenues for 2012.

Volatile returns
Valuing a business like Yelp is incredibly difficult to do. The public offering, which showed a massive 65% first day return, proves that the issue price was on the low side. This is despite the fact that the official offering price of $15 had already been raised from its initial guided offering range of $12-$14.
Future returns will be determined by revenue growth, margin improvement, but foremost by the possible entry of much bigger competitors such as Facebook or Google.
If those companies become serious about the "local" concept, great returns can be achieved if they prefer to acquire the likes of Yelp. If the companies decide to built their own platform, the future looks less bright.
Disclosure: I have no positions in any stocks mentioned, and no plans to initiate any positions within the next 72 hours.