Now with new data changes just announced by AT&T (NYSE:T) companies like Apple (NASDAQ:AAPL), Sirius XM (NASDAQ:SIRI), and Pandora (NYSE:P) will all be affected. Ironically AT&T stock is up over the last several months. Can this continue now?

Recently I wrote an article saying that you can not compare Sirius XM Satellite radio with Pandora Radio because Pandora is dependent on cell phone data or internet reception. Sirius XM internet radio is also limited to these. But Sirius XM Satellite Radio is not, and gets reception directly from a satellite signal. I used an AT&T data coverage map to show that both data and internet reception are flawed by the lack of coverage provided in the United States. All of the "white areas" do not receive any type of ATT data reception: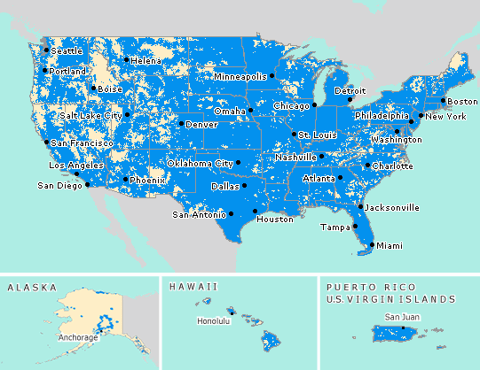 Click to enlarge
But something interesting came out in the Q&A section of that article. A lot of readers commented that the cost of data and internet is going up at an alarming rate which will further impact internet radio. I agreed, but found there were people that did not believe it. In the interest of knowledge I began to research internet and data costs and was shocked at how the costs are going up. Then during my research I found the new ATT "cap" on data which was released last Thursday, and the huge amount of data that voice streaming uses. Here are the highlights of Thursday's statement from ATT:
With mobile data usage continuing to skyrocket and the availability of spectrum scarce, AT&T, like other wireless companies, manages its network in the most fair way possible so that we can provide the best possible mobile broadband experience for all our customers.

Customers with a 3G or 4G smartphone - who also still have our unlimited data plan - will see speeds reduced if they use 3GB (gigabytes) of data or more in a billing cycle. Speeds will return to normal at the start of the next billing cycle. For context, less than 5 percent of smartphone customers use more than 3GB per month.
For customers with a 4G LTE smartphone - who also still have our unlimited data plan - data speeds will be reduced if usage is 5GB (gigabytes) or more in a billing cycle. Speeds will return to normal at the start of the next billing cycle.
The statement adds that this will only affect users with the "unlimited data plan", not the "tiered plans" that charge a set price when you go over your data limit. However, this will force a lot of unlimited data plan customers to opt for the more expensive tiered plans to stay at a higher speed all month. As mentioned in the statement this will only affect 5 percent of smartphone customers who go over 3GB per month. This should be a big reason for Pandora to worry. Since in the ATT model below an average user of 3GB per month would only listen to one hour of internet radio a day on their smartphone. Obviously some will listen to more or less music combined with more or less of the other types of data used. But only 5% go over this. This should also be of major concern to companies that advertise on Pandora. How many ads can you hear in just one hour a day.
| You Can Do All of This With Your Data | 3GB | 5GB |
| --- | --- | --- |
| Emails sent/received | 5000 | 7000 |
| Emails with attachments | 1600 | 2200 |
| Hours of streaming music | 35 | 75 |
| Webpages viewed | 4000 | 5600 |
| Apps/games/songs downloaded | 50 | 70 |
| Social media posts with photos uploaded | 700 | 1400 |
| Minutes of streaming video | 140 | 160 |
One hour of data consumption:
| | |
| --- | --- |
| Streaming HD Movies | 306MB |
| Standard Video Clips | 120MB |
| Streaming Audio | 30MB |
| Email | 5MB |
| Social Media | 5MB |
As you can see the streaming is the data hog! And streaming internet radio uses 30MB of data per hour of use. But these are the reasons that a lot of people want a smartphone in the first place. They want to "play" on them. Obviously if you are at home you can use the internet. But this is where it gets interesting. Now the costs of internet are rising, and as I found from a
price chart for ATT Uverse
Broadband only the more expensive plans include any streaming now.
| | Pro | Elite | Max | Max Plus | Max Turbo |
| --- | --- | --- | --- | --- | --- |
| Standard Monthly Rate | $38* | $43* | $48* | $53* | $63* |
| Downstream Speed | Up to 3 Mbps | Up to 6 Mbps | Up to 12 Mbps | Up to 18 Mbps | Up to 24 Mbps |
| Emailing | | | | | |
| Downloading Music | | | | | |
| Social Networking | | | | | |
| Sharing Photos | | | | | |
| Internet gaming | | | | | |
| Online Conferencing | | | | | |
| Watching TV / Video Clips | | | | | |
| Emailing / Uploading Files | | | | | |
| Downloading Movies | | | | | |
| Streaming Video | | | | | |
| Video Conferencing | | | | | |
Now the next thing to consider is how this will hurt smartphones. Especially the Apple iPhone. There are a lot of people who will definitely continue to use them. But with the new data limits combined with the rising cost of gas and loss of discretionary income there might be a lot of teenagers that get cut off. And what about the affect on AT&T stock. Will this be like a Netflix situation where consumers flee from AT&T to another provider, and maybe ditch their IPhone in the switch. I think that this move by AT&T will be extremely expensive for Apple and AT&T stock. And as personal budgets tighten, many consumers will opt for cheaper internet plans that do not include streaming. And this will hurt Pandora. It will affect Sirius internet also, but internet radio is not their "bread and butter".
When you add up all of these costs, it really makes you realize that a Sirius XM satellite radio that does not depend on internet or data, and only costs $15 a month is really cheap. As AT&T said in their statement above, data usage is skyrocketing, and the availability of spectrum is scarce. This will only get worse as more and more people get smartphones. And the costs will then continue to go higher. However these higher data charges may become a deterrent to getting a smartphone in the first place. There are some who think this might cause Apple to make a play for Sirius XM in the form of a direct buyout. Rather than using typical cell towers the iPhone signals could stream through the satellite signal. They have enough cash, that's for sure.
Disclosure: I am long SIRI.