Blizzard Entertainment, a division of Activision Blizzard (NASDAQ:ATVI), announced last Wednesday (February 29, 2012) that it "is conducting a global reduction in workforce of approximately 600 employees." This sparked a 2.25% selloff during nearly triple the average volume on Thursday and created a good opportunity to buy.
The Layoffs Are Not a Sign of Bad News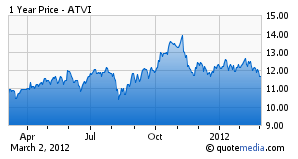 The common reaction to the news of mass layoffs is that the company in question is struggling to succeed. In many - even most - cases it is an accurate reaction. This time, it is not.
As described in my previous article, Blizzard Entertainment has a very positive outlook this year due to its strong release line-up. Diablo III, to be released in Q2, is currently the top selling PC game on Amazon.com (NASDAQ:AMZN). Later this year either an expansion to World of Warcraft or Starcraft II will be released. In the pipeline is Blizzard: DotA, a modification to Starcraft II, and Titan, a new massively multiplayer online role playing game. This is not the lineup of a struggling game designer.
The press release stated that
[t]he company anticipates approximately 90% of the affected employees will come from departments not related to game development. The World of Warcraft® development team will not be impacted.
This implies that the majority of the layoffs are to simplify the management structure of Blizzard to make it a more effective, efficient, and successful.
Nothing New
Active restructuring by Activision Blizzard to maintain and increase efficiency is nothing new. Since merging in 2008, significant money, time, and effort has been spent in "[reducing] studio headcount and corporate overhead." Indeed, last year saw the total ATVI employment drop by roughly 300 employees. Information has not been released as to where in the company these layoffs were from, but based on the positive FY2011 results, it would be hard to argue that it was related to poor results.
The majority of these restructuring efforts finished with the end of FY2011, but given the lack of evidence to the contrary, it is reasonable to assume that these layoffs are part of the winding down of this restructuring process.
Buying Opportunity
These layoffs do not portend a lackluster future for Blizzard, but indicate a more effective management structure that will boost profits, creativity, and corporate nimbleness. As people misinterpret these layoffs and sell, it offers a very lucrative buying opportunity for those who see it for the positive step that it is.
Disclosure: I am long ATVI.
Additional disclosure: I significantly increased my holdings of ATVI on Friday morning.