On February 24, 2012, Caterpillar (NYSE:CAT) hit a 52-week high of 116.95, capping an amazing 34% rise from its December 2011 lows. Since then, however, the stock has stalled and begun to regress. Shares of Caterpillar have declined nearly 4% despite gains in the Dow (NYSEARCA:DIA) and S&P (NYSEARCA:SPY) ETF indexes during the same time frame.
The tell tale sign for Caterpillar's underperformance and possible beginning stages of a correction occurred two trading days after the stock logged its 52-week high. On February 29, the stock price surpassed the previous day's high of 116.22, but closed below the previous day's low, settling at 113.68. Since then, the stock has consecutively made lower highs and lower lows in each trading day. This is a classic sign of a trend reversal and investors ought to take notice.

February 29 was also the day that Caterpillar closed below its 10 day moving average. The very next trading day, it closed below its 20 day moving average. This swift change to the downside was exacerbated by a much weaker than expected ISM Report on March 1 (PMI decreasing 1.7 from January to 52.4%). The next moving average to take notice of is the 50-day, which currently stands at $107.18 (as per Seeking Alpha). That number coincides closely with the trading on January 25th, the day before earnings were released. The following day, the stock gapped up to $112 from trading as low as $108.61 the previous day.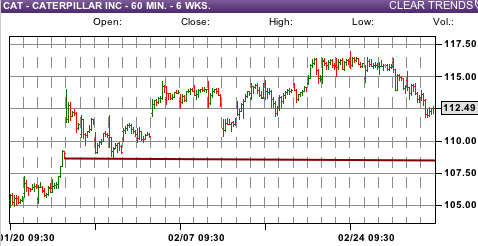 From a technical standpoint, Caterpillar looks destined to retest that earnings gap and possibly find support at its 50-day moving average. However, if that level is broken, the stock may retouch its 200-day moving average in the mid 90s. It is important to note that expert commentators have warned of a double top reversal in CAT as result of its failure to hold gains and decline substantially after breaking 2011's intraday high on February 24.
While it may be too early to make such a bold statement, one should look for high volume selling to confirm the bearish pattern. This week's trading leading to Friday's unemployment report will be critical in determining the stock's short term direction. If the past few days are any indicator, lower lows could very likely continue.
Disclosure: I have no positions in any stocks mentioned, and no plans to initiate any positions within the next 72 hours.