At the end of 2011, I named seven value stocks that I saw as great investments for 2012. The top two picks on my list were Intel (NASDAQ:INTC) and Microsoft (NASDAQ:MSFT), the two tech giants who offer decent dividends and are buying back billions in stock. Because Intel has a higher dividend and seems to be buying back more stock right now, it was my top value pick for 2012.
Now it has been a great start to the year for these giants. Intel is up 11.89% on the year so far, and Microsoft is up 24.39%. Those are spectacular returns for such large cap names, and both are beating the iShares Russell 1000 Value ETF (NYSEARCA:IWD), which is up just 8.22% on the year. Microsoft is also beating the Powershares QQQ Trust (NASDAQ:QQQ), which tracks the NASDAQ 100 Index, but Intel is trailing it. The QQQ is up 16.19% in these first two months, primarily due to the 34.61% gain in Apple (NASDAQ:AAPL), which is the largest holding. According to the Fund Holding page, Apple accounts for nearly 17.5% of the ETF, while Microsoft's weighting is 9.3% and Intel is at 4.73%.
Since it was my top pick, I'll focus on Intel the most here. A nearly 12% gain for Intel in just 2 months is impressive, but most of the gains were in the first few weeks of the year. Take a look at the following chart of Intel, year to date.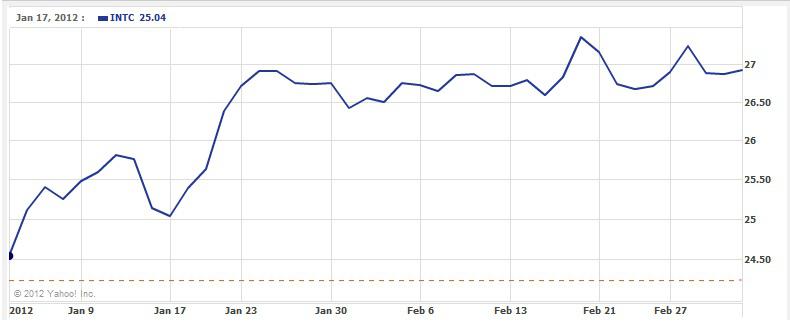 As you can see, Intel is basically flat since the first week of February. In fact, since February 8th, it is up just 8 cents. Intel, like the broader market, seems to be struggling at these levels.
That is why I am recommending that current longs, who have some gains in Intel this year so far, sell some calls against their position. I'm not looking for a true correction in the name, so I wouldn't buy puts here. I would sell an equal number of calls to your position, so if you have 500 shares, I would sell 5 calls. I would recommend selling the $28 strike, which is about 4% higher than the current price.
My recommendation for which month is the April expiration, but be advised that Intel is scheduled to report earnings on April 17th. That is a Tuesday, and these options will expire at the end of the week. Should you want to close out the options position prior to earnings, you will have time to do so.
So why did I choose the April $28 calls to sell? Well, as of Friday's close, you can sell them for $0.41. That basically gives you an extra 1.5% dividend on the stock, and you are only holding for a month and a half, which isn't the longest holding period.
Now, remember, I said this strategy is for investors who are already holding Intel shares. This trade is not recommending buying Intel at this price and selling the calls as well, but that is your decision. I am simply recommending this to investors who hold Intel at a gain currently, say, someone who got in earlier this year at $25 or $26.
So what are the possible outcomes of this strategy. Well, let's assume you bought 100 shares at $25. For this trade, you will sell one $28 April call for 41 cents. For purposes of this argument, we are ignoring commission costs, but for your own trade, you must include them. The red line is your profit/loss (per share) without the calls, the green line is the profit/loss with the calls.
If you think Intel will rise above $28.41 by April expiration, the best trade is to just hold the shares and do nothing. I think that is the wrong idea. Given the already large move in Intel's stock this year, I just don't see it rising that much more by mid-April, although that earnings report does come into play. By selling the call option, you gain yourself an extra $41 per contract (100 shares). If Intel doesn't rise that much more, you've pocketed an extra 1.64% (on the $25 price). That is nice, especially if Intel does nothing from here, or if the stock falls, you've got a little protection and your losses (from this point) won't be as great. Now if Intel rises above $28, your gains are capped at $3.41, but considering you bought Intel at $25 early in the year, a $3.41 gain on this name in just three and a half months is quite good. Most investors would love that.
Now, given Microsoft's rise, you could easily do the same with Microsoft, although I won't go into as much depth, because the idea is the same. Microsoft closed Friday at $32.08, so I would recommend selling the April $33 call, which as of Friday's close, would get you $0.59 per contract. Microsoft also reports earnings that week (April 19th), so take that into consideration. With Microsoft, you get a little more of a premium, percentage wise, because Microsoft has moved faster than Intel and is closer to the strike I am recommending.
Now everyone would call me out for not including Apple in this discussion, because yes, as of Friday's close, Apple's market cap of $508.3 billion is about $105 billion more than Microsoft and Intel combined. Apple is tricky here because of the iPad announcement coming this week, so while I won't recommend a specific trade, I will say this. The $545 calls and puts (Apple closed Friday at $545.18), are trading in the $12.50 to $13 range. If you think Apple is going to move big either way, then buy a call or a put.
My personal opinion is that we might see some profit taking on the news (the old buy the rumor, sell the news effect), so if I had to choose either a call or a put I would go with the put. However, that's only if I had to choose one, and I didn't have a position already in Apple. If I was long Apple, I would probably sell a call here. Now if you want to take the complete risk, based on the notion that Apple will decline, you could sell the at the money call and pocket the roughly $12.50 they are going for. I probably would recommend selling a higher call, say a $560. That might get you around $7, and would allow you to extend your gains should Apple rise from here. If it falls, well, you can buy back the call later this week. At that point, you probably will have at least hedged $3 to $5 of your losses (since you probably can buy back the call for a cheaper price if Apple declines).
Disclosure: I have no positions in any stocks mentioned, but may initiate a long position in AAPL over the next 72 hours.