The bad news has been mounting lately for Husky Energy (HSE.TO, OTCPK:HUSKF). With higher oil prices most oil companies have been doing well. However, their market prices reflect that. Husky Energy has one of the weaker charts in the oil space among the large caps. One might even assert that a long term downtrend is in place. To take a better look at Husky Energy, you have to know more specifically what it does.
Husky Energy Inc. is a major integrated oil company with the three typical segments: Upstream (E&P), Midstream (pipelines, etc.), and Downstream (Refining and marketing including gas stations/convenience stores). Its upstream segment has been hurt recently by the dramatic downturn in natural gas prices since last summer. Nymex natural gas futures prices peaked at approximately $5/MMBtu last summer. They are currently at $2.43/MMBtu at the time of this writing. Many major natural gas producers such as Chesapeake Energy (NYSE:CHK) have cut their drilling operations and their production of natural gas substantially to try to combat this downturn. It is hurting the bottom lines of all of these companies not just Husky Energy's.
Husky Energy is also in the oil sands business in Canada. This stands to eventually be a lucrative business. However, it has been mired in problems. First there was the problem of developing efficient and profitable mining procedures. Now there is the problem of transporting the oil mined from mid-continent Canada to the Canadian coastline for shipping or to the US mid-continent via the Keystone Pipeline and other pipelines. The Keystone pipeline proposed by TransCanada (NYSE:TRP) has continued to have regulatory approval problems. The US government has failed to approve it yet, although many hope that a Republican president (and possibly Congress) would lead to quick approval.
In the meantime plans for a pipeline to the West Coast of Canada are proceeding slowly if at all. Trains can still be used, but they are an expensive alternative. Further train cars are in short supply with all of the new oil fields being developed in the US. On top of this Enbridge's (NYSE:ENB) Line 14/64, which carries oil from Superior, Wisconsin to Griffith, Indiana was significantly damaged Sunday Mar. 4, 2012. This 318,000 Bpd pipeline is part of a pipeline system that carries oil from Alberta, Canada (the big oil sands hub) to the US mid-continent. It is currently shut down, and Enbridge does not know when it will reopen it.
Apparently it was damaged by a two vehicle collision at an above ground portion of the pipeline near New Lenox, Illinois. This means that there will be backups of crude oil in Alberta. It means that prices will fall there near term. This is more bad news for Husky Energy, which is a Canadian oil sands producer.
Husky Energy is also suffering in its Midstream and Downstream businesses. It is planning maintenance outages at its Canadian heavy oil upgrader and at US refineries in 2012. Its 82,000 bpd upgrader will be offline for three weeks in 1H 2012 for hydrogen plant repairs and a catalyst change out. The 160,000 bpd Lima, Ohio refinery will have both a 15 day hydrotreater and a 29 day aromatics outage in Q4 2012. Husky Energy also plans a 21-day partial outage of its 160,000 bpd refinery in Toledo, Ohio in mid-2012. These are all undoubtedly work that needs to be done in the normal course of business. However, they are also items that will drag on the bottom line in the near term.
On top of all of this RBOB Gasoline futures have risen dramatically since Nov. 2011. The November 2011 low was $2.45. The current price is $3.26. One might think this would be good for Husky Energy, and in some ways it is. However, when prices rise too quickly (or go to high) it tends to put pressure on the retail end of the business. Husky Energy has approximately 555 retail gasoline outlets. These often if not always include convenience stores. If people start to conserve on gas due to higher prices, they also buy less at the retail convenience stores for the simple reason that the traffic is less.
Therefore even though the crack spread may be up, making Husky Energy's refining business incrementally more profitable, Husky Energy may be losing those profits right back at the retail gasoline end of the business. On top of that, at economically too high oil prices the crack spread tends to narrow again as consumers are unable or unwilling to pay the higher prices. This then negatively impacts the refining margins. We are not there yet, but we are getting close. If the summer brings much higher RBOB prices, we may well see a fall in the crack spread.
All this means that Husky Energy's business is due to slow down considerably in 2012. Considering it grew EPS 135% in 2011 as production grew 9%, Husky Energy's stock price may fall considerably given the 2012 outlook. Analysts forecast the company to shrink profits this year by -25.40%, and those profit estimates are still trending downward. Husky Energy is current forecast to grow profits by 14.80% in 2013, but those profit estimates are also trending downward. The recent spate of news I have just cited will not help those estimates. This means the stock, which still seems to be in a long term downtrend, is likely to resume that downtrend in 2012. The recent news should add to its downward momentum.
This news includes: the Enbridge pipeline outage (3-4-2012), the refinery and upgrader outages (announcement on 2-9-2012), the extremely low natural gas prices, and the high RBOB gasoline prices. The RBOB gasoline futures prices are the highest ever for this time of year. Many think this means the RBOB prices will be much higher by this summer. If this occurs, it may tend to throw the US and perhaps Canada into a recession. This would further hurt Husky Energy's retail outlets' business. Plus it might soon after lead to the bottom dropping out of the oil market.
The above are all good reasons to sell Husky Energy now. It has run up a bit recently on rising oil prices, which are good as long as they do not get too high. Plus the overall market has risen dramatically since October 2011. The overall market has been overbought since December 2011. It is tired, and it is ready for a pullback. Husky Energy is likely a great way to play such a pullback. Shorting it going into an economically troubled summer for the EU (and very probably the US) seems a great idea
Shorting it in the near term to play an overall market pullback seems much safer than many other alternatives, given the spate of recent bad news impacting the company. I am not trying to assess the much longer term prospects of Husky Energy. However, it is worth noting that both ConocoPhillips (NYSE:COP) and Marathon Oil (NYSE:MRO) and (NYSE:MPC) have recently decided to split their Upstream and their Downstream businesses. This may be another reason to worry about Husky Energy's prospects. The good news for potential shorters of Husky Energy is that it is not currently paying a dividend.
The five year chart Husky Energy gives some technical direction for this trade.
click to enlarge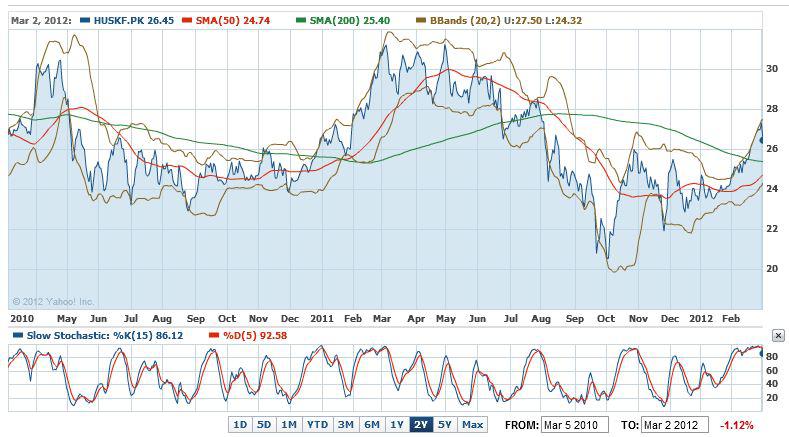 The slow stochastic chart shows that Husky Energy is overbought in the near term. The overall market is also over bought, and it has been this way for far too long in a very uncertain environment. It is due for a pullback. Some are even saying it is set up to crash again soon. I think there are too many uncertainties to forecast a crash at this time, but the risk is definitely to the downside for most of the rest of this year. This should help any short selling in Husky Energy. In the main chart the 50-day SMA is still significantly underneath the 200-day SMA. This is very weak performance when many leading oil companies' 50-day SMA is easily above their 200-day SMA's.
Look at a typical strong chart of a major integrated oil company such as Chevron's (NYSE:CVX) or Exxon Mobil's (NYSE:XOM) if you want to confirm this. If the overall market turns downward soon, Husky Energy's 50-day SMA will fail to breech its 200-day SMA in the short term. This will be a sell signal. This signal has not occurred yet. However, both the S&P 500 and the Russell 3000 Indices (as well as oil prices) are showing significant technical weakness. Now is probably a good time to start a short position in Husky Energy. As always averaging in is often a good strategy. One can never be completely certain when a pullback will start.
Good Luck Trading.
Disclosure: I have no positions in any stocks mentioned, but may initiate a short position in OTCPK:HUSKF over the next 72 hours.