The Reserve Bank of Australia (RBA) is making its next interest rate decision on March 6th (Aussie time), so this is a good moment to describe finally why I recently sold my long-term holdings in the Rydex CurrencyShares Australian (NYSEARCA:FXA).
A February 24th article in the Australian from Dow Jones Newswires titled "Reserve Bank open to forex intervention to weaken Australian dollar" provided the big shock to my system:
Australia's central bank governor, Glenn Stevens, today told the House of Representatives economics committee hearing in Sydney he was not attracted to the idea of intervening to weaken the Australian dollar, but the bank did retain it as an option.
Never once have I pondered the possibility of the RBA actively intervening in currency markets to weaken its currency. In fact, I blithely assumed that Australia would be loathe to allow the purchase of its abundant natural resources at such currency-induced discounts. I assumed that it benefits unequivocally from this abundance and the world's ever-growing appetite for these resources. I stood by the Australian dollar through the threat of a commodity crash driven by a collapse in the Chinese economy. I was even unfazed last November when the RBA joined much of the rest of the world in easing monetary policy with its first rate cuts since the financial crisis.
In other words, I remained utterly convinced that Australia offered a relatively more attractive investment than the currencies and economies of other developed nations. In a world featuring on-going competitive devaluations, Australia seemed to stand uniquely above the fray. Stevens's musings pulled THAT rug from under me. Intervention adds one risk too many for me to accept at this point. After all, I angle to short the currencies of interveners.
Adding credence to the possibility of intervention, however small, was Stevens's assessment that the Australian dollar is stronger than expected (emphasis mine):
'I'm not saying we would never do it, but we haven't done so to date, but we do continue to ask ourselves whether what's happening in the currency makes sense,' Mr Stevens said.

'I would observe the most recent bout of strength is happening at a time when the terms of trade has peaked and is starting to come down…that is a bit odd, but we will see what happens," he added.'
I instantly recalled that the previous two or so monetary policy statements have concluded that Australia's terms of trade have peaked. Indeed, in the last monetary policy statement the RBA noted "the Australian dollar in trade-weighted terms is somewhat higher than the Bank had previously assumed." I am only now absorbing the likely importance of this change, especially for monetary policy. It has given the RBA room to nudge interest rates down to ease borrowing conditions for the sectors of the economy not enjoying the riches of the mining sector. It also now seems to provide air cover for any potential intervention.
To be clear, the potential for intervention must be very small at this juncture. Yet, I have little faith in my ability to get out of the way ahead of such a move, and I am more comfortable just taking profits here. It was not an easy decision because I have held FXA for over two years, and I love the high yield (now 4.25%). FXA was my longest continuously running investment. If the currency does take a plunge again, I stand at the ready to welcome it back into the fold at such an attractive discount.
In the meantime, I continue to execute short-term forex trades going long the Australian dollar. I have found the currency incredibly useful and reliable as a currency that bounces back from dips. Getting paid to wait has provided a small, added bonus. The Australian dollar has performed particularly well against the British pound (GBP/AUD) and sits near record highs against the pound (it helps that I remain very bearish on the pound). It now also makes sense right now to use the Australian dollar to go short the yen and the franc. I have written several times about what I see as a new phase/era of weakness for the yen. The Swiss National Bank's on-going effort to weaken its currency speak for itself.
For the past two years, I have compared the returns from holding FXA to the returns of the S&P 500 through the SPDR S&P 500 (NYSEARCA:SPY). The correlation between the two have been uncanny with FXA only beating SPY last year by virtue of the higher yield. Year-to-date, FXA has fallen significantly behind. FXA is up 4.6% so far in 2012 while the S&P 500 is up 8.9%. The difference in yields does not cover this unusually large gap. So, some change may indeed be underway making the Australian dollar a little less attractive.
click to enlarge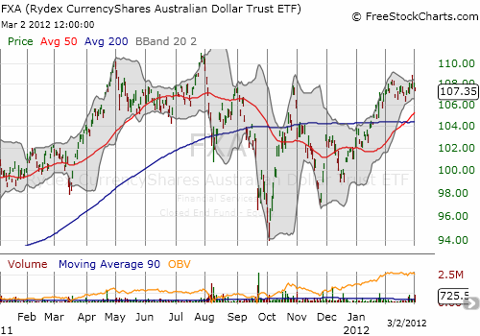 FXA remains below its historic highs from 2011
The iShares MSCI Australia Index Fund ETF (NYSEARCA:EWA) has out-performed with a year-to-date gain of 10.6%, but it is still well off its highs from 2011. I remain interested in initiating positions in EWA whenever it references the "QE2 reference price" the still forms the basis of purchases as part of my commodity crash playbook (for more info see "Profiting from Physical Assets in a Resource-Constrained World - Rules and Picks (Part 2 of 2)").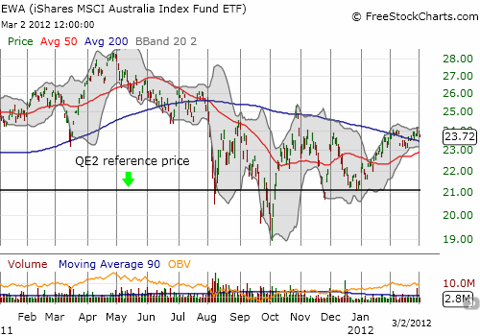 EWA remains confined by a declining 200-day moving average although it is up over 10% for 2012
Source for all charts: FreeStockCharts.com
Here are some recent economic data points that are on my radar:
My love affair with the Australian dollar has ended, but I remain actively interested in investing in Australia. As long as emerging economies are generally increasing their consumption of commodities, I think it is much more productive to stay vigilant for buying opportunities than to try betting against our friends down under.
Be careful out there!
Disclosure: I have no positions in any stocks mentioned, but may initiate a long position in EWA, FXA over the next 72 hours.
Additional disclosure: I am also long SDS