This week Apple (AAPL) will have one of its annual presentations. A lot has been said about the stock's meteoric rise. In this article, I will present one possible way to trade Apple before the event.
In my latest Seeking Alpha article, I presented few examples of Apple Iron Condor trade. As a reminder, the Iron Condor is a combination of a bull put spread and a bear call spread. The whole trade is done for a credit.
One person commented:
"Using an Iron Condor on AAPL right now is the equivalent of going to your local church and just donating the money to them."
Except for the fact that I don't have a church in my neighborhood, I actually think that such trade would make a lot of sense now. Here is why.
The stock is trading currently around $545. It is up about 30% in the last six weeks alone. Is it possible it will go up another 10% in the next six weeks? The answer is: possible but not likely. Every stock needs some time to consolidate its gains, even AAPL. Is it possible it will go down more than 10%? Again, possible, but not likely. I think that if it pullbacks to the $500 area, many buyers will step up and buy the stock.
Here is another interesting thing. Look at the options IV (Implied Volatility) chart.
(Click charts to enlarge)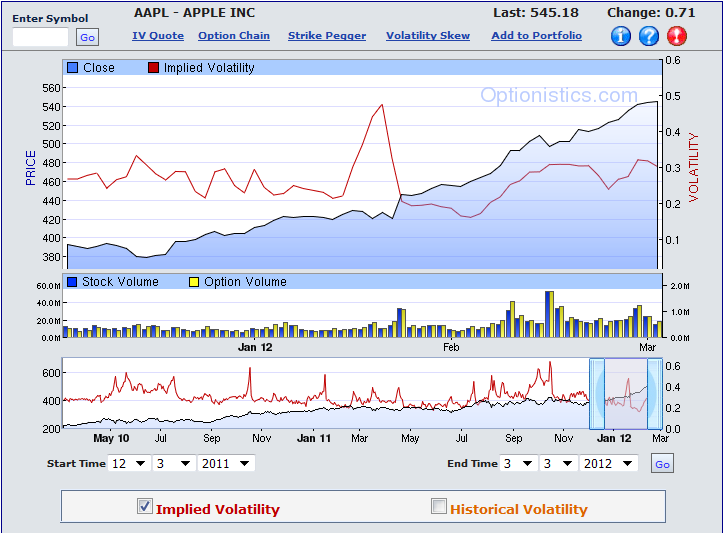 The current IV is around 31%-32%. It bottomed in early February around 17%-18%. It should collapse at least 6%-7% after the event.
Based on this thesis, I think the following trade makes a lot of sense:
Buy AAPL April 2012 485 puts
Sell AAPL April 2012 490 puts
Sell AAPL April 2012 600 calls
Buy AAPL April 2012 605 calls
The P/L graph at expiration looks like this: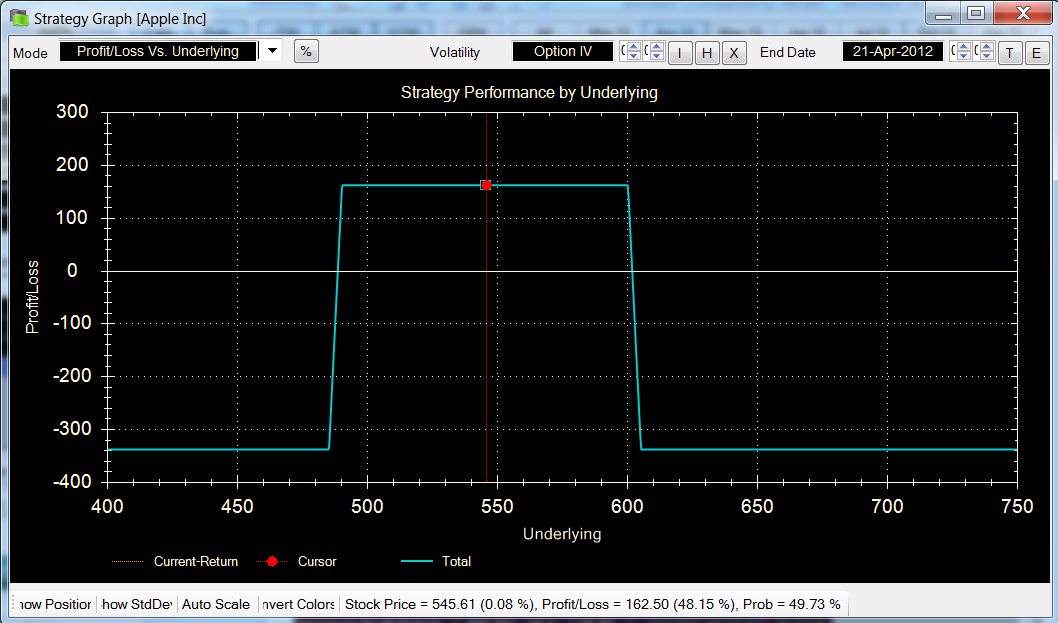 The trade can be done for $1.62 credit. The margin requirement is $338 hence the maximum gain is 48%. The trade is resilient to 10% move of the stock in either direction.
Let me be very clear: this trade has nothing to do with Apple fundamentals. It is based purely on my belief that the stock will be trading between $490 and $700 in the next six weeks. I don't want to predict the reaction to the iPad 3 announcement, hence the non-directional trade.
The trade is also expected to take advantage of the inflated Implied Volatility. One of the most basic rules of options traders: NEVER ignore the Implied Volatility. Always make it your friend.
Please trade responsibly. Allocate only the capital you are ready to lose. Good luck.
Disclosure: I might initiate the Iron Condor position in the next 72 hours.