What do the small-cap Russell 2000 Index (RUT), Durable Goods orders, ISM Manufacturing PMI, and Railcar Loadings have in common?
I would submit that small-cap stocks tend to turn up first in an improving economy, yet the Russell 2000 broke down late last week. Perhaps the economy is not improving as much as a lot of people hoped for. In fact Goldman Sachs pulled its buy recommendation on small-cap stocks Thursday morning.
Durable Goods
From the February 28, Commerce Department Announcement (pdf)
"New orders for manufactured durable goods in January decreased $8.6 billion or 4.0 percent to $206.1 billion, the U.S. Census Bureau announced today. This decrease, down following three consecutive monthly increases, followed a 3.2 percent December increase. Excluding transportation, new orders decreased 3.2 percent. Excluding defense, new orders decreased 4.5
percent."
Manufacturing PMI
Then on March 1, the ISM Manufacturing PMI report was released
The report was issued today by Bradley J. Holcomb, CPSM, CPSD, chair of the Institute for Supply Management™ Manufacturing Business Survey Committee. "The PMI registered 52.4 percent, a decrease of 1.7 percentage points from January's reading of 54.1 percent, indicating expansion in the manufacturing sector for the 31st consecutive month. The New Orders Index registered 54.9 percent, a decrease of 2.7 percentage points from January's reading of 57.6 percent, reflecting the 34th consecutive month of growth in new orders. Prices of raw materials increased for the second consecutive month, with the Prices Index registering 61.5 percent. As was the case in January, new orders, production and employment all grew in February - although at somewhat slower rates than in January. Comments from the panel continue to reflect a generally positive outlook for the next few months.
This comment stood out for me: "Global GDP softening and beginning to impact the demand chain." (Computer & Electronic Products)". This made me think of Intel's (NASDAQ:INTC) 1Q guidance, which is down 8.0% sequentially.
Railcar Loadings
"Seasonally Adjusted: Carloads in January 2012 down 1.8% from December 2011; intermodal in January 2012 down 1.3% over December 2011."
2012 U.S. weekly loadings from the Association of American Railroads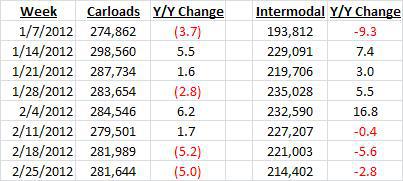 Conclusion
The recent rise in small-cap stocks appears to be over and could be in for a retracement supported by less-than-expected recent coincident U.S. economic data. One way to play this is through shorting the Russell 2000 ETF (NYSEARCA:IWM) or by buying the single inverse short ETF (NYSEARCA:RWM) or double inverse short ETF (NYSEARCA:UWM). For those who have a much higher risk tolerance there is the triple short inverse Russell 2000 ETF (NYSEARCA:TZA).
Disclosure: I am long TZA.