Today income investors have a plethora of choices when it comes to income investments. The current economic environment and financial situations have forced many conservative investors into the markets in the search of yield. The choices are endless, and no matter where one looks, one will stumble upon some financial instrument with an income component. It is here though that one needs to be careful and apply the rule of diversification to one's portfolio.
A prime example of this is the rise in the popularity of the mREITs. This select group of investment vehicles is very unique and offer very high yields. A company like American Capital Agency Corp (NASDAQ:AGNC) is a great example. Coming in with a yield of over 16%, this company invests in residential mortgage pass-through securities and collateralized mortgage obligations for which the principal and interest payments are guaranteed by government-sponsored entities or by the United States government agency. Needless to say, there are a host of other similar companies doing the same thing and offering over the top yields. Income investors will flock to these companies as the yields are just too tempting. The diversification principle can be thrown out the window as investors overload their portfolios with these holdings. As everyone knows, bull markets in particular sectors do not last forever. Reversals are inevitable, and the same will be true one day for the mREITs. That being the case, diversification will always be a key component for the income investor.
Looking to diversify, income investors will often turn to the energy sector. Within this sector are some great companies with competitive yields. Let's take a look at four companies that could possibly offer income investors an attractive yield, as well as help diversify an existing portfolio.
Penn West (NYSE:PWE)
Penn West is one of the largest conventional oil and natural gas producers in Canada. Penn West operates a significant portfolio of opportunities with a dominant position in light oil in Canada. Based in Calgary, Alberta, Penn West operates throughout western Canada on a land base encompassing over six million acres. Basically, this company has lots of land and room to grow.
Looking at a one year chart for Penn West is not a great confidence-builder at first. With a high of $28 a share in early 2011, the stock slowly sold off to a low of $14 in October of 2011. A weak stock market, plummeting natural gas prices, and uncertain economic times took their toll on the stock. Recently though the stock has rebounded as oil prices have increased and the company changes its production mix over to the oil side of the house. Currently the stock is bouncing along a resistance line of around $22 a share, but investing in stocks based upon charts is not always the best idea for the income investor.
Click to enlarge: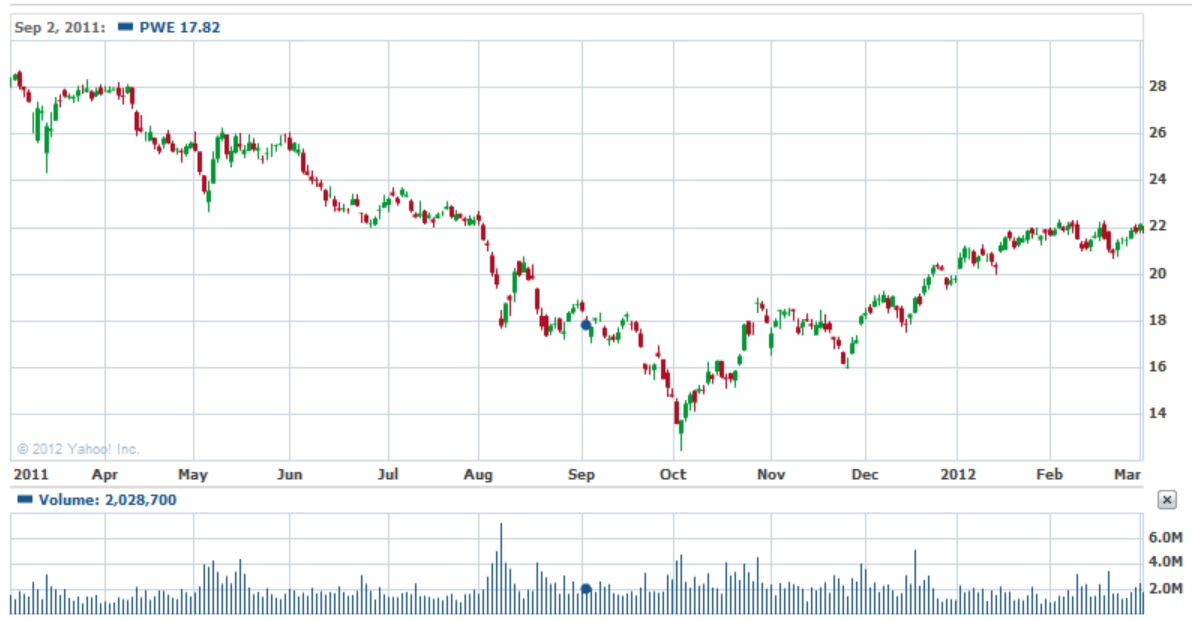 As a result, we turn our attention to the company's financials. For Penn West, the net income for 2011 totaled $638 million compared to $1,110 million in 2010. It should be known that the prior period included significant gains on asset dispositions including a $572 million after-tax gain recorded on the formation of the Peace River Oil Partnership and a $368 million gain on the formation of their joint venture in the Cordova Embayment. For the fourth quarter of 2011 there was a $62 million net loss compared to another net loss of $37 million in the fourth quarter of 2010. The net loss in the fourth quarter of 2011 was primarily due to unrealized risk management losses. In other words it was their hedging that played a major role in the loss, so that should really not reflect as badly as it might seem on Penn West's performance. The company's 2011 net capital expenditures of $1,580 million was in line with its forecast of $1.4 billion - $1.5 billion. It should also be known that the lion's share of the capital is being dedicated to light oil and liquids production as the future of natural gas prices still remain in doubt.
The production for Penn West for the fourth quarter was 168,801 boe per day, which was an increase of more than 7,000 boe per day over the third quarter production. The exit production, before the impact of the asset dispositions, was approximately 172,000 boe per day. One interesting fact was that the company stated that its reserve replacement exceeded 230%, prior to the impact of economic natural gas price revisions and asset dispositions. Greater than 70% of these added reserves were light oil and liquids, which will contribute to Penn West's future net asset value. As these light oil and liquids are the true drivers of the company's cash flow, Penn West entered into 2012 with significant operating momentum to exploit these assets. Penn West ramped up development and added 108 net wells drilled in the fourth quarter of 2011. On top of that the company also advanced some of its 2012 drilling projects and moved them to the fourth quarter of 2011 to provide greater production for first quarter 2012.
What it basically boils down to is that Penn West should be considered by income investors looking to diversify into an energy holding. Since early 2011 the stock and investors have suffered, but now Penn West is on the upswing. The company has shown it is dedicated to bring new assets online that generate cash flow while waiting for the return of natural gas prices at a future date. The company has plenty of land and financial resources to back its ambitious plan. Penn West pays a quarterly dividend and currently yields close to 5%. Investors looking to further "juice" their returns could always sell covered calls, but that should be done by those with an advanced understanding of option trading.
Enerplus (NYSE:ERF)
Established in 1986, Enerplus is a North American energy producer with a diversified asset base of oil and gas assets. Enerplus Corporation, together with subsidiaries, engages in the exploration and development of crude oil and natural gas in United States and Canada. Whenever there is mention of Penn West, one can usually bet that Enerplus is not far behind. Though they are very different companies, they share similar traits and characteristics. At December 31, 2011, Enerplus held a portfolio of approximately 380,000 net acres of strategic land to fuel its growth.
Looking at Enerplus' one year chart, you can see that it too has had issues in the recent past. Throughout 2011 natural gas prices continued to fall and demand failed to keep pace with the ever increasing supply. Couple this with the bad economic environment and a market sell-off and you start to understand the chart below.
Click to enlarge: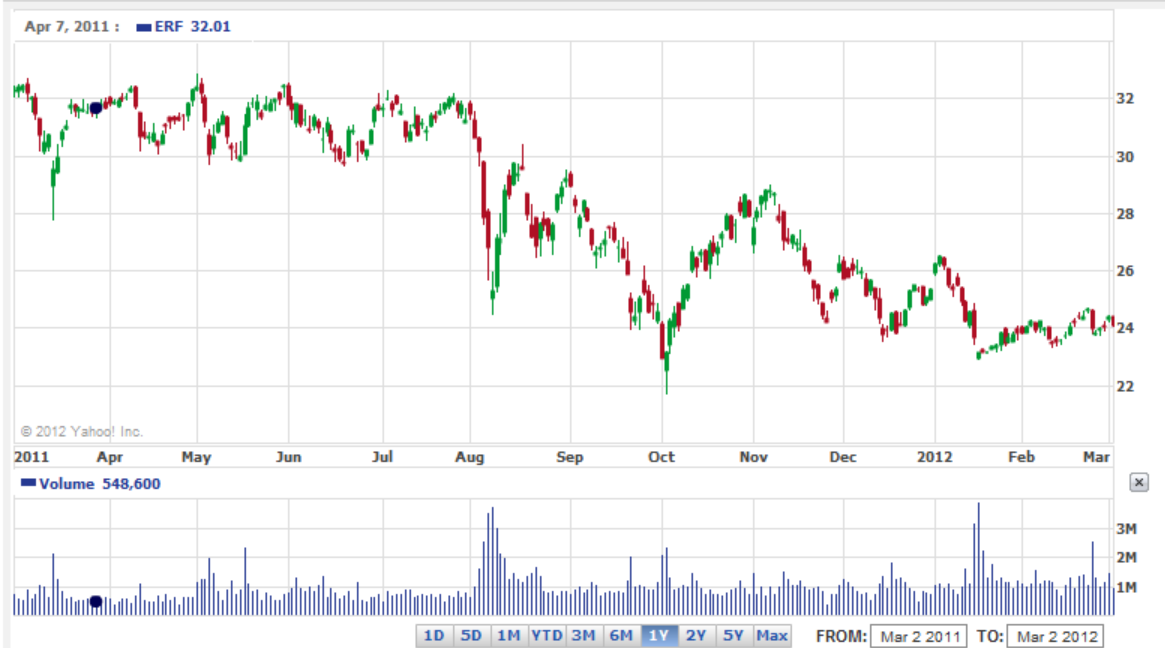 For 2011, Enerplus traded in a fairly tight range, which had the price bouncing between $30 and $32 a share. Then in early August the stock took a nasty turn and has gone lower ever since. Today we find Enerplus trading around its support line of $24 a share.
Turning to the financials, one finds more interesting news. The cash flow from operating activities for 2011 was $623 million, which is down from the $696 million in 2010. Stronger oil prices in 2011 were offset by lower natural gas prices and lower average production levels due to the full year impact of 2010 dispositions coupled with $60 million of taxes related to gains on the sale of Enerplus' U.S. subsidiary.
When it comes to hedging, Enerplus did not do itself any favors either. In 2011, Enerplus' price risk management program generated cash gains of $13 million on natural gas contracts and cash losses of $47 million on crude oil contracts. Enerplus will still add crude oil hedge positions and currently 62% of its projected crude oil production in 2012 has downside protection at an average floor price of US$96.22. Looking forward into 2013, Enerplus has approximately 10% of its crude oil production hedged at an average price of US$101.20. Needless to say, the company has no natural gas hedge positions in place at this time.
When looking at the company's total proved plus probable reserves at December 31, 2011, Enerplus showed an increase by 5% to 321.9 MMBOE year-over-year. The oil and liquids reserves grew by 14% to total 184.8 MMBOE and now represent 57% of total reserves, which is up from 53% for the end 2010. Enerplus also replaced 175% of production through its exploration and development programs. Approximately 75% of the additions were oil and liquids and represented a 300% replacement of its 2011 oil and liquids production. The company's reserve life index was 9.8 years at year-end, which is down from 10.7 years at December 31, 2010. This is a result of the addition of higher decline production rate from its new growth plays and a decrease in shallow gas reserves.
So far this article has presented lots of figures on Enerplus that are hard to keep straight. What it comes down to is that Enerplus, like Penn West, recognizes that it cannot wait for natural gas prices to come back from their low levels. Both companies must make the change over to liquids to survive and thrive. Enerplus' exploration and development capital spending in 2011 totaled $866 million. Of that number, approximately $720 million was spent on drilling activities thereby netting 107 net wells. Of this total 74% of them which were drilled on Enerplus' crude oil properties. To help finance these capital programs and accelerate the changeover, Enerplus in early February 2012 closed a $345 million equity financing.
Enerplus is going to be a tad riskier than Penn West as it get its house in order. Currently the company has maintained its monthly dividend at $0.18 per share and it looks to do so throughout 2012. This would result in the total payment of $2.16 per share and would represent a yield of 9.1% at today's closing price. This kind of yield should be enough to attract those income investors willing to take some risk. Of course, the use of options could also be employed to hedge against any unwanted risk. Covered calls and protective puts are available for this stock and could easily give income investors the peace of mind needed in these troubled times.
Baytex Energy (NYSE:BTE)
Since our first two companies were Canadian, we might as well stay there and visit Baytex Energy. Baytex, through its subsidiaries engages in the acquisition, exploration, development, and production of petroleum and natural gas in the Western Canadian Sedimentary Basin and the United States. By focusing on Baytex we are taking a different view into the energy companies when compared to Penn West and Enerplus. Baytex is a company that is more heavily focused on liquids than the natural gas. That being the case, Baytex has not had the same issues and problems that the others are dealing with. A look at the one year chart below shows the difference.
Click to enlarge: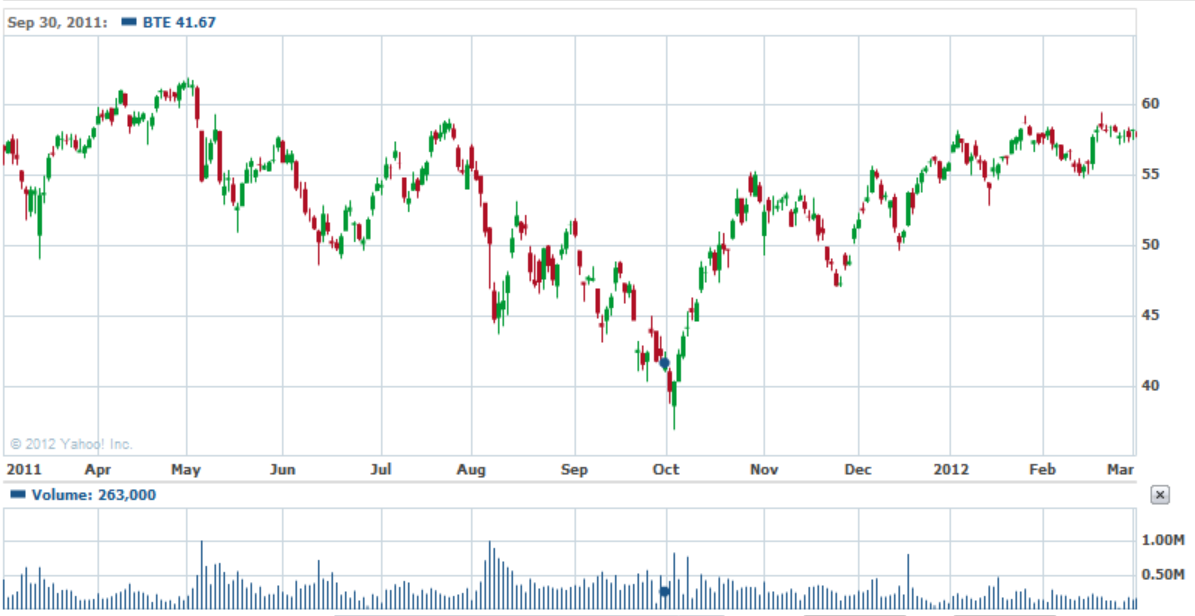 Notice how Baytex does sell off with the market much like Penn West and Enerplus. Now, where the other two names have not regained their former glory, Baytex has finally returned to its trading range that it attained in early 2011. One reason is that the company does not have the exposure to the crushing effect of natural gas prices. Being focused on the more lucrative liquids seems to be working better in the company's favor.
Turning to the company's financials also tells the story. Baytex will not release final year end totals until mid-March, so we will focus on the third quarter of 2011 for guidance. The following is a great summary of how the company was doing in the third quarter.
Click to enlarge: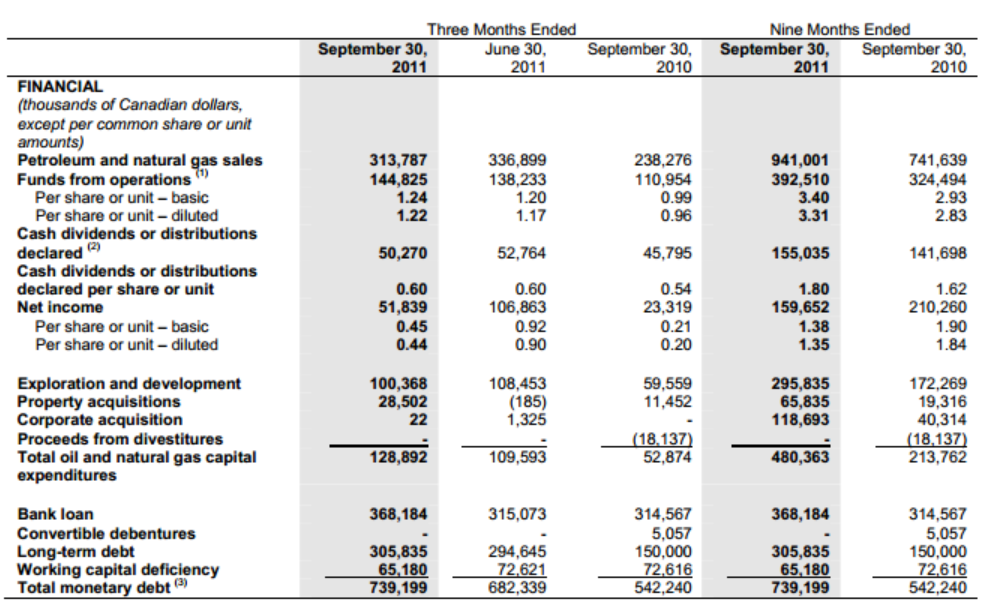 Baytex's petroleum and natural gas sales increased by 32% to $313.8 million for the three months ending September 30, 2011 from $238.3 million for the same period in 2010. Needless to say, this increase in sales was welcomed by investors. It is interesting to note that during this period, the change was driven by heavy oil revenues which increased by 32% due to a 3% increase in realized price and a 29% increase in sales volume compared to the three months ended September 30, 2010. For the nine month period which ended on September 30, 2011, petroleum and natural gas sales increased 27% to $941.0 million from $741.6 million for the same period in 2010. Once again, the change was derived by heavy oil revenues which increased by 31% due to a 7% increase in realized price and an 22% increase in sales volume compared to the nine months ended September 30, 2010.
All of this increase in sales revenue had quite an effect on the financial statements. Funds generated from operations (FFO) were $144.8 million in third quarter, which was the second highest level of quarterly FFO in the history of Baytex. It was an increase of 5% over the second quarter of 2011 and a 31% increase over the same time frame of 2010. The net effect was generated net income of $52 million in the third quarter of 2011.
Needless to say, to generate this much revenue, there had to be an increase in production. For the third quarter, Baytex produced a record quarterly production. The final number for the quarter was 52,625 boe/d, which was an increase of 10% over the second quarter of 2011 and 17% over the third quarter of 2010. This 17% increase was made up of oil and natural gas liquids production, leading the charge with a 25% higher rate, while natural gas production trended 12% lower.
To sum it up, Baytex is exactly where both Enerplus and Penn West wish to be. The company seems to be firing on all cylinders, and with current oil prices moving higher and higher it can only mean good things for Baytex. At the time of this writing the shares trade for $58 a share and generate an income yield of 4.6%.
Linn Energy (LINE)
So far our first three picks have been north of the U.S. border in Canada. For our final pick, let's move south and take a look at Linn Energy, LLC. Linn Energy is an independent oil and natural gas company that engages in the acquisition and development of oil and gas properties. The company's properties are primarily located in the Mid-Continent, the Permian Basin, Michigan, California, and the Williston Basin in the United States. As of December 31, 2011, it had proved reserves of 3,370 billion cubic feet equivalent of oil and gas, and natural gas liquids, as well as operated 7,759 gross productive wells.
To start, let's look at the current chart of Linn Energy. The company has been stuck in a range for pretty much the whole of last year. Shares have traded in a range from a high of around $40 to a low resistance level of $36. It should be known that there were a couple of instances where the stock price took dramatic, but short-term dips in August and October of 2011, but those instances quickly returned back to the range.
Click to enlarge: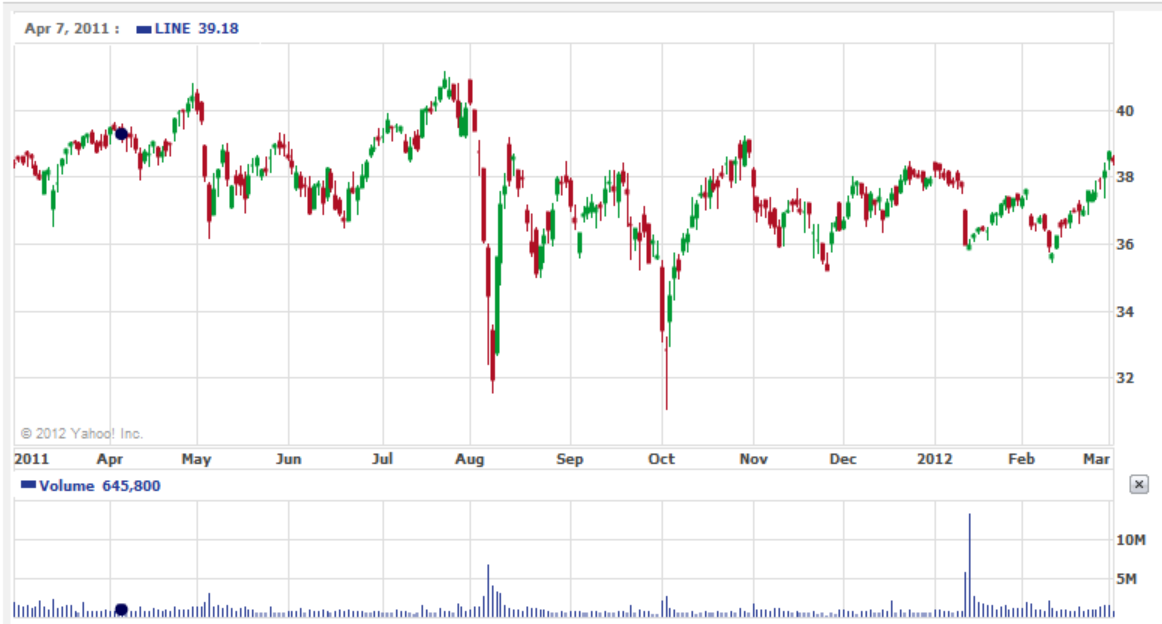 Turning our attention to the fourth quarter and full year financials for 2011, we find some interesting details. Linn Energy increased its adjusted EBITDA 27% to $281 million for the fourth quarter 2011, compared to $221 million for the fourth quarter 2010. For the full year, the company increased the percentage to 36% which calculates to $998 million, compared to $732 million in 2010. Working the way thru the financial statements, this delivered an adjusted net income of $0.51 per unit for the fourth quarter 2011, compared to $0.43 per unit for the fourth quarter 2010; and $1.80 per unit for the full year 2011, compared to $1.54 per unit for the full year 2010. Those are some impressive numbers, to say the least.
To get such big increases in earnings usually entails greater production, and that is what Linn Energy did. The company increased average daily production 38% to 425 MMcfe/d for the fourth quarter 2011, compared to 307 MMcfe/d for the fourth quarter 2010. For the full year of 2011 the increase was up 39% to 369 MMcfe/d compared to 265 MMcfe/d in 2010. While doing this, the company also reported that it replaced more than 670% of the reserves. That is a large number, so here is how the company broke it out in the latest filings. Approximately 240% percent was through the drill bit from liquids-rich plays. The other 430% was through acquisitions totaling approximately $1.5 billion. Now to finance such acquisitions is not easy. Linn Energy's solution was to access the capital markets with a $649 million public offering, in conjunction with a $750 million bond offering. Together these provided net proceeds of nearly $1.4 billion.
Linn Energy's most recent acquisition is dealing with the purchase agreement where it has agreed to acquire Hugoton Basin properties located in Kansas from BP America Production Company (NYSE:BP). The contract price is said to be close to $1.2 billion, and the parties in question anticipate the acquisition will closed on or before March 30, 2012. To finance this latest purchase, Linn Energy will use proceeds from borrowings under its revolving credit facility. Linn Energy seems very excited about this latest transaction as it marks the company's entry into the largest conventional natural gas field in the U.S. The company went on to state that these new assets have a low decline rate of 7% and it is expected to provide 110 million cubic feet equivalent of liquids-rich production that is 37% NGLs. The good news is that the acquisition should be immediately accretive to distributable cash flow per unit and is expected to provide a very steady stream of cash flow since there is little requirement for new capital investment.
The question is why someone would want to pick Linn Energy with all the other choices that exist in the United States energy sector. The answer to this lies within Linn Energy's stated strategy and goals. The company's overall strategy is to provide stability and growth of distributions for the long-term benefit of its unit holders. Now any entity can make this statement, but actually putting it into play is a whole other story. In the case for an investment in Linn Energy, it is easy to see that the company is serious, based upon the amount of hedging it has in place. Linn Energy hedges a significant portion of its forecasted production to reduce exposure to fluctuations in the prices of oil and natural gas. These hedging transactions are in the form of swap contracts, collars and put options. In the most recent reporting, the company stated that it had further strengthened its hedge portfolio. Currently the expected natural gas production is hedged approximately 100% through the year 2015. The expected oil production is 100% hedged through 2013. After that, approximately 80% is hedged in 2014 and 2015.
Currently, Linn Energy pays a quarterly dividend that yields 7.2%. For those looking for protection, Linn Energy does have options that can be traded to help hedge against any risk that income holders might determine to be present.
In conclusion, there are many energy companies out there that might fit the bill. These four companies each offer some unique characteristics that could help power one's income portfolio. Some are riskier than others, but all have potential to generate some great returns in the future.