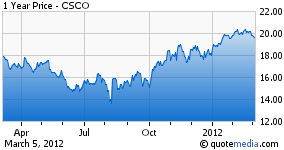 They say that "patience is a virtue." And although this is one quality that I have (for the most part) demonstrated throughout my investment experience, I am willing to admit that it has been lacking on my part this year. But I am unapologetic about it. Where my patience has disappointed me in other investments, it has proven to be very beneficial when discussing one of the pillars in my portfolio in Cisco (NASDAQ:CSCO). After having been beaten down to a degree where the stock reached $13 last summer, it has since then climbed over 50% to where it sits today near its 52-week high. This is a product of patience and having an understanding of where the company was, where it is and where it has the potential to go.
Understanding Cisco
A "technology powerhouse" did not sufficiently describe Cisco in the early to mid 90s. For a brief period of time, the company shot up to the top as the largest tech company in the world by using a tried and true business strategy. It strategically acquired many of its competitors until it owned enough market share to preserve pricing power. It was brilliant. The company figured out a way to combine great products and great relationships with its channel partners. This gave Cisco a distinct advantage over anyone else who sought to enter its space. The company was further helped when the tech bubble ended any growth optimism that existed by the competition that was left standing.
Cisco was so effective that it controlled well over 50% of the router market and over 70% of the switch market at its peak. All of this while generating close to $10 billion annually in cash which then placed John Chambers in that pantheon of leaders who are considered superstar CEOs. But that was then. Today, (until recently) critics have called the company too scattered in its efforts while it faces tough competition in core routing and switching products from the likes of F5 (NASDAQ:FFIV), Hewlett Packard (NYSE:HPQ) as well as Juniper (NYSE:JNPR). There are many who still remain unimpressed by what the company has been able to do of late while still asking where is the value? However, I think the company answered that question pretty well during its recent earnings report.
Earning Respect
In its latest quarter which ended January 28, Cisco reported net income that climbed 44% and arrived at $2.2 billion, or 40 cents per share. This compares with earnings of $1.5 billion, or 27 cents per share, year-over-year. If you factor out that the costs associated with stock-based compensation as well as some acquisition-related amortization, the company actually earned 47 cents per share - 4 cents per share above analysts' expectations based on polls by FactSet. Revenue was $11.5 billion, up 11% from $10.4 billion a year ago and compares favorably to the $11.2 that was projected.
Its results clearly demonstrate that the company is keen in improving its margins as the metric improved a full point from the previous year while also exceeding analyst estimates. However it seems that area of performance is not growing at a rate that appeals to the most ardent bears - at least to the extent where it can prove that it can reclaim some of the market share that it has lost to the competition over the years. As impressed as I am with the report, there continues to be many who are simply unwilling to give the company much (if any) applause for what continues to be a remarkable turnaround from the depths of last summer where Cisco showed little to no focus.
I think Cisco continues to earn its respect by its recent performances and the company is doing exactly what it needs to do in order to get back on track. Cisco is no longer the untouchable champion of networking, and the company has had a pretty dodgy record of making successful acquisitions. That is not tantamount to saying that Cisco is a lost cause as many skeptics continue to believe - especially when considering its operating income, where it reported better than 60% growth and nearly 29% growth on an adjusted basis.
Investors have to be pleased with the progress that the company is making, while also appreciating that there is still a lot of work left to be done. I say this because though the company reported 7% growth in orders, it did however demonstrate a decrease from the previous quarter where orders then climbed to 13%. It seems that competitors such as the aforementioned Juniper and Riverbed (NASDAQ:RVBD) fared moderately better in that regard, though it continues to outperform some of the others.
Summary
If Cisco can wisely reinvest its capital to create more innovative ways to compete, I feel investors, patient or not, will be rewarded handsomely. Because at its current valuation, I see an opportunity for those who are looking for value and are willing to be patient to realize some significant gains. As the future of "the cloud" continues to emerge, companies will develop a need for their networks to sustain high speed data, multimedia, various e-commerce as well as its tele-presence conferencing products. I remain optimistic that there is no company better positioned to service these needs than Cisco. And based on the metrics above, Cisco should be trading at $30 by the end of the year.
Disclosure: I am long CSCO.