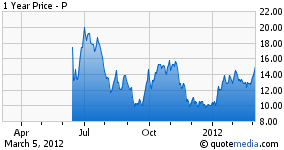 As a Pandora (NYSE:P) bull, I was even a bit surprised to see the level of bullishness coming out of a big brokerage house Monday morning. We'll let the great Eric Savitz over at Forbes handle that part of it:
Stifel Nicolaus analyst Jordan Rohan early Monday raised his rating on Internet radio service Pandora to Buy from Hold, setting an $18 price target ...


The analyst upped his EPS forecast for the January 2012 fiscal year to 2 cents from a penny; for FY 2013 he now sees 11 cents a share, up from 4 cents.
I am often the first to hammer on analysts, but it takes some guts to come out with such a bullish report ahead of earnings. Pandora reports after the bell Tuesday.
Heading into the report, I am not nearly as bullish, but you must consider my perspective. I own Pandora for the long-term. What happens tomorrow matters, of course, but it's very unlikely that anything I hear tomorrow will shake me out of the stock.
I'm on board with everything in the Stifel report, from a qualitative standpoint. I know Pandora is ramping up "its major market local sales force to supercharge its mobile monetization efforts." And a core reason why I am so bullish is because Pandora "has evolved into one of the few large scale platforms in mobile media." The report really made me pause at the EPS estimates.
If Pandora issues that type of guidance for FY2013, look out. That $18 target could come hard and fast. I knew the company was close to tipping the iceberg - I've been yelping about it for months. I just did not know it was this close. It will be interesting to see if Stifel spoke too soon.
In terms of how to play it ... I am not sure you should. I consider it a pretty big risk ahead of earnings. If Stifel is correct with its estimates, this thing should take off. I am in the stock with a cost basis of about $13.20. I have a buy scheduled to go off on Tuesday. That goes as planned. It would take something shockingly negative to make me stop buying Pandora on a regular basis going forward. It's my top long-term speculative selection for reasons the street appears to be finally recognizing. Pandora might be the most aggressive company out there when it comes to attacking the multi-platform opportunity and all that it entails.
No matter what happens tomorrow, the non-debate between Sirius XM (NASDAQ:SIRI) bulls and the wall will likely live on. The funny part about this? Aside from Pandora CFO Steve Cakebread acknowledging that satellite "broke the ice" when it penetrated an automotive dashboard once dominated by broadcast radio, the two companies likely think very little about one another.
Pandora has its head down, as it builds a sales team that will continue to take local and national business away from terrestrial radio. That's the hyper focus. Taking advantage of a massive opportunity that could trigger the type of growth Stifel forecasts and beyond.
Sirius XM is not even part of this game. And it's not because they do not do much advertising. Unlike Pandora, Sirius XM does not have an emerging platform that it's able to aggressively leverage. It can only scale into a subscriber base that has natural limits. There's truly no limit at Pandora. The company managed to distinguish itself from old school broadcast and satellite radio. Now, all it has to do is continue to build the infrastructure to meet demand and deliver the type of personalization to advertisers that's made it a success with listeners for roughly a decade.
The big indie music festival, SxSW, happens in Austin this month. Pandora will be there in force. That's a symbolic specimen that helps illustrate the difference between this company and Sirius XM.
Springsteen keynotes SxSW this year and performs there with the E Street Band. Springsteen also has a massive presence on Sirius and will do an exclusive concert for satellite subscribers at Harlem's Apollo Theater. It's amazing how Bruce manages to remain relevant not only in his core, older-skewing demo, but with the younger crowd that flocks to Austin every March. He gets it. And if you do not understand this little Pandora v. Sirius XM anecdote without an explanation, you likely will not understand it with one.
As a quick aside, I should be interviewing Pandora co-founder Tim Westergren this month. When I do, Seeking Alpha readers will be among the first to know.
Disclosure: I am long P.