Ariad Pharma (NASDAQ:ARIA), 3/2/12 pps: $14.68
Ariad is a biopharmaceutical company that focuses on the discovery, development, and commercialization of small-molecule drugs for the treatment of cancer.
Ariad just reported its Q4 2011 results on Feb. 27th. The company lost $51.8 million, equating to $0.38 per share, compared with a loss of $30.3 million, equatin to $0.25 per share. The company took a $9.3 million warrant liability charge to reflect the rising price of its stock, and its research and development costs grew 53 percent to $24.7 million, and revenue fell to $78,000 from $535,000.
This was to be expected to some degree, as in Q3, 2011, Ariad realized some of the milestone payments from its partner Merck (NYSE:MRK) for its drug Ridaforolimus, which is indicated for the treatment of metastatic soft-tissue and bone sarcomas. Ariad is not a revenue generating company yet, but should be next year as Ridaforolimus is expected to receive FDA approval towards the end of this year. The CEO, Dr. Harvey Burger, is a very competent leader who has yet to sold one share of his massive 7 million share position in the stock. The man is one of the most bullish and confident bio-pharma executives I have ever seen. Needless to say, I like this guy quite a bit, and so should long term investors in Ariad. I strongly believe the company will have success with all its drugs, and will be one of the leaders for years to come in the Oncological drug space.
There is more to talk about with Ariad, which I speak about in a prior article. Since this is an article covering short term swing trades, let's move on to the technical reasons it should return a nice short term gain: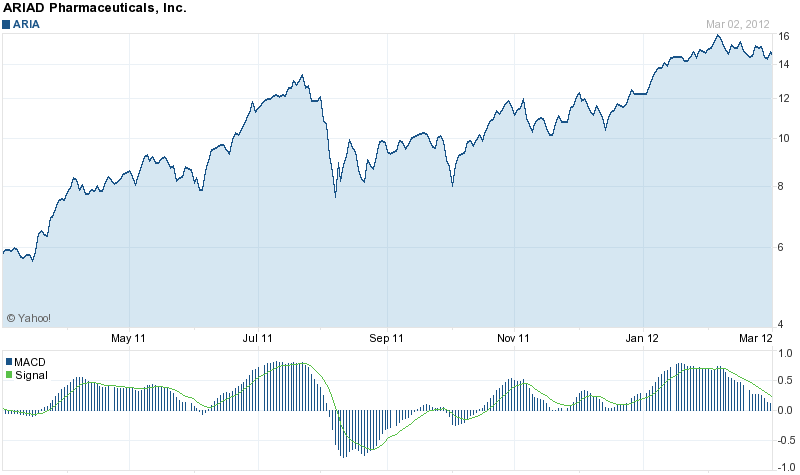 The MACD signal is drifting downwards and is close to indicating the stock has become oversold. Notice the slope is in a flatter down trend, rather than the one we saw prior from around August 2011, which was a sharp down turn. The current angle is closer to the down turn in June. 2011. This tells me the stock should flatten out at around $13.90, and the MACD should remain above the zero line because it has been in a longer and flatter down turn than the June MACD. I recommend an entry point from $14,25 and cost basis averaging down if necessary, to $13.90. I believe the stock will spike back to the $15.25 range, so that might be a good mid term exit point.
Antares Pharma (AIS) 3/2/12 pps: $2.59
Antares is a pharmaceutical company that focuses on self-injection pharmaceutical products and technologies, and topical gel-based products.
Antares has generated some recent buy out speculation, as the company announced the hiring of John "Jack" Howarth as Vice President of Corporate Affairs/investor relations on Feb.27th. Howarth has a history of being directly involved in company buy-outs as we can see below:
Oct 2007 Alphapharma hires Howarth VP of Investor Relations
Nov 2008 King acquires Alphapharma
June 2009 King hires Howarth VP of Investor Relations
Oct 2010 Pfizer acquires King
Feb 2011 Antares hires Howarth VP of Investor Relations
It is easy to see a clear pattern with the companies Howarth has been involved with. It appears to me Antares is giving the market a signal that they are willing to be bought out for the right price, and I speculate the hiring of Howarth is intended to communicate this, and also designed to boost the stock price in order for Antares to eventually sell for a nice premium.
On Wednesday, March 7, 2012 at 9:20 a.m. ET (Eastern Time), Antares will present at the Cowen and Company 32nd Annual Health Care Conference.
I find this a bit curious after I received a reply 3 weeks ago to an email I wrote to the company CEO Paul Wotton. He stated to me that the company was in a "quiet period" and would address questions after it's 10K release, scheduled for March 12th. In my experience, this often means the company's earnings have beaten street estimates. Antares could have chosen to forgo the March 7th investor conference, but has decided to speak anyways. Honest companies never try to woo investors so close to earnings if the earnings are not better than expected.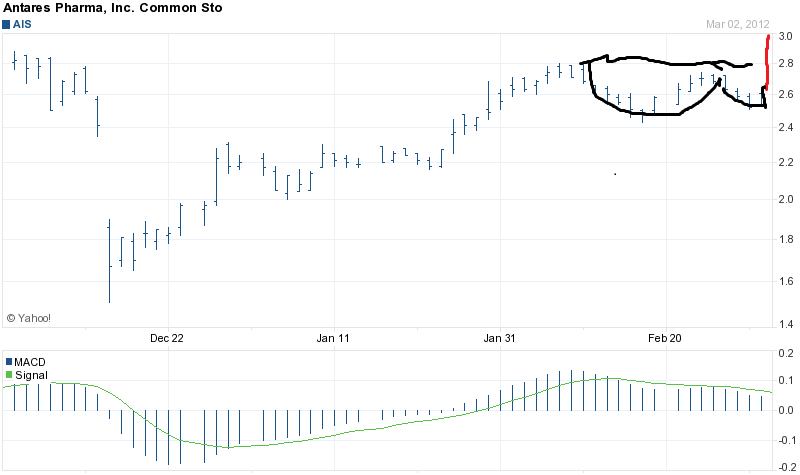 The Antares stock price has been all over the place lately, trading in a range between $2.46 and $2.80 for the last 2 months. Less experienced traders would read this as a double top situation, but more experienced traders might see a cup and handle forming, which indicates a break out might be coming. I drew black lines representing the possible cup formation. The red line represents a completion of the cup and hand pattern, which has not yet occurred.
I cover Antares pps action closely and have successfully predicted price moves in 2 prior articles. In one article on Antares, I successfully predicted a move from $2.63 to $2.75 and the stock hit $2.74, so I was off by a penny. In another article, I predicted a move from 2.46 to the 2.60 range, but it actually went higher, into the $2.70 range.
A breakout over $3.00 is coming, in my opinion. Let's take a look at an example of a cup and handle chart break-out:
McDonalds Corp. (NYSE:MCD)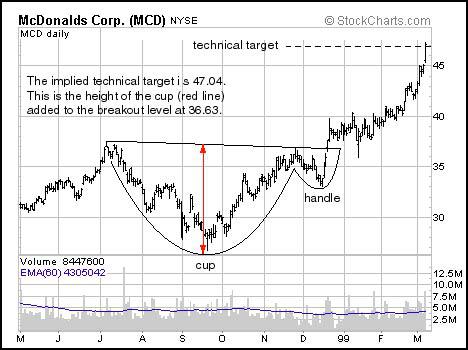 Notice the 2 tops, with the first one being slightly higher than the second one. To the left of where we see the word "handle," it appeared as if a double top bear signal occurred. The price of MCD declined somewhat sharply after the 2nd top, only to break out hard from the low set from the 2nd top. This low would have to break down below where it says "cup" for a break down in the stock price. In my opinion, we are seeing a nearly identical situation setting up for Antares as it did with The MCD chart above.
Less experienced traders might make the mistake of not matching up the fundamental speculation with the chart technical's. I made this mistake recently by forecasting in another article an upwards move in ReneSola (NYSE:SOL). I failed to take into consideration the fundamental issues that were occurring with other Chinese solar companies with their poor earnings that same week, and I ended up losing on that trade.
Spectrum Pharma (NASDAQ:SPPI) 3/2/12 pps: $13.12
Spectrum is a commercial-stage biotechnology company that primarily focuses on oncology and hematology. The company engages in acquiring, developing, and commercializing a broad and diverse pipeline of late-stage clinical and commercial products.
I have written a lot about Spectrum, but have not owned a single share of it to date. It might be time for me to consider buying some Spectrum stock. Analysts expected Spectrum to report a profit of 28 cents per share, but the company missed, reporting $0.13 per share in earnings.
However, excluding costs relating to stock-based compensation and other special items, the company stated it actually earned 24 cents per share, closer to consensus opinion, but still missing the target. Revenue rose 56 percent, to $53 million from $33.9 million.
I expected revenues to slightly come under estimates, but I did not expect earnings to come under estimates. I believe what we are seeing with Spectrum is in part, the costs of aggressive marketing for Zevalin. I think analysts did not quite figure this into their estimates for the Q4 11 earnings and revenues.
Zevalin sales are slowing down which is to be expected, and the drug may have reached peak market penetration. In my opinion, this should not concern Spectrum long term investors because of the Spectrum business model; aggressively seeking out drugs created by small pharmas, acquiring the small pharmas for cheap, getting those drugs FDA approved, then turning around and aggressively marketing the drugs. I expect Spectrum to continue this business model as I believe it is a long term winning one, notwithstanding the company has an excellent CEO.
OncoVista (OTCPK:OVIT) is one company that seems to fit the bill somewhat on what Spectrum looks for when buying a small pharma. It would be cheap to buy out, and would give Spectrum 2 already created drugs to work with. On a speculative basis and a rumor I heard, I bought a few shares of OVIT.
I found something interesting in the Spectrum chart below: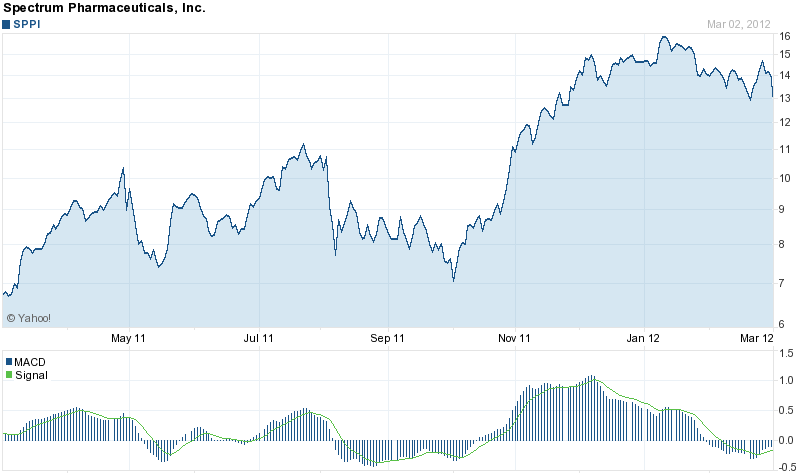 The MACD and signal are trending upwards, but the stock sold off hard in its last trading session. This means short sellers could be getting over aggressive here, shorting to a ton of buyers who want to accumulate shares. In my opinion, this is accumulation off of short-sell distribution, and this could certainly cause a short squeeze down the line, as the stock seems to have a strong base of long term investors with strong hands. In my opinion, the stock has based at its current price and will trend up slowly over time.
Questcor Pharma (QCOR) 3/2/12 pps: $39.15
Questcor is a biopharmaceutical company that provides prescription drugs for the treatment of multiple sclerosis, nephrotic syndrome, and infantile spasms indications.
Questcore is another company I watch closely and have written about before. Analysts' lowest price target is $49.00, which is well above its current price of $39.15. Questcore's lead drug Acthar, has seen its very strong sales continue, as 3,360 vials of the drug have recently shipped out.
Acthar is an injectable drug that is approved by the FDA for 19 indications. The company generates most of its net sales from two indications: the treatment of acute exacerbations of multiple sclerosis in adults, and the treatment of infantile spasms, in infants and children under two years of age. Potential future uses include treatment for proteinuria among diabetics, lupus and rheumatic diseases. Questcore bought the rights to Acthar in 2001 from Sanofi Aventis (NYSE:SNY) for about $100,000 plus some royalty payments. The company has a similar business model like Spectrum Pharma; buy drugs that already exist, get them FDA approved, and market them aggressively.
On Feb. 22nd, Questcore reported revenues of $75.5 million, smashing consensus opinion of $71.5 million. Sales also crushed the prior-year quarter's $29.3 million. The reported EPS was $0.48, also smashing the consensus estimate of $0.40 per share. GAAP EPS of $0.48 for Q4 were 433% higher than the prior-year quarter's $0.09 per share.
Let's see how the chart looks: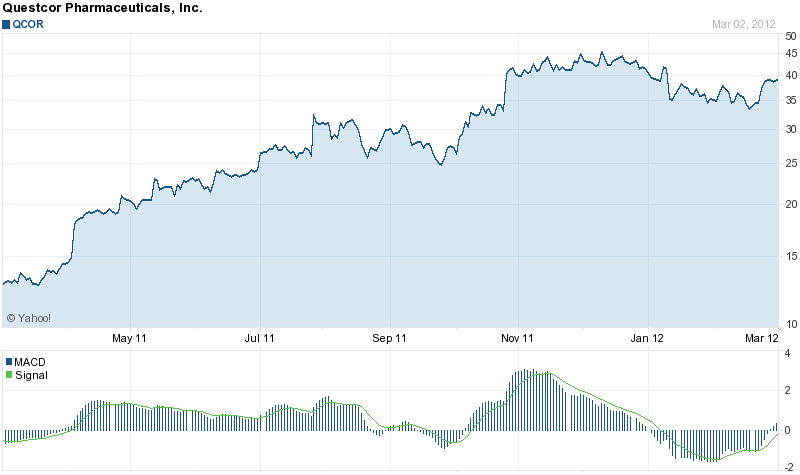 The MACD and signal are strongly pointing upwards, comin up to the zero line sharply, showing strong accumulation. A move to $42.00 this week would not surprise me. Questcore is both a great mid term swing trade and a longer term investment in my opinion.
I just started uploading videos to YouTube that are designed to help people trade the market more effectively. You can watch my first video here. I will be uploading more videos over time with more stock market insight, trading advice, technicals, and summaries of my articles from Seeking Alpha. I find it much easier to communicate via voice and video, as I will able to talk about a wider range of stock market topics.
Chart data sourced from Yahoo Finance and smallcapreview.com.
Disclosure: I am long AIS.
Additional disclosure: I am also long OVIT.OB. This article is intended for informational and entertainment use only and should not be construed as professional investment advice. Always do you own complete due diligence before buying and selling any stock.