Last week Immersion Corporation (NASDAQ:IMMR) reported Q4 2011 and full year results.
A quick look at some of the highlights:
Revenue was $7.7 million, a 20% increase compared with $6.4 million in Q4 2010, and higher than consensus ($ 7.09 million);
Royalty and license revenue totaled $6.8 million in Q4 2011, an increase of 26% as compared with $5.4 million for the same period of the previous year;
Net loss for Q4 2011 was $(270,000), or $(0.01) per share, slightly better than consensus of $(0.02);
Revenue for fiscal 2011 was $30.6 million, slightly less than the $31.1 million achieved in fiscal 2010. However, revenue for the 12 months ended December 31, 2010, also included product sales of approximately $4 million related to the discontinued medical line transferred to CAE, and about $1 million related to true ups of royalty reports recorded in Q2 2010;
Royalty and license revenue for fiscal 2011 totaled $26.9 million, a 16% increase over $23.3 million in fiscal 2010;
Net loss for fiscal 2011 was $(1.6) million, or $(0.06) per share as compared with a net loss of $(5.9) million, or $(0.21) per share, for fiscal 2010;
Adjusted EBITDA was positive both in Q4 2011 [$1.9 million, as compared with $(144,000) in Q4 2010], and for the full year ($6.0 million, an increase of $3.4 million over $2.6 million in fiscal 2010);
Immersion guided for revenue in the range of $34 million to $36 million in 2012, an increase of 11% to 18% from 2011, less than analysts' expectations of $ 36.9 million;
As of December 31, 2011, Immersion's cash and cash equivalents were $56.3 million, compared with $61.2 million as of December 31, 2010. The decrease in cash is due to the company's buy back of approximately 1.1 million shares of its common stock, at a cost of roughly $ 6.5 million.
After the conference call, Immersion was initiated with a Neutral at Brigantine, while Craig-Hallum rated the company a Buy with a $9 price target.
Here is a quick look at how the company performed in the last few quarters, related to royalty and license revenue only: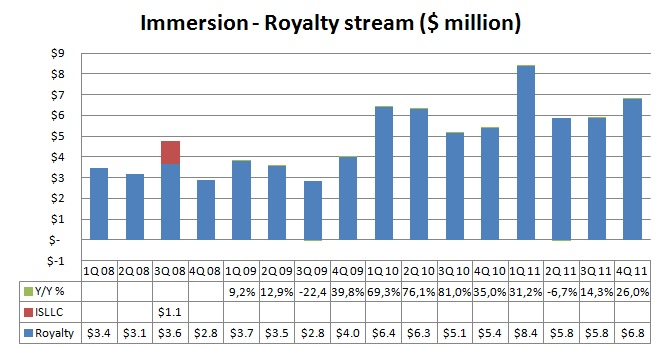 If we exclude Q2 2011, whose data were impacted by a comparison with a quarter, in 2010, including about $1 million of true ups mainly in the gaming sector, Immersion showed, on a Year/Year basis, increases in the range of 14% to 31% in its 2011 quarters.
During Q4 2011, Immersion filed a complaint with the U.S. International Trade Commission ("ITC") against Motorola Mobility (NYSE:MMI), asserting that several of its Android-based (NASDAQ:GOOG) smartphones infringe six Immersion patents covering various uses of haptic effects in connection with touchscreens. Immersion has also filed a patent infringement complaint against Motorola Mobility in the U.S. District Court for the District of Delaware.
During the conference call, Vic Viegas, Immersion's CEO, updated investors about the potential costs of this litigation:
With our anticipated increased quarterly spending related to our efforts to defend and monetize our IP of between $2 million to $2.5 million we expect the quarterly run rate for OpEx excluding non-cash charges to increase to the range of $8 million to $9 million.
As a result, Immersion does not expect to be profitable in 2012, but still forecasts positive adjusted EBITDA for the year.
Royalty revenue from the mobility sector were roughly 41% of total revenue in Q4 2011, or $ 3.15 million. These royalties mainly relate to the licensing of the company's programmable haptic solutions, which come at a cost, for licensees, of about $0.10 per unit, and represent Immersion's middle offering: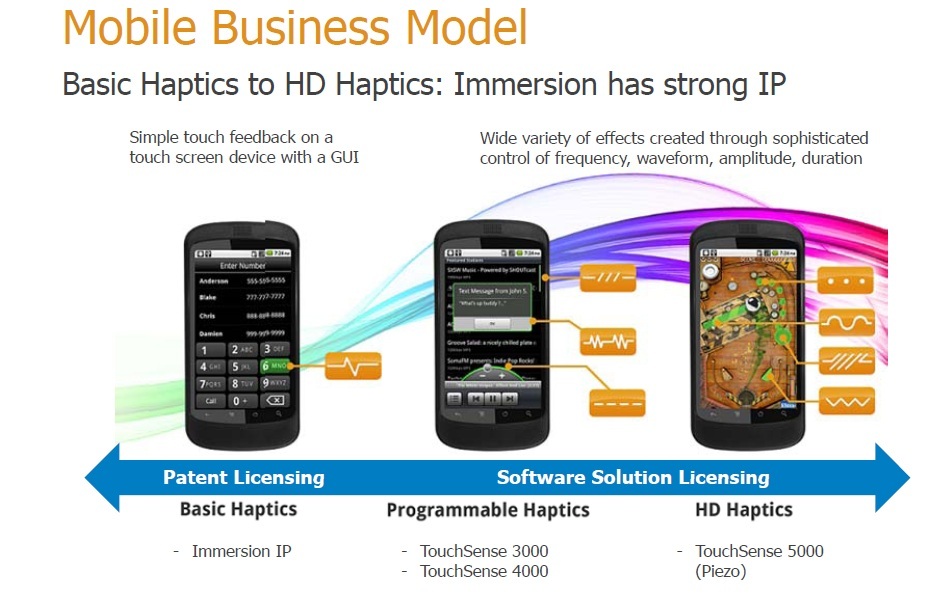 Licensing for basic haptics would most probably come at a cost of a few cents per unit, while HD haptics are expected to carry about twice the royalty rate compared with programmable haptics.
Today, Immersion Corporation has a cooperation with several OEMs, including three of the largest handset producers, namely Nokia (NYSE:NOK), Samsung (OTC:SSNLF) and LG (OTC:LGCIF), from which it derives most of its revenue in the segment.
This short summary of the company's licensing strategy in mobility leads to the obvious question: is it worth, for Immersion, to invest a very large amount of money going after a relatively minor smartphone producer, when the potential revenue stream it could gain from this action is somehow limited? During the call, the company gave a partial answer to the question:
Larry Solomon - Capital Research

Yes, Vic, you said that the litigation expense would be $2 to $2.5 million a quarter and that the process would go on for 16 to 18 months, which implies somewhere between $10 and $15 million of expense. And I'm just wondering whether you'll be able to recover that, given the royalty rates for your products. And if you're successful, will that be reimbursed in addition to the royalty? And would you expect punitive damage? And then also, are there other major handset and cabinet vendors that have similar infringement to Motorola that by winning this case you would automatically have a strong case to proceed with against the others?

Vic Viegas

So the last part of your question, clearly there are other companies that we believe are infringing and based on our strategy we may add other defendants to the current case. Or may add them in other types of actions. So yes, we believe there are other infringers beyond just Motorola. In terms of damages, the ITC case, ITC venue is really primarily focused on determining infringement. And if it's determined there is infringement then they would typically grant an injunction and would prohibit the importation or sale of infringing products.

The separate case that we filed in Delaware would typically be focused on damages, and having the damages as well as potentially punitive damages for the willful infringement of our IP. So that would be the vehicle to collect on our damages.
In our opinion, a closer look at the complaint filed with the ITC (pdf) sheds additional light on Immersion's strategy. The non-technical descriptions of the patents involved in the litigation, and the reference to Motorola's use of the Android's operating system (both the 2.2, "Froyo" and 2.3, "Gingerbread" platforms), in our opinion show that Immersion's target is to prove that haptics is an integral part of that specific operating system, and that some areas of this technology are protected by Immersion's patents - and if this analysis is correct, every single handset producer using Android could potentially be added to the complaint/lawsuit.
Google's acquisition of Motorola makes the case even more strategic for Immersion: if Google/Motorola lost the case or ever decided to settle the lawsuit (our favorite outcome), it is hard to imagine that other smartphone producers would decide to pursue a different strategy.
While Immersion's strategy to go on the attack against handset producers not licensing its basic IP may appear quite costly, on the other side a similar question might apply to any handset producer: is it worth investing a lot of time and money defending against a request, which may end up adding a very small royalty fee per unit, and comes from the company with the largest IP patent portfolio in the field?
Going beyond Immersion's litigation strategy against Android producers, it may be interesting to resume the "state of the art" related to the implementation of haptics into smartphones.
Today, the market is basically made of a few operating systems, that are fighting for dominance. The names involved are Google (with Android), Apple (OTC:APPL) (with its iOS), Nokia (with Symbian), Microsoft (NASDAQ:MSFT) (with its Windows Phone platform) and Research in Motion (RIMM) (with its BlackBerry OS).
The last operating system is mainly linked with smartphones incorporating a real keyboard, and the few attempts, made by RIM, to go touchscreen haven't really been successful. At this stage, RIM is relatively important/interesting as a producer to Immersion.
The Windows phone platform is relatively small at the moment, in terms of market share, but Microsoft hopes to get a strong push thanks to its association with Nokia, once the largest mobile phone producer. While Nokia has been an Immersion licensee for several years, we'll have to keep an eye on future product launches to see what role haptics will play within this operating system.
Haptics is fully part of the Android and Symbian operating systems. Some of Android's leading handsets producers are licensing Immersion's programmable haptics, like Samsung, LG, Toshiba, Fujitsu and NEC, as well as Nokia for its Symbian platform.
Immersion's Integrator and the newly launched HD Integrator contribute to making haptics implementation easy for OEM using the Android platform.
On the Symbian front, recently Nokia released interesting devices, like the N9 or the Nokia 808 Pure View, recent winner of the Best New Mobile Handset, Device or Tablet award at Mobile World Congress 2012, that include haptics.
Unfortunately, Symbian is the new Latin, and Nokia's decision to discontinue the operating system in favor of Microsoft's Window phones OS will reduce the importance of this platform going forward.
The situation gets more interesting when evaluating Apple's iOS. The recently launched iOS5 added some haptics to the iPhone, for example in the form of custom vibrations to let users recognize callers. In the last few years Apple itself has filed several patents specifically related to haptics, which have been reported on several occasions (I, II, III) on specialized web sites like patently apple. Just analyzing the last two years, there are more than 40 Apple patent applications that mention haptics in the filing (although they may not be directly addressing haptic solutions).
We still believe Apple has a "not invented here" syndrome as far as haptics, but it is also possible to speculate that the existing effects were considered not "good enough" by Apple engineers. Today's HD haptics, made possible also by the introduction of new piezo drivers like the DRV-8662 from Texas Instruments (NYSE:TXN), a long time Apple's partner, may contribute to a shift in Apple' s attitude, a good reason to look at the incoming launch of the new iPad 3, this week, for clues if it may represent another step toward haptics implementation.
Mike Elgan, from Computerworld, is among those believing haptics could find a way into this device:
I try to avoid joining in on the Apple announcement Kremlinology. But I can't resist this one.
Apple has sent the invites to press for their March 7 iPad announcement, which always has subtle clues about what will be unveiled.
The two facts that jumped out at me were these: 1) The incomplete sentence "and touch"; and 2) there's no physical button in the picture.
Apple wouldn't emphasize touch unless there's something new about touch. So what's new about touch?
One theory is advanced haptics, which as I've detailed in the past, have the potential to completely transform and improve the multi-touch tablet experience
While we do not want to join the Apple speculation arena, we believe smartphones and tablets are becoming the new consoles for gaming, and there's no doubt that haptics and HD haptics can add a lot of fun to games and become an interesting differentiator for OEMs.
In the long term, even Apple will have to look at what is happening on the Android front and will be confronted with haptics and what this small technology can add to gaming, as explained in this FB video by David Zemke of Sega, talking about the implementation of Immersion's haptics technology in the popular Sonic CD game on an Android tablet (video taken at the recent Mobile World Congress).
Other recent wins among game producers include "Grand Theft Auto III," and several other producers. As a reminder, Immersion will start receiving royalties from the implementation of haptics into games and apps starting from 2013.
In summary, we expect that the development of the complaint against Motorola Mobility, and possibly other Android OEMs , for the use of basic haptics will probably take most of investors' attention in 2012, putting a shadow on other developments that may be at least as important, like the increased adoption of haptics in the automotive sector, and the introduction of this technology into more commercial and consumer products .
While 2012 results will be negatively impacted by the litigation costs, the company's scalable business model should ensure very good returns in the longer term, assuming the company can achieve a positive outcome from the most recent litigation and keeps executing in adding new licensees, especially in the mobility and automotive verticals, while remaining on top of the most recent developments for haptic technology through the continuous filing of new patent applications.
Disclosure: I am long IMMR.