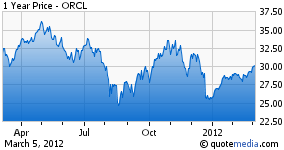 In the stock market, there are events such as in sports that investors take for granted. There are certain companies that have become, in essence, the New England Patriots or the New York Yankees - that is to say, they have developed a level of consistency to the degree where they have become boring or perhaps even routine. IBM (NYSE:IBM) has long been in that category. But now it is time to consider that database giant Oracle (NASDAQ:ORCL) merits such consideration. But has it become a victim of its own success to the extent where its recent stellar performances have raised the bar so high that perhaps even it can't maintain? I bring this up because of Wall Street's overreaction to its recent earnings miss.
Understanding Oracle's Challenges
During the earnings conference call, management spoke of some struggles to close sales as the quarter ended which reflected uncertainty in financial markets and caused a number of customers to pull back on spending. Management also detailed that new software and hardware products, including Exadata and Exalogic, sold well and beat out servers that combine features from market leading competitor Intel (NASDAQ:INTC). I have to wonder what impact this will have with its competitors such as Cisco (NASDAQ:CSCO), Microsoft (NASDAQ:MSFT) as well as Hewlett Packard (NYSE:HPQ). However, with its leading business applications and leading database software solutions, Oracle will continue to face much stronger demand for its products, particularly with its increasing integration in business software, hardware, platforms and use.
As a way of demonstrating its keen sense of the competition, Oracle had previously announced that it would stop developing software for Intel's Itanium chips. While some had speculated that this is due to HP's Integrity servers having titanium processors, it appears there were some truth to the suspicion. On Wednesday of last week, we learned that HP filed a lawsuit against Oracle, claiming that they have illegally decided that future versions of its database software won't support a particular line of HP servers. So clearly the company has some challenges that it needs to address, but these are merely blimps on its radar.
Those servers use a chip called Itanium that Oracle insists is being phased out, a claim that the chip's maker, Intel, has denied. In the lawsuit, HP accuses Oracle of anti-competitive behavior, breaking a promise to continue supporting Itanium machines and of the use of "strong-arm tactics to coerce customers into replacing their HP servers with Sun servers they do not want." Oracle's foray into the computer hardware market - an HP stronghold - began with its $7.3 billion acquisition of struggling Sun Microsystems a couple of years ago. All of this notwithstanding, investors want to know where is the company going and is it trending in the right direction? We have to look into its recent earnings to get a clearer picture.
Oracle by the Numbers
In its latest quarter, the company reported a profit of 54 cents per share while analysts were projecting profits of 57 cents. The bright side of the report was that new software sales rose slightly - 2% year-over-year to $2 billion. Management also added that it expects hard revenue declines of 5% and 15% while also projecting new software sales growth of flat to 10% - another disappointment as analysts were forecasting growth of 7%. I am willing to concede that was not one of its best reports. As a longtime shareholder, I have seen better and the company understands this. But it was also far from horrible.
Summary
Oracle realizes that it cannot rest on its laurels because the competition for its current business as well as those heading for the cloud is growing fierce - particularly from IBM and Microsoft. But managing the competition is nothing new for the company. Yet, it would seem that the market would have understood this and not have overreacted to its recent report. But nevertheless, the stock has since then rebounded from its recent lows and now sits comfortably at $30. With a P/E of 16, I can no longer say that the stock is still cheap, but I am not ready to say that it should not be acquired either considering how expansive the cloud market is projected to be.