The market was surprised by a flash crash today. This time it hit just Apple (NASDAQ:AAPL) stock, while leaving most of the rest of the market alone. The chart below registers the event in 1 minute bars.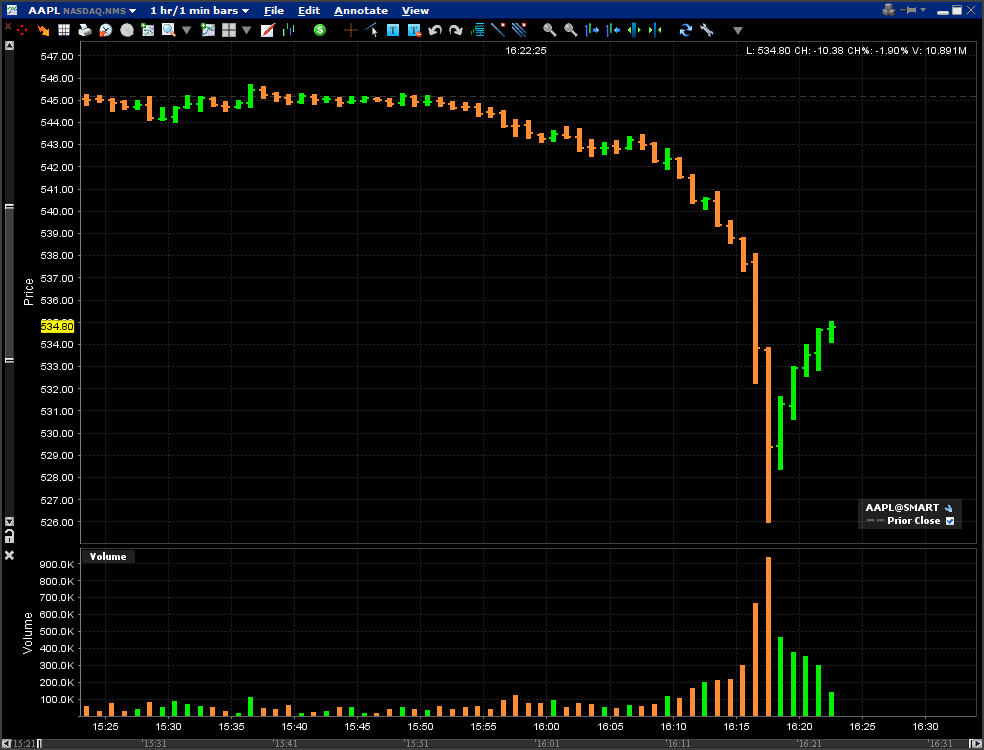 Click to enlarge
This kind of market action can result both from autonomous bots reacting to the order flow in the market, and from the cumulative triggering of stop losses and trailing stop losses from trend following traders that saw the incredibly stable Apple uptrend, and decided to profit from it by following it with a stop close to the market.
Over the long term, this will be just another blip in the chart, much like the May 6, 2010 event that engulfed most of the market. Yet, it shows the dangers of trying to follow a trend with a near stop loss. A lot of traders doing it were most certainly shaken out of their positions.
The market has now mostly stabilized and there shouldn't be much in the way of long term consequences from this event. The trading day itself is being greatly affected by China's downgrade of their GDP growth objective from 8% to 7.5%, as well as the Chinese February Non-manufacturing PMI, which came in at a very weak 48.4, implying decreased activity in the services sector. Most of the impact of this news is being felt on the cyclical stocks.
Given the nature of what's bringing the market down, even though the situation in Apple stock has stabilized, it would seem that the most likely path for the market would be down, with China being so important to the world's economy right now.
Regarding Apple, I must also add that the stock is approaching a sell/short setup, which I'll describe in another article.
Lessons to be had
Even on seemingly safe trends and stocks, there's always the lingering chance something like this flash crash or, more commonly, a usual "running of the stops" might happen. To protect from this a regular stop loss won't work. Only a mental stop, to apply after the stock has breached some level and stayed below it for a given time, will work and at the same time protect your position from this kind of move. This will however have the downside of not protecting the position by cutting it as quickly as possible in case some fundamentals-altering news is divulged.
Disclosure: I have no positions in any stocks mentioned, and no plans to initiate any positions within the next 72 hours.