We often hear that dividend paying, large cap stocks are the way to go in order to receive both possible gains, and guaranteed fixed income over the life of ownership. Here I outline 4 of my personal picks for quality dividends with underlying growth potential. Stocks are in no particular order.
Intel (NASDAQ:INTC)
I currently hold Intel long and have decided to also write weekly covered calls against my position starting soon as I outlined in this article here. To me, Intel is the quintessential dividend stock everyone should own. With a market cap of around $135 billion, and quarter after quarter of beating earnings, they are not only a behemoth but also a well performing machine. Consider their cash position and their competitive advantage of being ahead of the curve within their space, and they are set up to weather any storm particularly well.
Consider Intel's 1 year chart :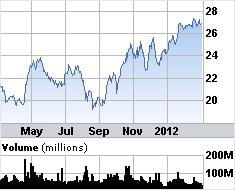 Intel is currently trading around $27 resistance and has been for quite some time. It could be due for a breakout very soon, and as such I find it to be a good candidate for purchase. My 2012 end of year price target is $32 to $36, indicating a 19% to 34% increase over Friday's close of $26.92, along with a $0.21 dividend per share paid quarterly.
Microsoft (NASDAQ:MSFT)
I consider Microsoft and Intel to be buddies. They may not see it that way but when I think Intel, I think Microsoft. Another behemoth, Microsoft's market cap is around $269 billion, and they, like Intel, have posted quarter after quarter of earnings which beat out analyst consensus estimates. While tablets and smart phones may be replacing some usage of Microsoft products, I think "total" replacement is too far down the pipe to be of concern today. Microsoft is a monster, and I want to be on the monster's side, lest it get me while I sleep.
Consider Microsoft's 1 year chart :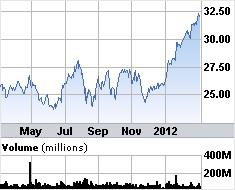 Microsoft is currently in a bull run and trading at $32.07 as of Friday's close. I expect the bull run to continue but encounter resistance around $37 before it heads up again. My 2012 end of year price target is $39 to $42, indicating a 21% to 31% potential gain. Dividend per share is currently $0.20 paid quarterly.
Altria Group (NYSE:MO)
I hate cigarettes. I don't smoke. My parents smoked them when I was growing up as a kid and I remember many times taking them out of my mom's purse and crushing them up then putting them back. That said, I understand that Altria is more than just cigarettes and also includes alcohol which, surprise!, I don't drink. These are two things that, despite the health risks they pose, *most* people will always buy. It's just how things go, and Altria is in the business of making money off of these "needs." I like them for the money they have the potential to make me, not for the products they sell. Altria runs a large market cap of $61.3 billion.
Consider Altria's 1 year chart :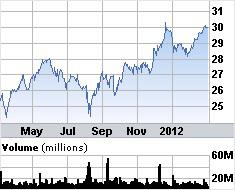 Like many other companies Altria is in a bull run and trading $29.96 near light resistance directly above it. I see no reason that it will not break through this resistance and continue the current trajectory. My 2012 end of year price target is $35 indicating around a 17% potential gain. Dividend per share is currently $0.41 paid quarterly.
Exxon Mobil (NYSE:XOM)
What keeps running around the headlines? What do you see when you fill up your tank 1, 2, 3 times a week? That would be rising fuel prices. As fuel prices go up, typically the companies which are in the business of selling that fuel, go up. Exxon Mobil is huge, running a $406.9 billion market cap. Solid earnings and low debt relative to income add to the attractive qualities of this stock. The days of "cheap gas" are behind us, and Exxon Mobil stands to appreciate as demand outstrips supply.
Consider Exxon Mobil's 1 year chart :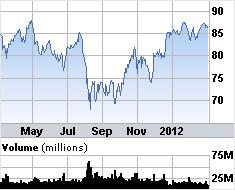 Exxon Mobil has been trading around $85 for most of 2012 and currently sits at $86.33. As gas prices increase I expect share price to appreciate and head towards $100 per share, representing a 16% upside. Dividend payment is currently $0.47 per share, paid quarterly.
Look to the future and invest accordingly. The 4 stocks above are attractive not only for their dividend, but for their growth prospects over the course of this year.
Disclosure: I am long INTC. I may initiate a long position in MSFT at any time.