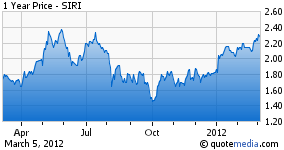 This week Liberty Media (LMCA) is free to increase its stake in Sirius XM (NASDAQ:SIRI) above 49.9% without having to tender for all the shares of Sirius XM. Liberty Media currently owns 40% of Sirius. Owning SIRI would provide Liberty with access to SIRI's $7.8 billion of net operating liabilities (NOLs) and its rising free cash flow. However, from where we stand, we see four options for Liberty Media with regard to its ownership stake in Sirius:
1) Acquire the remaining 60% of Sirius. This is unlikely to happen for several reasons. One, acquiring full control of SIRI now will invalidate the full access of SIRI's $7.8 billion of NOLS. They would have to wait another six months, September 2012, to make that type of acquisition in order to gain full access to SIRI's NOLs. Also, the cost should be prohibitive. Liberty would have to pay close to $10 billion to acquire the remaining 60% of SIRI it does not already own. They do not have the capital to do so and is unlikely to raise capital to do so and Liberty management stated on the 4Q11 earnings call that they would not use their stock to acquire SIRI. So this option is unlikely to occur.
2) Increase stake to 50% and pursue a Reverse Morris Trust. This option is talked about most by Wall Street analysts as the most likely scenario. With this option, Liberty will not have access to SIRI's NOLs. Bringing its stake to 50% would require about $1.5 billion of capital, which is doable.
3) Increase stake to 50% and then increase its stake to 80% in September 2012. With that option Liberty Media would have access to SIRI's NOLs. The all in costs would be $6.5 billion which would be doable given Liberty's current cash balances, credit lines and ability to raise capital.
4) Do nothing. Here the strategy would be to let Sirius buy back its shares thus increasing Liberty's stake to 50%. They could then pursue the Reverse Morris Trust. In the interim, Liberty could repurchase its own stock given that they believe that the shares trade at a discount to its NAV.
Come March 7th we would rank the probability of what Liberty's management does as follows:
Option 4: 70%
Option 3: 15%
Option 2: 14%
Option 1: 1%
Now, Liberty Management have said a few things publicly that warrants consideration. On the 4Q11 earnings call, management stated that Liberty won't be a full tax payer for too long. This suggests to us that they see a path to utilize SIRI's NOLs. In that case, option 3 could be the scenario they chose. They could as well wait until September to take that path rather than doing it in two stages, unless they believe that the price could move up materially between now and then.
Other points to consider is that Liberty is not as aggressive with share repurchases given its belief that the shares are undervalued. They could be saving the dry powder for option 2 and option 3.
Yet still another point is that Liberty is considering raising capital within the new Liberty Ventures Capital. It is not entirely clear why.
What is immediately clear is that SIRI shareholders should sit and enjoy the ride up.
Disclosure: I have no positions in any stocks mentioned, and no plans to initiate any positions within the next 72 hours.