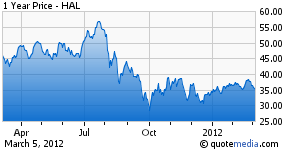 The market has had a great run over the last five months or so. Unfortunately, my value screens are turning up much fewer deep bargains that they were last October. One stock that continually shows up as deeply undervalued and has not participated in the rally so far this year is Halliburton (NYSE:HAL)
7 reasons HAL is a great buy at $35 a share:
The median analysts' price target for the 29 analysts that cover the stock is $48 a share, some 33% higher than current prices. Credit Suisse has an "outperform" rating and a $54 price target on Halliburton.
The company is showing solid earnings growth. Halliburton made $3.36 in FY2011, is projected to earn $3.90 in FY2012 and analysts have it making $4.51 a share in FY2013.
Exploration budgets are going up at the major integrated oil companies and new opportunities like the Russian Artic and Iraq are opening up for new exploration.
BP p.l.c. (NYSE:BP) just settled one part of the gulf oil spill claims for lower than most analysts expected. This bodes well for all players involved in spill including Halliburton, and could improve investor sentiment.
Halliburton is trading at under 8 times forward earnings. This is an over 40% discount to its historical average.
In addition, it has a dirt cheap five year projected PEG (.35). This is about a 70% discount to its historical average on this metric.
Halliburton is trading near the bottom of its five year valuation range based on P/B, P/E, P/S and P/CF.