In the world of IPOs, money can be made fast and lost even faster. If companies do not perform as expected, or high hopes and dreams make way for more sober "real" news and figures, then their share prices will subsequently drop.
The following is a list of 3 companies which should be dropped immediately before their share prices do. For those with a bit more conviction, these stocks are good short candidates as well.
Pandora Media (NYSE:P)
What can I say? I dislike the advertising business model. I dislike the low barrier of entry to the internet radio space. I dislike the fickle nature of "free" users who will jump ship to the next "free" thing as it suits them. I dislike the lack of content, lack of "hook" and reliance on a mobile internet delivery system which just is not ready for them yet, and will not be for years to come. To top it all off, I think they will have a bear of a time competing with free over-the-air radio, and the satellite radio giant SiriusXM (NASDAQ:SIRI).
Consider the following 1 year chart: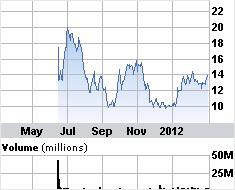 Notice the bearish triangle with support at $10 and steadily decreasing resistance? Bad news. With earnings scheduled for March 6th, the stock could turn south shortly after and head towards $10 again. Dump it. Or if you have conviction, buy puts or short the stock.
Groupon (NASDAQ:GRPN)
Groupon is another "dislike" from me. Based around a concept of offering local deals on products and services at a fraction of the price, it is fast becoming a failed experiment. Groupon depends on local businesses to subscribe to their model and see real value from their "investment" through participation in Groupon's low priced deals. Businesses just aren't seeing the value in returning customers based upon their "sell at a loss" deals.
Groupon, thanks for saving me a bit of cash, but I used you to get some cheap food and products and now I'm done with you. Consider the following 1 year chart :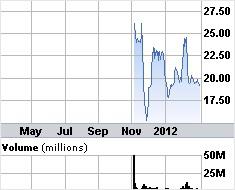 Notice again, a bearish triangle with a couple of blips above and below. Support is roughly $18.5 and resistance is steadily decreasing. At a current share price of $19.20 and Q4 earnings coming in 5 cents below analyst estimates, Groupon is flirting with dangerous territory here. Toss Groupon into the trash with your weekly circular and get out while you still can. This is also a prime candidate for put options or for shorting.
Yelp (NYSE:YELP)
Ouch. This stock just had its IPO on Friday. How can anyone be saying to dump it so soon, or even worse, suggest shorting it? If the stock had options available, I'd buy puts too.
The writing is on the wall for this one. This was an IPO of $15, run up to $24.58 in a single day. Virtually every single tech IPO posts a huge pop to start, and then drops significantly soon after. Look at Pandora and Groupon above for evidence. Look at Linkedin (NYSE:LNKD). Yelp is a fitting name for this company, as those who just bought in on the IPO may find themselves yelping in pain as their wallets catch on fire and money burns away.
For the sake of uniformity, here's Yelp's 1 day chart from Friday: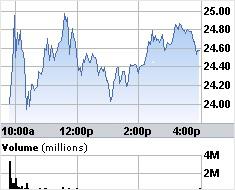 Take a good long look at these prices, because I expect the share price to move south in short order from here. If you bought in, I hope you bought in below the close of $24.58. Drop it before it takes you down with it.
With an IPO, especially a tech IPO, more often that not it is important to get in, and get out just as fast. Take some gains, and let others do the speculating. Give the stock a few months and see where it goes from there and then re-enter if you are comfortable. Throwing money at the new guy is a poor move -- didn't we learn back in 2000?
Disclosure: I am long SIRI.
Additional disclosure: I may initiate a short position in P or GRPN at any time through the purchase of put options.