Market Recap: The stock market moved down on the day but recovered from its lowest points after the market dipped greatly in early trading. The spark was a move by China to decrease its growth outlook from 8.0% to 7.5% for 2012. Given that a great number of companies in the marketplace rely on Chinese growth, the news was not well received by the market. Perhaps putting a damper on a total sell-off is two reports that came in better than expected for U.S. data. First, factory orders slipped but were not as low as expectations at a 1.0% decline. Additionally, ISM Services came in better than expected.
The market has gone through a weaker stretch as of late without a lot of major up days, but this is healthy after such a strong rally. The market still continues to wait for that big move. Here are two stocks that we are watching right now:

Trina Solar (TSL) and Sanderson Farms (SAFM). With TSL, we like this company long-term. TSL has had a gigantic move back from $11-plus to $7-plus in just a couple weeks. That move signals a buying opportunity. We got involved at $7 at the beginning year, and we believe that's a great entry point for a longer term position. While we do see a ton of risks and a need to be under-invested in the arena, TSL has great support in this area. Further, we believe that Trina is going to continue to diversify into the U.S. as well as continue to see growth in China and Japan. Margins are slipping, but that is to be expected as they were so high. We believe that TSL has the ability to be the best company in the sector still with low levels of debt and a solid management team.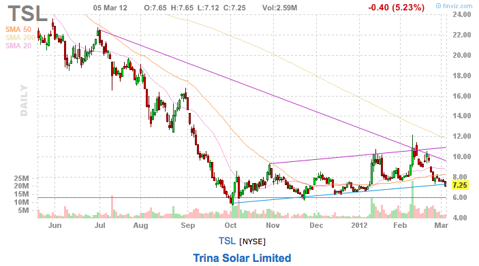 SAFM looks like a great pick-up to buy right now. Heavily upgraded by Goldman Sachs (GS) last week and had solid numbers, this meat producer looks great. The stock is breaking out right now and looks headed to 60. We would go long TSL for investment as well as buy SAFM stock and sell Apr20 $50 puts.
Tomorrow's Outlook
The market's bounce back today does make me somewhat less bearish about the week. Overall, it should maintain a week of caution and slow movement as we head into the big Friday jobs report. There are some definite opportunities for big market moves if headlines are more impactful, but that remains to be seen. There is no economic data out tomorrow of importance for us here, so we may look overseas for movement. We have the eurozone GDP tomorrow that should be fairly impactful. The business activity report out today was weaker, so a continuation of that theme would be negative for European markets.
Analyst Action
We did some interesting analyst action from today. Dick's Sporting Goods (DKS) got an upgrade before their earnings report tomorrow morning from Northland Securities and bump on PT from $45 to $57. Perhaps they think they know something about the earnings report? Costco (COST) was upgraded to Outperform from William Blair. One of the stocks we have been hottest on is CF Industries (CF). Their large move has put them well within the reach of many analysts' expectations. They were downgraded by Citigroup (C) to Neutral. We still believe they are a $300 stock.
Commodity Talk:
We continue to like shorting oil and United States Oil Fund (USO). Our trade for the week, however, would be long oil into inventories and short oil out of inventories into the jobs number. We believe we'll see some weaker dollar and strength in oil into Wednesday with a move to the downside post-inventories into the jobs number. Gold continues to weaken, which fits with the bear call spreads we recommended.
Our Moves
We had a solid day here as were able to exit several positions for a profit. We were able to get out of the first half of our short on Gardner Denver (GDI) for a 1.5% gain. We were also able to exit half of our Bed, Bath, and Beyond (BBBY) $57.50/$55 bull put spread for a solid 7% gain. Finally, we got a 23% gain on our 41/43 Dollar General (DG) Apr20 bull call spread as DG broke out above 43 today. We are close to taking a loss on a Paccar (PCAR) bull call spread. We added a long on Starbucks (SBUX) in our Equity Portfolio. We added long Ulta Salon (ULTA) in the Earnings Alpha portfolio, and we added Boston Beer (SAM) to our long-term portfolio with target No. 1 at 106.
We have the following positions. In our Short-Term Equity Portfolio we are long Panera (PNRA) and SBUX and short GDI. In our Options Portfolio, we are long PACCAR, McDonald's (MCD), Apple (AAPL), Panera Bread, Bed, Bath and Beyond and Discover Financial (DFS). We are short Amazon.com (AMZN). In our Earnings Portfolio, we are long ULTA, FedEx (FDX), Priceline.com (PCLN), Activision Blizzard (ATVI), Monster Beverage (MNST), and Joy Global (JOY).
Chart courtesy of finviz.com.