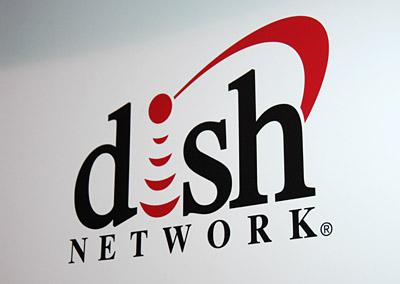 AT&T Mobility needs more wireless spectrum. There really is no mystery in that statement. Last year, the telecom goliath couldn't convince the Justice Department and the FCC that buying T-Mobile was an acquisition that, in the end, would benefit consumers. The result? A $4 Billion gift to T-Mobile (OTCQX:DTEGF) in cash and spectrum rights for a failed deal along with increased pressure to find a partner with a bit (O.K., a lot) of unused wireless spectrum to compete with Verizon (NYSE:VZ), Sprint (NYSE:S) and T-Mobile.
With the T-Mobile deal dead, speculation that AT&T (NYSE:T) would acquire Dish (NASDAQ:DISH) quickly hit the market. Dollar figures aside, a Dish acquisition makes good strategic sense for AT&T for multiple reasons. It's more likely to get past government regulators, it will provide at least short-term relief to its wireless spectrum dilemma, and perhaps most interestingly, it gives the telecom a fully-owned Video delivery option for areas outside the U-verse footprint.
Sure, AT&T will likely continue to lose ground to cable in the broadband market as customer demand for faster download speeds outpaces DSL capabilities. However, a proper marriage to DISH (as opposed to a cross-marketing and selling agreement with DirecTV), could provide a line of bundled products for AT&T that is perfectly positioned as the best value in Video and High Speed Internet Access.
And while there is continuing evidence of cord cutting and cord trimming in the market, Dish's value-centric marketing has won share of the online shopper for home video products. In fact, Dish is the only major provider to see year-over-year growth of online shoppers for Video service.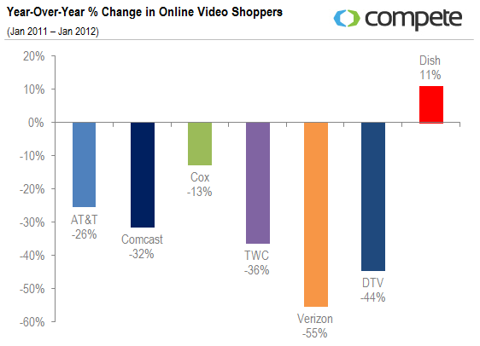 Dish has carved out its spot as the low cost provider (e.g. 5 deals for under $50). AT&T has been selling dry-loop DSL for under $20/month for over a year. An entry-level DSL/Dish bundle priced at $40 or $50 would most certainly help AT&T fight off the consistent pressure from Cable – not a bad extra when you're buying up wireless capacity.
Image from: The Next Web