With the S&P 500 reaching a nearly four year high last week, it is prudent to pause and examine the current relative valuation of this local peak to past market highs. The graph below shows the price-to-trailing earnings ratio of the S&P 500 at days where the index reached a new trailing fifty-two week high.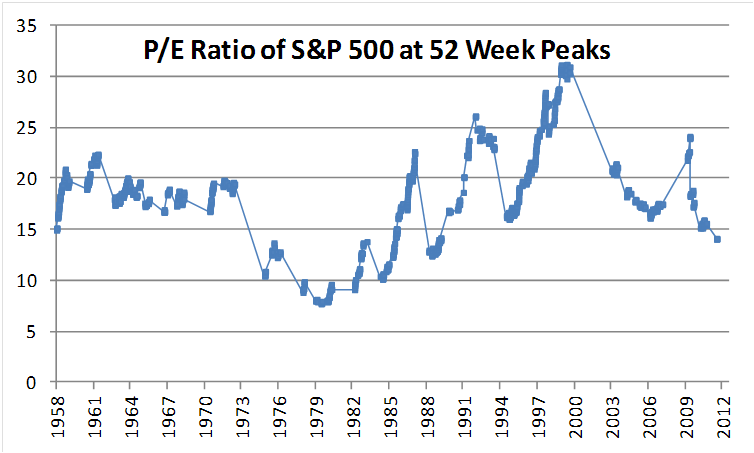 While the market has seen a strong recent rally, it is still trading at its lowest valuation for a 52 week high since October 1989. The average earnings multiple when the index has made a new 52 week high since it went to 500 constituents in 1957 is just over 18x, roughly a 27% premium to the current multiple of just over 14x. Adjusted for the low interest rate environment, which should cause upward pressure on earnings multiples as the discount rate decreases, the current value of the S&P 500 Index relative to its trailing earnings is trading at least at a fifty year low. The graph below shows the earnings yield (the reciprocal of P/E) less the yield on the ten-year U.S. Treasury.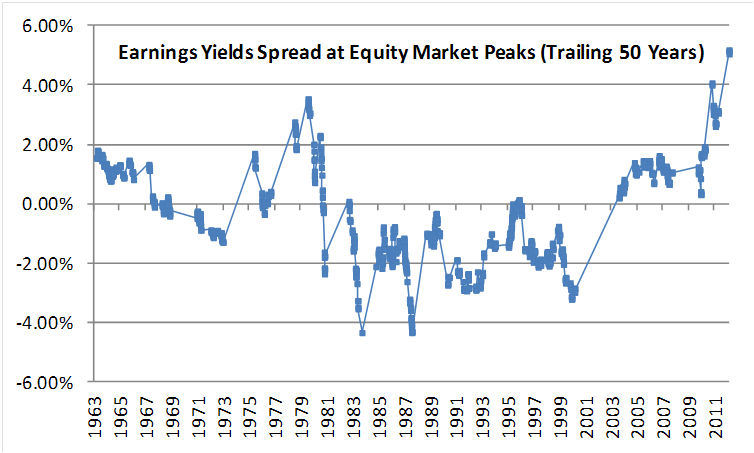 The recent highs the market has made are not only 52 week highs, but also the highest print since June 2008. One would have to go back to January 1986 to see a 45-month market high trading at this low of a multiple. When the market last made a 45-month high, which was at the all-time peak in October 2007, the market traded at 17.5x trailing earnings. The average earnings multiple on trading days when the market made market highs of a similar duration was 18.6x.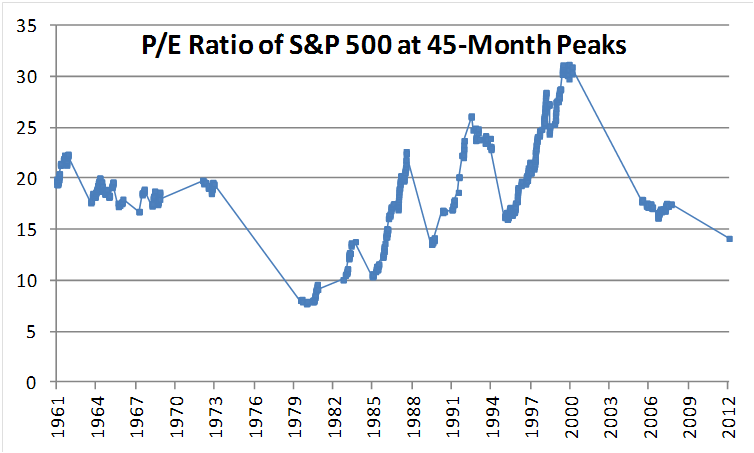 In addition to this low peak multiple, market bulls can point to several other positive indicators:
Wide spread between corporate earnings yields and where corporations can borrow money;
Earnings multiples at current levels have presaged high forward returns;
Increased corporate liquidity, which could be used for shareholder-friendly actions including increased dividends, share repurchases, or mergers and acquisitions.
Conversely, market bears can point to the still tenuous situation in Europe and the long-tailed nature of the sovereign debt overhang, uncertainty over whether China will experience a hard landing, decelerating domestic earnings growth, whether rising gas prices will crimp consumer spending, and the geopolitical noise driven by Iran. The answer to whether the historically low earnings multiple is justifiable as we hit new local highs on the broad equity gauge will be borne out of a combination of these factors. I hope this historical context helps investors frame the current market valuation better.
Disclosure: I am long SPY.