Boeing (BA), the $55.28 billion large-cap manufacturer of airplanes, is set to benefit from a new growth cycle in the aerospace industry. According to Deloitte Touche Tohmatsu Limited (DTTL) the Asia Pacific region is experiencing increasing demand for business and leisure travel. This increased demand is likely to push the aerospace industry into this new growth cycle.
The demand for new aircraft will focus on next-generation fuel efficient planes. Airlines will want to make an investment that will provide significant cost savings in fuel over time.
The 787 Dreamliner does address the fuel efficiency issue. It is 20% more fuel efficient and produces 20% less emissions than similarly sized airplanes. The Dreamliner also provides additional value since it is expected to result in maintenance savings of 30%.
Orders for the Dreamliner in 2012 include 10 airplanes for Japan Airlines and 3 for Air Astana. Orders for Boeing's 737 have much higher figures. Lion Air is ordering the lion's share of 737s with a total of 230. Norwegian has 122 on order, Jet Airways ordered 17, and Virgin Australia ordered one. Air Astana ordered four of Boeing's 767s. This is a total backlog of 385 airplanes generated through February 28 2012.
Since most of Boeing's 2012 orders are for the next-generation 737, here are a few facts to note. The 737 is the best-selling commercial jet in history with orders of 9,300 through December 2011. By the end of 2012, the 737 will be 7% more fuel efficient than its first models. The 737s have a wing thermal anti-ice system that can blow the equivalent of six 100,000 BTU household furnaces worth of air onto the wing.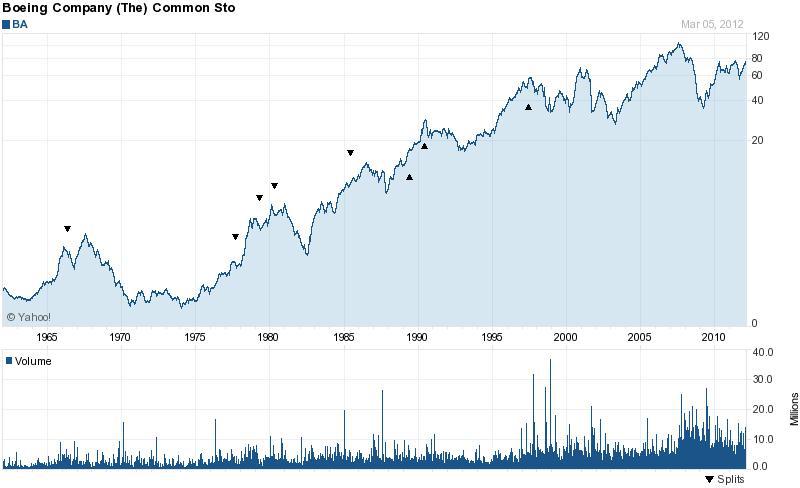 Boeing is currently fairly valued with a forward PE ratio of 13.07, a PEG ratio of 1.27, and a price to book ratio of 15.87. It achieved diluted earnings per share of $5.34 for 2011 and has operating cash flow of $4.02 billion.
The company exceeded earnings estimates in all four quarters of 2011. It has two upward earnings revisions for 2012. Boeing is expected to grow earnings annually at 13.2% for the next five years. In addition to this growth, Boeing pays a 2.3% dividend. Investors can reasonably expect to double their investment in five years if these earnings estimates are met or exceeded.
Boeing offers a dividend reinvestment plan for owners of 50 shares or more. This is an intelligent investment plan that can build shares automatically over time.