In late September, selling in the stock market was intensifying, and I wrote a piece summarizing a list of stocks where insiders were buying their own stock. The performance since then has been quite mixed and, overall, relatively disappointing given the fresh 52-week and multi-year highs printed by the major indices.
Skull Candy (NASDAQ:SKUL) was one of the more intriguing picks of the list because its CFO, Mitch Edwards, bought 10,000 shares within months of the IPO. Monday evening, SKUL announced Edwards has resigned:
Mitch Edwards, Chief Financial Officer and General Counsel, has advised the Company of his decision to resign to pursue other opportunities, including charitable and humanitarian activities. To facilitate an orderly transition, Mr. Edwards has agreed to continue in his role as Chief Financial Officer and General Counsel until April 1, 2012 and has indicated his willingness to remain available to consult with the Company on an as-needed basis during the Company's search for a new chief financial officer.
The rest of the statement seems to indicate that the departure has occurred under amiable conditions. Regardless, I cannot keep SKUL on the list of insider stock buys when that purchasing insider has left the company. I will continue to monitor the company for any good news or news of additional insider support. In the meantime, SKUL continues to trade under its IPO price of $20.
At Monday's close, SKUL traded 7.6% higher than September's level and got as high as a 33.2% gain. I have since traded in and out of the stock on dips and rips (announced in my twitter feed using the #120trade hashtag). I will not buy into the dip sure to follow this resignation.
click to enlarge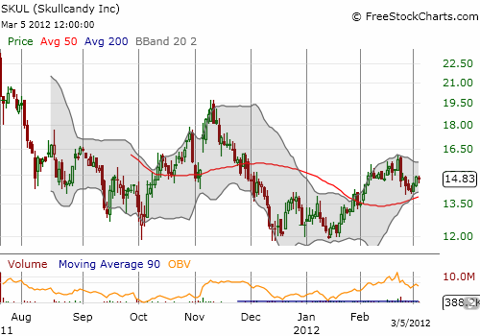 Skull Candy continues to trade below its IPO price as it rides a roller coaster up and down
Source: FreeStockCharts.com
Be careful out there!
Disclosure: I have no positions in any stocks mentioned, and no plans to initiate any positions within the next 72 hours.