Shutterfly (NASDAQ:SFLY) rose 16% on Friday. The web-based social expression and personal publishing website announced it would buy the online photo service of troubled Eastman Kodak (EKDKQ.PK).
The deal
Shutterfly will pay $23.8 million in a "stalking horse" bid, indicating that Shutterfly probably got a bargain as financially troubled Eastman Kodak could not find many other competitive bids. Kodak Gallery had 75 million users which now get transferred to Shutterfly, indicating that it probably got a stellar bargain. Investors applauded the deal and sent the shares up 16% on the day, increasing Shutterfly's market value by some $150 million.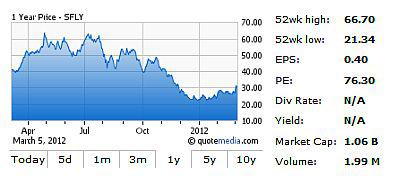 The deal comes almost a year after Shutterfly announced its acquisition of Tiny Prints for $333 million in March last year and marks ongoing efforts to diminish the seasonality of the business. In 2011, the company generated a whopping 55% in revenues in its final quarter.
Recovery
Shares have taken a beating over the last year. Trading as high as $63 in April 2011, shares fell to lows of $22 in December after a sequence of guidance outlooks failed to meet analyst expectations. From that point in time, the resignation of its CFO and Friday's deal have sparked confidence again- sending shares back up to $31.
Outlook
In the beginning of February, Shutterfly gave a first quarter revenue outlook of $83-$85 million, which is up 47% vs. the first quarter of 2011.
For the full year of 2012, the company expects revenue to come in at $550-$560 million, which is up 17% on the year. Operating income is expected to come in at $17-$24 million (up from $15 million in 2011), representing 36% growth at the midpoint.
Growth
Of course, the outlook of February did not include the acquisition of Kodak Gallery, which is estimated to add about $60 million in annual revenue, thereby raising the 2012 revenue expectation to over $600 million. The company has sacrificed short-term profitability in order to achieve revenue growth and acquisition-related costs temporarily deprive profitability.
Click to enlarge:

Click to enlarge
Investment thesis
It is difficult to accurately judge the true earnings power of Shutterfly. In 2012, it is likely to report $20 million in net earnings on $600 million of revenues, for a mere 3.3% margin. Earnings per share could come in at $0.57 for 2012, valuing the company at 54 times earnings and 1.8 times revenues.
Growth efforts temporarily depress margins in the short-term, but long-term margins of 7-8% should be attainable in the coming years. At those levels, profits could come in north of $50 million or $1.50 per share for 2014 and further into the future.
Despite a strategic smart acquisition at a cheap price, I am not a buyer at this level.
Disclosure: I have no positions in any stocks mentioned, and no plans to initiate any positions within the next 72 hours.