The market behaves like an average Joe. He has only one idea in his mind at a moment, and hops to a new idea every once in a while. Nimble investors that can rightly decipher the market's mind will earn extra returns.
Our research shows that growth was the only thing in the market's mind this January and February. To test our thesis, we picked up the following investment styles and quantify their effects on returns.
Liquidity --- Liquidity is an investment style according to a working academic paper: "Liquidity as an Investment Style". For laymen there is rumor saying that all the money printed by the Fed flew into the stock market and pushed the price up. Although this sounds naive, it's worth testing it to make things clear.
Growth --- Investing for growth is believed to be the way for earning extra returns.
Value --- There are always value investors here and there and they believe value is the key for long term investment.
Income --- And we shouldn't forget income investors.
Safety --- Investors will hide with safe companies when time is trying.
Risk --- And they jump onto risky ones when time is good.
We run decile analysis on the S&P 500 companies for each style. Pick liquidity as an example. We group the S&P 500 companies into 10 deciles. The first decile, which contains 50 companies, offers the highest liquidity to investors, the last decile offers the lowest liquidity, and everything else aligns in between. Then we calculate the average return of each decile during this January and February. If the top decile has the best return, the bottom decile has the worst return, and every other decile's return nicely aligns to a straight line, then we would know that liquidity is a key driver of the returns.
We use average dollar volume to represent liquidity, PEG (Price/Earnings To Growth ratio) to represent growth, P/E (Price/Earnings ratio) to represent value, dividend yield to represent income, total debt to equity ratio to represent safety, and market cap to represent risk. Usually, large cap companies have more resources than small cap ones and are more likely to survive when crisis hits. So if small cap companies got scooped up by investors, it means investors are feeling good.
click to enlarge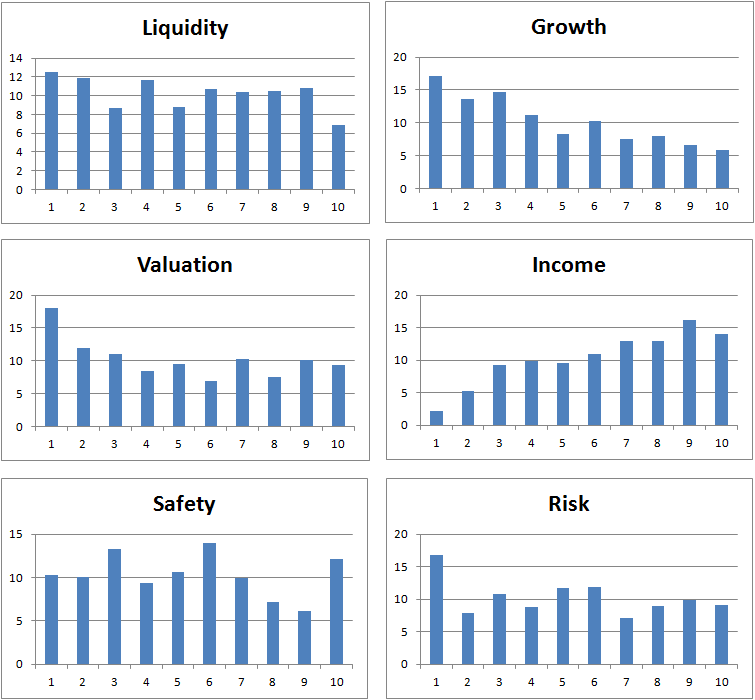 Among all styles the chart of growth is the closest to a straight line, meaning that growth is the key driver behind the rally. We also run correlation analysis where a higher correlation number means the chart is closer to a straight line. A side note is that in January and February investors appeared to abandon stocks with high dividend yield, a reversal of last year's defensive move.

This finding explains well recent market behaviors. For one, lately we saw PowerShares QQQ Trust (QQQ) kept rising while other index ETFs are stalled or start falling. This is because QQQ is full of high-tech names that are traditionally associated to growth. Monday (3/5) we also saw QQQ dropped the most following the news that China, the growth engine of the world, set a lower GDP target. It's a good time for growth investors to take profit after a two-month old rally.
To formulate an investment strategy using our findings is tricky. Investors who think that growth will continue dominating the market can buy QQQ. It might be a nice dip after Monday's sharp drop. Our suggestion is that the market may get tired with the growth style and may want to hop to a new one. The hint from Monday's price action is clear and loud. With iShares Russell 2000 Index (IWM) being the only green index ETF, it may suggest that the growth is off, and risk is on.
Disclosure: I have no positions in any stocks mentioned, and no plans to initiate any positions within the next 72 hours.