Sweden is a Nordic country that is third largest member of the European Union when ranked by area. It is the second mostcompetitive country in the world after Switzerland and ranks fourth in the world on the Democracy Index. Sweden has an export-oriented economy. The engineering sector accounts for almost 50% of the output and exports. The main resources are timber, hydropower and iron ore. Most of the corporations are private and even the public telecom giant, TeliaSonera, has seen reduction in state ownership. Sweden does not use the euro even though it is a member of the EU. It instead continues to use its own currency, the Swedish krona (SEK). Swedish economy appears resilient and its decision to not use the euro has shielded them from the eurozone sovereign debt crisis to a large extent.
There are a lot of big industrial and engineering companies based in Sweden that are unfortunately not closely followed in the U.S. A few companies have merged with companies from other countries and I have discussed them elsewhere, e.g., AstraZeneca (British), ABB (Swiss), AkzoNobel (Dutch). In this article, I have short-listed a handful of Swedish companies that have a history of dividend growth, pay enticing dividend yields and can be bought on the U.S. exchanges. A brief discussion of each company is given later.
Company

Ticker

Book Value

Debt to Equity

P/E

% Div Growth

1 Year

% Div Growth

3 Year

% Div Growth

5 Year

% TTM Yield (SEK)

% TTM Yield (US$)

Atlas Copco

9.95

n/a

14.54

25.00%

18.56%

16.05%

2.92%

2.80%

Electrolux

19.92

0.58

16.92

0.00%

n/a

10.20%

4.48%

4.36%

Ericsson

6.42

0.17

13.57

11.11%

10.56%

0.00%

3.79%

3.81%

Hennes & Mauritz

3.37

n/a

4.89

0.00%

7.02%

10.56%

4.00%

4.20%

Husqvarna

6.51

n/a

20.48

0.00%

n/a

5.28%

3.77%

3.82%

Oriflame

OFLMY.PK

2.19

n/a

11.62

16.67%

11.87%

11.62%

6.82%

6.70%

Skanska

n/a

n/a

6.5

4.35%

4.55%

4.78%

4.80%

4.90%

Svenska Cellulosa

13.71

n/a

14.58

5%

6.27%

98.00%

3.53%

3.55%

Svenska Handelsbanken

n/a

n/a

11.5

8.33%

11.68%

4.04%

4.33%

4.17%

Swedish Match

0.64

4.55

18.58

0.00%

10.29%

17.08%

2.22%

2.27%

TeliaSonera

n/a

n/a

11.55

22%

15.17%

17.08%

5.73%

5.87%
Dividends as Stock Screen
I firmly believe that dividends are real cash and hard to fake. They are paid out of positive cash flow and while accounting gimmicks (and even fraud) can be used to window dress earnings per share, dividends are typically honest. I end up using current dividend yield combined with consistent history to short-list stocks for further investigation. The markets have recovered in the last few weeks and there are no screaming bargains right now. Some of the following stocks would be great long-term investment opportunities especially if prices were to come down by 15-20% since that would increase the yield-on-cost, provide downside risk protection and give a chance for possible capital appreciation leading to superior total returns.
I have included a simple chart for each company that shows the dividend amounts in Swedish Krona (SEK) which I gathered from the company websites. Additionally, I have listed the latest annual dividend amount in U.S. Dollars. I have included a lot of detailed financial numbers since I feel that can often be overwhelming. I look forward to a constructive discussion in the comments section of the article.
Withholding Tax on Dividends
Sweden withholds tax on dividends at the rate of 30% for non-resident investors. An individual investor can file for tax credit on Form 1040 if the shares are held in a regular brokerage account. However, if the shares are held in a tax deferred account like IRA, 401(k) then there is no (easy) mechanism to recover the withholding foreign tax and is lost forever reducing the effective dividend yield.
Atlas Copco (OTCPK:ATLCY)
Atlas Copco provides equipment and services that range from compressed air and gas tools, generators, construction and mining tools, industrial tools and assembly systems. The company was founded in 1873. It is the world's leading producer of air compressor and that has helped it grow nicely in China which now is its biggest market. Its biggest competitors include Terex (NYSE:TEX), Ingersoll Rand (NYSE:IR), Stanley Black & Decker (NYSE:SWK).
The annual dividend is $0.65 approximately which implies a yield of 2.8% at current ADR market price on the OTC exchange. The dividend didn't grow during the tough time of 2007-09 but has since started increasing again. I like industrials even though they can be cyclical - I appreciate that there are significant entry barriers and solid well entrenched industrial conglomerates do not go bankrupt.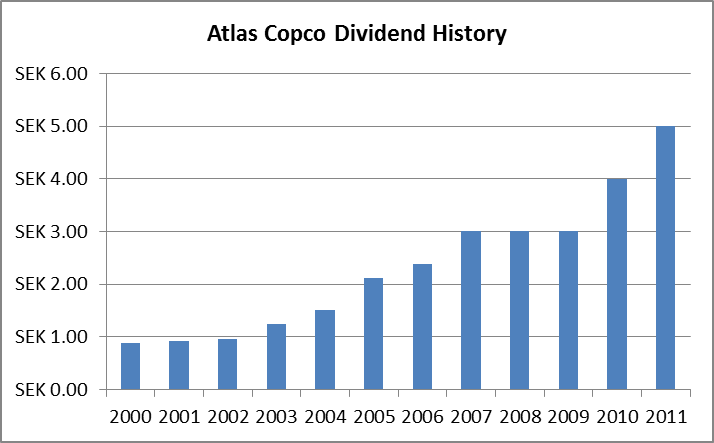 AB Electrolux (OTCPK:ELUXY)
Electrolux is a multi-national home appliance manufacturer. It is world s second largest appliance maker by market share, second only to Whirlpool. It traces its origin to a sales company and lamp maker from 1918. Electrolux has grown via numerous acquisitions and mergers. Its brands include Electrolux, Eureka, Frigidaire, Kelvinator, Volta, Westinghouse and many more. Some of you may remember it from their marketing campaign for their vacuum cleaners - "Nothing sucks like an Electrolux."
The annual dividend is $1.94 approximately which gives a yield of 4.4% at current ADR market price on the OTC exchange. No dividend was paid out in 2008 and that is a deep-red flag for me. However, the current yield is enticing and they have regained their footing. The middle class in emerging markets is only beginning to satisfy their hunger for home appliances and that should bode well for Electrolux. I intend to watch it for a year and buy when funds become available.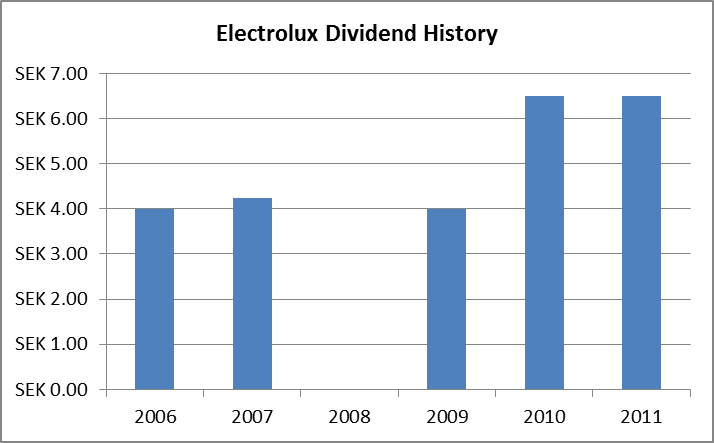 LM Ericsson (NASDAQ:ERIC)
Telefonaktiebolaget Lars Magnus Ericsson (Ericsson) is one of the world's largest telecom and services companies. It consolidated its position as the world's largest mobile telecom equipment vendor after acquiring assets of bankrupt Nortel Networks in 2010. Nokia Siemens Networks is a distant second followed by Huawei. The company was founded in 1876 and has a long history of telecom firsts and large-scale equipment deployments. It faced significant problems during the telecom collapse of early 2000s following the dot-com bust. Over the last few years it has aggresively diversified into services wherein it runs the entire network for a cellphone operator (like Sprint) letting the operator focus on marketing and other aspects of business. This recurring business is far more immune to general economic conditions than sale of network equipment.
I got interested in Ericsson after it sold its stake in the joint venture Sony Ericsson Mobile Comm which made mobile phones. The company hasn't been doing too well facing competition from Apple, RIM, Nokia and it is great to see Ericsson out of the venture. The annual dividend is $0.375 which gives a yield of 3.8% at current ADR market price. The dividend has increased nicely over the last 4 years. I am looking forward to initiating a position if the markets sneeze and Ericsson trades around $9.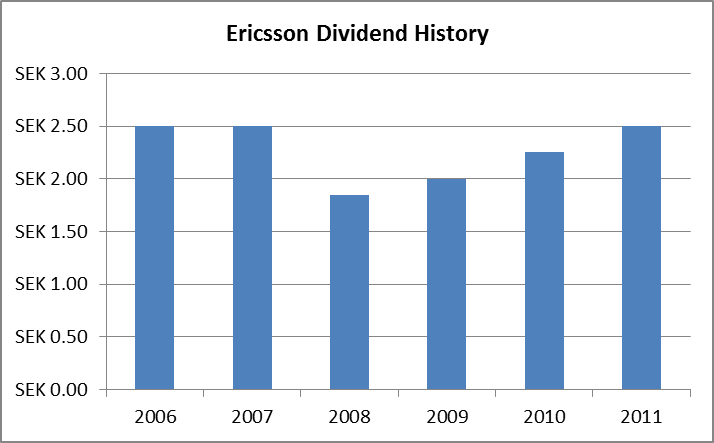 Hennes & Mauritz AB (OTCPK:HNNMY)
Hennes & Mauritz is world's second largest global clothing retailer. It is second only to Inditex (OTCPK:IDEXY) that owns Zara. The third largest retailer is GAP (NYSE:GPS). The company was found in 1947 and now has more than 2500 stores in more than 40 countries and plans to open another 275 stores in 2012. Its biggest brand is H&M that is well recognized around the world.
The annual dividend is approx $0.31 which gives a yield of 4.2% at current ADR market price on the OTC exchange. It has a long history of increasing or maintaining the dividend.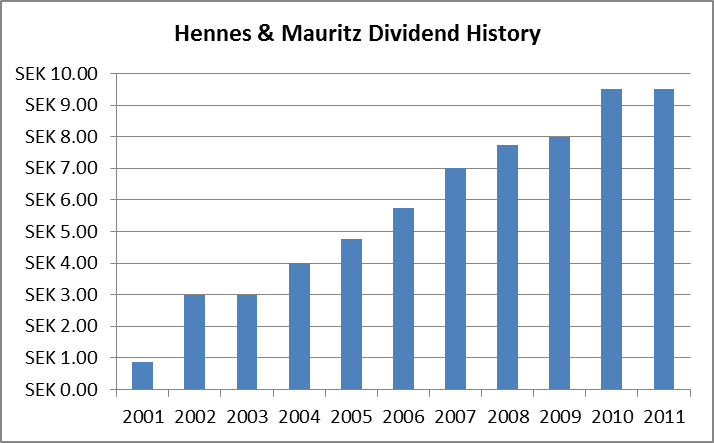 Husqvarna (OTCPK:HSQVY)
Husqvarna Group is the world's largest producer of outdoor power products including ­chainsaws, trimmers, lawn mowers and garden tractors. It was founded in 1689 and offers products for both consumers and professional users. It was recently listed in 2006 and while doesn't have an attractive dividend growth history, is still watching for future developments due to strong fundamentals. The current annual dividend is $0.45 which gives a yield of 3.8% at current ADR market price on the OTC exchange. No dividend was paid out in 2008 though.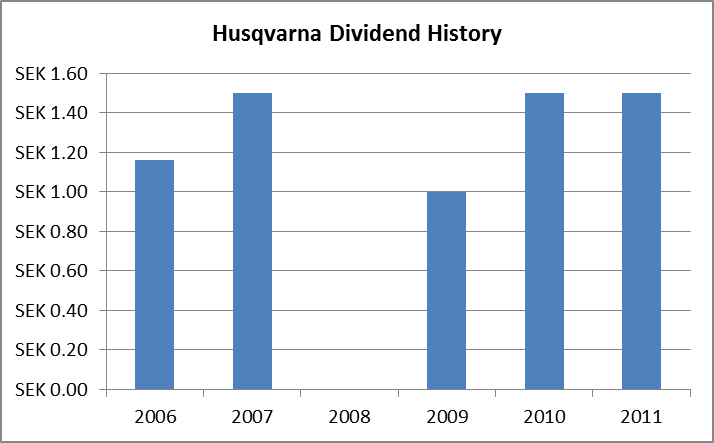 Oriflame Cosmetics (OFLMY.PK)
Oriflame Cosmetics is a Swedish company that was founded in 1967. It is now headquartered in Luxembourg and declares dividends in Euros. It uses a direct-selling marketing strategy (networking marketing) for distributings its beauty products. As a result its sales force is reportedly 3.5 million! It skin care and other products are highly regarded in emerging economies like India and China.
The approximate annual dividend is $1.08 which gives a yield of 6.3% at current ADR market price on the OTC exchange. The dividend payout ratio is uncomfortably and unusually high - more than 90% so dividend growth remain limited in the coming years though the dividend was increased from €1.50 to €1.75 for 2011.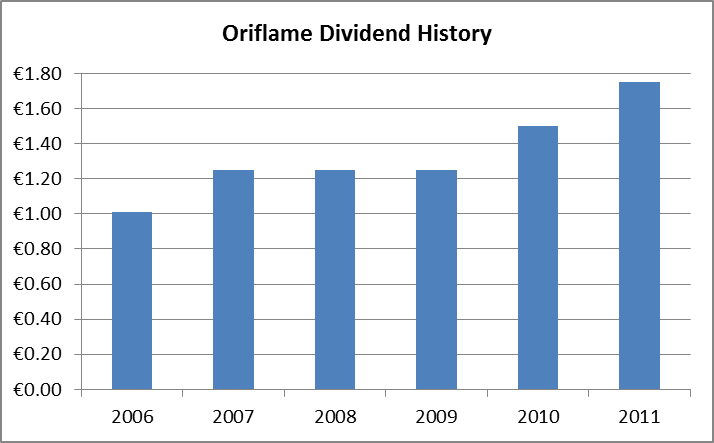 Skanska AB (OTC:SKSBY)
Skanska was founded in 1887 and is now Sweden's largest construction company. It operates in four business: construction, residential development, commerical development and infrastructure development. Skanska is active in the Nordic region, UK, Czech Republic, Slovakia and Poland. It is one of the largest contractors in the U.S. which is also its single largest market. Its biggest competitors include Vinci, and Bouygues (both from France), Fluor (NYSE:FLR) from U.S. and ACS from Spain.
Skanska management has a great dividend policy. The board intends to pay out 40-70% of the profits as dividends. The regular dividends have grown at a decent rate over the last 10 years. However, the company often distributes substantial extra dividends if there are one-time profits. For example, there was an extra dividend of SEK 6.25 in 2011 (for a total dividend of SEK 12). The exta dividends have been distributed in almost every year of last decade except 2009. The chart below does not show the extra dividens. The latest annual dividend is $0.90 which gives a yield of 5% at current market price.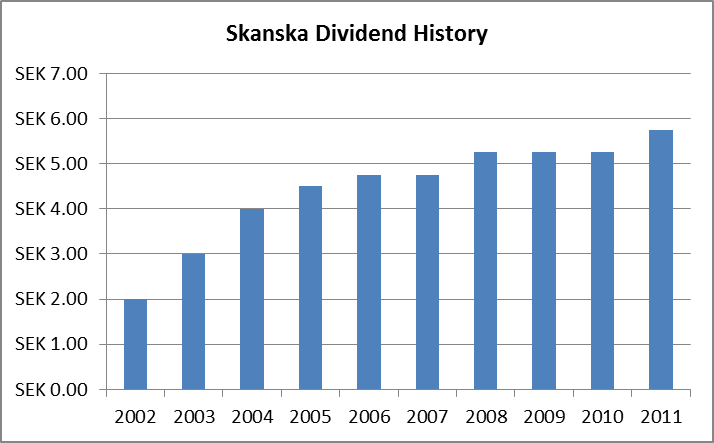 Svenska Cellulosa AB (OTCPK:SVCBY)
Svenska Cellulosa Aktiebolaget, SCA, is a paper and pulp manufacturer that was founded in 1929. Its manufactures and markets personal care products (diapers, feminine hygiene), toilet tissue, kitchen towels, publication paper, containerboard, packaging, solid wood based products and even biofuel and wind power. It is Europe's largest private owner of forest land. It acquired Procter & Gamble's (NYSE:PG) European tissue operations in 2007. It sells its products in 100-odd countries and its brand include TENA, Tork, Libero, Velvet, Drypers and Plenty.
The current annual dividend is $0.64 approximately which gives a yield of 3.6% at current ADR market price on the OTC exchange. The company had a history of increasing dividends but had to cut it in 2008 during the height of recession. However, it has against started increasing dividends and is worth watching.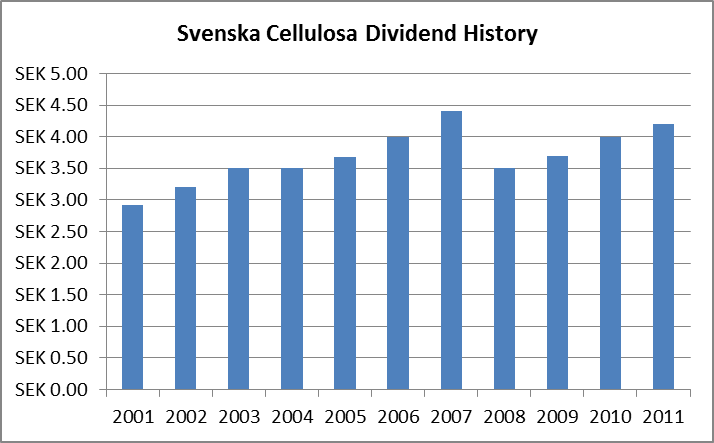 Svenska Handelsbanken (OTCPK:SVNLY)
Svenska Handelsbanken is one of the leading banks in the Nordic region. It was founded in 1871 and is one of the most solid and profitable banks in the world. Bloomberg rated as the second most strongest bank n the world - Overseas Chinese Banking Corp of Singapore was in the first place. Handelsbanken follows stricter capital standards than those set out by the Basel Committee on Banking Supervision. Its core Tier 1 capital ratio was 15.6% in the latest quarter. It conducts universal banking operations in the Nordic region from 600 branches and in the UK from 100 branches. Outside its domestic markets (the Nordic region and Great Britain), the Bank has branches in 17 countries.
Handelsbanken has a great dividend growth history except for one year when it cut the dividend in 2008. I do not consider that a red flag and appreciate the fact that they preserved capital during the recession. The dividend has been increasing again and the current annual dividend is $0.71 approximately. This gives a yield of 4.2% at current ADR market price on the OTC exchange.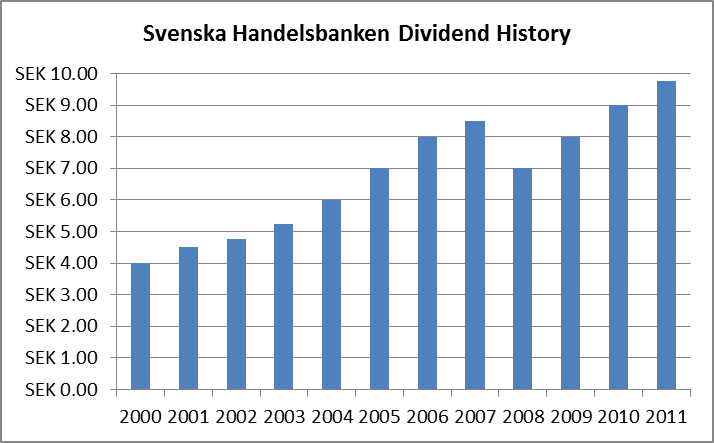 Swedish Match (OTCPK:SWMAY)
Swedeish Match is a tobacco company that markets smokeless tobacco products like snus, snuff, chewing tobacco) and machine made cigars, matches and lighters. It was founded in 1917 and was the world's largest match manufacturer earlier in the 20th century. Its brands include General snus, Longhorn snuff, Red Man chewing tobacco, White Owl cigars. It has a leading position in multiple markets around the world for smokeless products.
Swedish Match had increased the dividends regularly over the last decade though there was no dividend growth in 2011 when its revenue and profits fell compared to 2010. The current annual dividend is $0.432 which gives a yield of 2.3% at current ADR market price on the OTC exchange. It would have been nice to see a higher dividend yield from a tobacco company but it may still make a great investment given the excellent dividend growth in the past.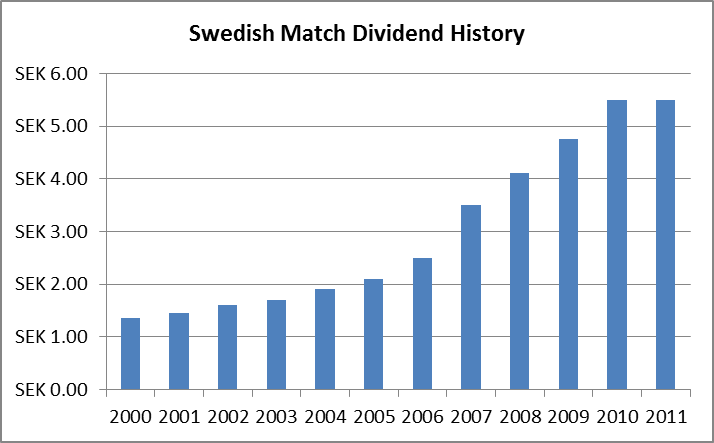 TeliaSonera (OTCPK:TLSNY)
TeliaSonera is Europe's 5th largest mobile network operator. It operates primarily in the Nordic region (biggest market is Sweden and Finland). TelinaSonera has varying stakes in local telecom operators in the emerging Eurasia markets including Denmark, Estonia, Georgia, Latvia, Lithuania, Turkey, Tajikistan, Norway, Nepal and Uzbekistan.
TeliaSonera has seen solid growth in revenue and earning per share over the last 10 years. The dividend has grown at a fast pace. The following chart does not include extraordinary dividends that the board distributed in 2006 (SEK 2.2), 2007 (SEK 4.5) and 2008 (SEK 2.25). The board has proposed the dividend be increased to SEK 2.85 for 2012. That would make the annual dividend as $0.86 approximately which gives a forward dividend yield of 5.9% at current ADR market price on the OTC exchange.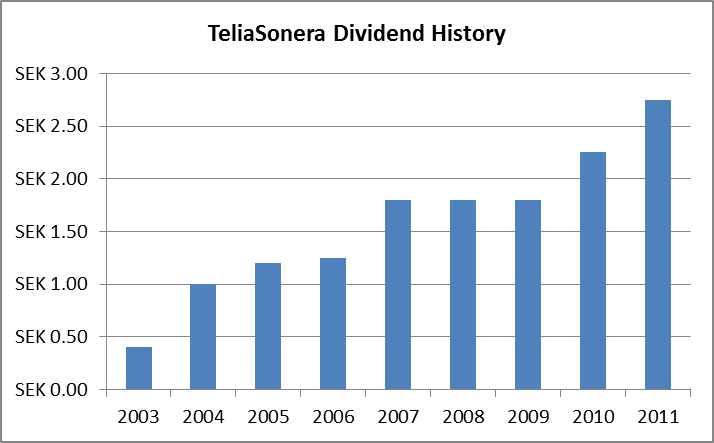 Concluding Remarks
The U.S. market is at a 4-year high and there are few bargains in the dividend bucket. A lot of the dividend yield and/or dividend growth stocks are fairly valued and I dare say that some may even be overvalued. Even though I consider myself a long-term investor, I am slowly selling some of these stocks that I purchased from 2007 to 2009. I want to invest the sale proceeds and found that there are some solid European companies still available at value prices. The depressed prices are not without reason but I am willing to take a risk with these dividend paying companies from Switzerland, Germany, England, Sweden, France and Spain. I do not hold any Swedish stocks but intend to buy Atlas Copco, Skanska, Swedish Match and TeliaSonera in the near future.
Disclosure: I have no positions in any stocks mentioned, and no plans to initiate any positions within the next 72 hours. I discovered Sweden recently and plan to buy some stocks in the coming months as and when I have funds available.