Thanks to gas prices which are higher than they have ever been at this time of the year, the Dow Jones Transportation Average has badly lagged the overall stock market so far this year and Dow Theorists think this could predict a crash or sell off in the Dow Jones Industrials (NYSEARCA:DIA).
Click to enlarge: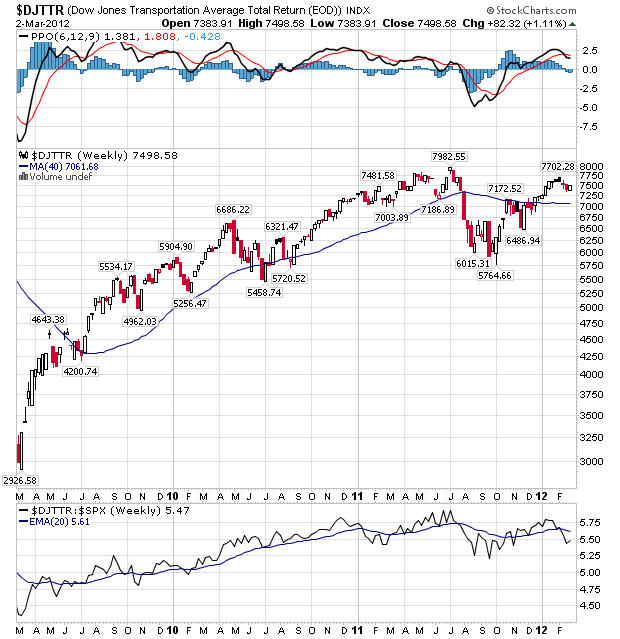 ***Note the double top here and also the rolling over of technical indicators on the Dow Jones Transports -- not a good sign for bulls
The lagging performance of the Dow Transports has many Dow Theory practitioners tightening their belts and battening down their hatches. With the economy under stress and the sluggish job market, could high gas prices put a dent into the fledging recovery of the U.S. consumer driven economy? While I am turning rather cautious/bearish on U.S. equities, I mainly dislike the averages based on high valuations. However, not all stocks are expensive. We think the following three transportation-related stocks are relatively cheap and if gas prices are kept under control and the economy picks up these stocks could be significantly undervalued.
Oshkosh Corporation (NYSE:OSK) -- Even though Oshkosh is primarily a defense manufacturer more than a trucking company these days, it is still transportation-oriented enough to be grouped into this list. Oshkosh is a stock we highlighted in detail last summer as being undervalued at $16 a share. Right now, at $22.96 a share, Oshkosh is still reasonably priced on earnings at 9,9X trailing EPS, and it's cheap on an EV/EBITDA basis at 4.9X. Oshkosh is a reasonable name, but we would like to see earnings growth over the next few years and we doubt that happens for this company if gas prices rise and the economy goes back into recession. We like this name, but would prefer getting in closer to $20 a share on a market pullback.
Click to enlarge: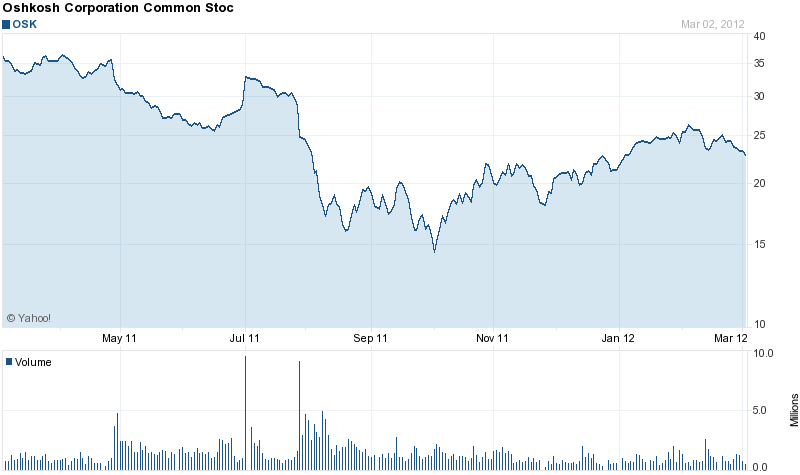 Union Pacific (NYSE:UNP) -- Even though the Dow Jones Transportation Average looks ready to roll over, which is a very bad sign for the overall markets according to Dow Theory, Union Pacific has proven itself to be a resilient non cyclical business which can earn money despite sky high fuel prices. That's because the large railroad concerns can ship items more efficiently than trucks per unit of fuel. That may all soon change with the advance of the natural gas semi trucks coming on line later this year. We still think Union Pacific is a good inflation hedge, however, and at 16X trailing and 11X forward earnings the stock is a better buy than the average transportation name in our opinion. Union Pacific is a good name to consider using a covered call approach on, and we suggest looking toward bull calendar spreads here. Try buying an in the money 2013 call option and selling an at the money April call option for a bull call spread that pays you while you wait.
Click to enlarge: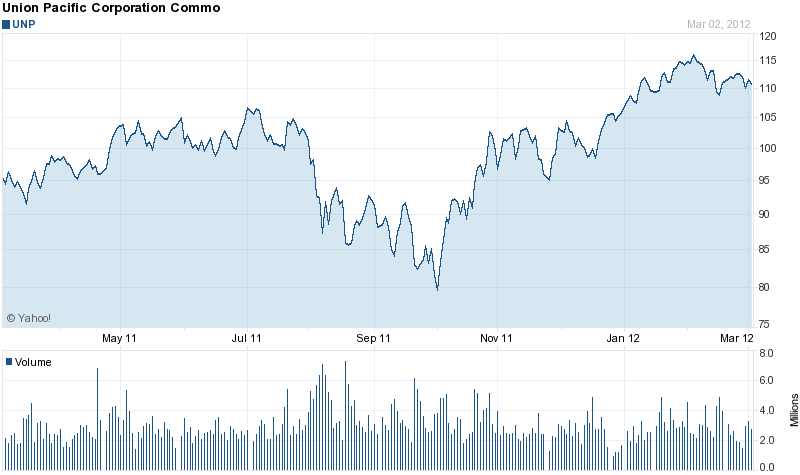 Cummins (NYSE:CMI) -- Although it's an engine maker by trade, Cummins powers the vehicles that supply our nation with product. Cummins' growth is a good indicator, not only of the recovery for small business owners looking to expand, but also the move toward sustainable trucking. Truck drivers often come to realize that Diesel is a more economic way to get from point A to point B with a huge payload, and we want to see more investment here if we are to believe that the economy is really recovering. For now, things look pretty good for Cummins with its stock trading for just 10X earnings and revenue growth at 18% YOY. Earnings also grew at a 51% clip YOY, which is quite remarkable. Considering that gas prices are much higher now than they were a year ago, we would expect future growth at Cummins to be a bullish sign for the overall markets. While we like the fundamentals at Cummins, the chart is starting to look a little frightening for bulls. We would suggest investors buy put protection of some kind on any longs in Cummins or at least sell calls against their stock as the overall markets look weak and Cummins' chart is a bit extended.
Click to enlarge: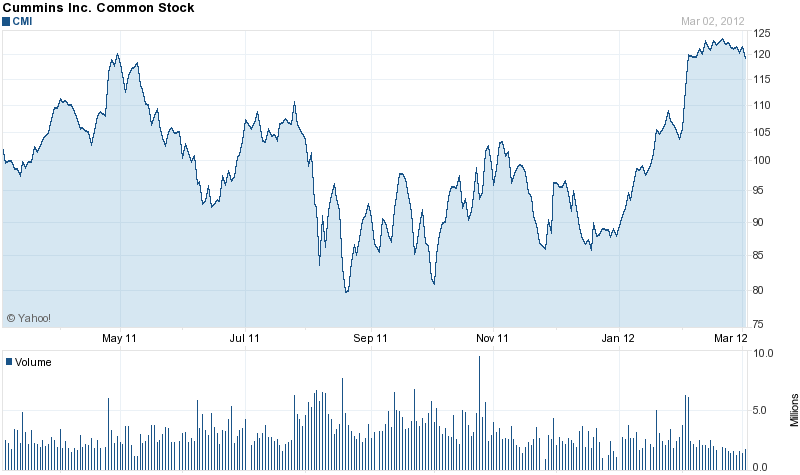 Could the Dow Jones theorists have it wrong this time on the Transportation Average and its significance? While I am still skeptical that stocks can move higher this Spring and Summer, there are clearly some pockets of relative strength and momentum in the transportation space.
Disclosure: I have no positions in any stocks mentioned, and no plans to initiate any positions within the next 72 hours.