Melco Crown Entertainment is a stock with powerful bullish momentum and a bright future in 2012. Not only is it a good stock to own for value growth, but we have found an options play we like that can add to an investor's profits.
Melco Crown Entertainment Limited, (MPEL) operates casinos primarily in Macau, China. Its basic draw is day trippers and tourists from all backgrounds because it is strategically and conveniently placed well within reach of growing Asian economies.
Macau, where this casino is located, overtook Las Vegas as the gaming capital of the world in 2006 and has been growing at 23% a year since then. This is attributed to the growing Asian economies. Melco revenue from gambling jumped 22.3% in February, comparing year over year. This was not at the light speed pace of last year, but still good. January took in a whopping 46.7% up from a year ago. The slowdown doesn't look that bad.
Street Authority wrote a great article in early January on Melco that everyone should read. In the article some things were mentioned on the continued bullish momentum that will take place with the stock. Here are a couple significant points we need to take into account if we believe the stock will continue to move up:
The two casinos it owns attract crowds that spend more money than the average rank and file Chinese tourist.

The extra "Vegas-like" extra-curricular activities at the casinos have increased foot traffic.

It acquired a 60% stake in Macau Studio City in 2011 that will vault it to the front of the casino industry as infrastructure for this area continues to develop.

A 90 MPH rail will connect the region with the mainland scheduled to be completed in 2012 will bring more tourists from China into Macau.
These are just some of the facts that are taking place for Melco, according to Street Authority, that will continue to bring growth to the value of the company's stock.
Click to enlarge: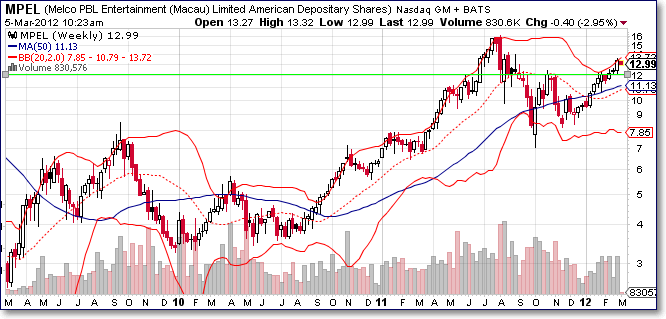 Last summer, when the stock peaked at $16, there was much profit-taking going on. Since it built a good foundation in November and December around $8, it has been steadily moving up. Analysts have it priced at a median target of $14.8 and a high target of $21.5. With the momentum this stock has going for it, we believe it will continue up (possibly unchallenged) until it reaches the 52 week high of $16. A good investor can capitalize on this in 2012, along with owning the stock, through an options play.
The Options Play
We like a bull call spread here. It would not be out of the ordinary to have a pull back before it moves up, so we would look to have some extra time decay protection on this one. Here is our play:
Buy the October '13' call 2012 (priced at $2.20)

Sell the October "14' call 2012 (priced at $1.75)

Net Debit to start: $0.45

Maximum Credit: $0.55
Reasoning behind the Trade
Even with a slight slowdown in the Chinese economy, growth will still be well over 5% and keep the tourists coming. We believe profits will continue to be strong, maybe not as strong as January, but Melco will continue to make double-digit profits through 2012. With investor sentiment high and momentum strong, we believe the stock will continue this year right to the 52 week high. We could see a pullback, but think it will continue through the summer into early fall above our play.