Some exciting events in 2012 have made analysts very bullish on Micron Technologies. With the favorable upgrade it has received four times in the last 3 months, they are bound to be bullish in 2012. With this in mind, we would like to show you how to take advantage of a bullish move by using options, even if you own the stock.
Micron Technologies (MU) sells access and flash memory (DRAM & NAND) mostly These memory and storage units are used in personal computers, MP3 players, iPODS…etc. With a strong patent portfolio, Micron is in a good position against competition. Some 89.3% of its revenue comes from the (DRAM and NAND) sales.
Click to enlarge: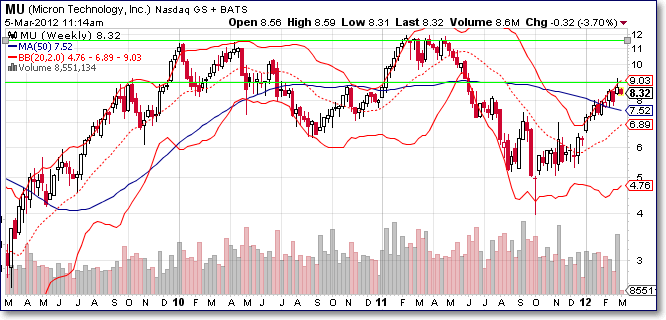 Micron has been bullish since December when it ended the building of a well-defined long-term base from April through November. From the foundation at $5 to its present price at $8.37, it has grown 65%. Usually investors are hesitant at this point to get into a stock. But bullish sentiment remains strong and for good reason.
Elpida Memory, a direct competitor with Micron, declared bankruptcy. Now the Japanese chip maker has factories it needs to liquidate. With Elpida's factories responsible for the production of 18% of memory chips, Micron has an opportunity to pick up these assets at a steal price as well as move in on sales.
Because of this closing and Micron's solid financial position, it has been upgraded by analysts four times since November. Lately, Wedbush raised its rating of Micron to 'Outperform" and gave it a price target of $12.50. Wedbush stated:
"We are increasing our PT on Micron Technology to $12.50 from $10 as we see more upside in the stock following the company's announcement that it has increased its manufacturing stake in IM Flash, and Elpida's unexpected announcement on Monday that it had filed for bankruptcy protection. While Elpida the 3rd largest DRAM supplier's situation is unfortunate, not only do we believe it has likely cemented the DRAM industry's recovery, it likely has accelerated it."
Not only does Wedbush believe the DRAM industry will stabilize in 2012, but it took more of an interest in IM Flash, which will bolster its NAND business. Remember, these two (NAND and DRAM) account for 89.3% of its revenue. Keeping this in mind, we would like to take advantage of this momentum with an options play.
The Options Play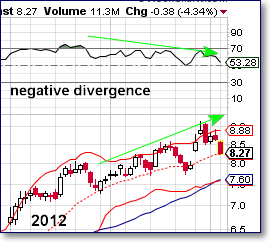 We believe the momentum and news for Micron will raise its stock through 2012. One thing we need to keep in mind at the present is the presence of a negative divergence that has been building in the stock since mid-January. This means that the present trend that has grown so much is continuously weakening. Because of this, we can expect one of two things to happen. It will either bounce off the strong resistance level it has just touched and retreat, or it will consolidate for a time (possibly even pullback some) and then continue up for the rest of 2012.
For this reason we believe in the latter but will look at a Bull Call Spread with plenty of extra room for time decay. Another option would be to wait and watch to see what the stock is going to do before getting in.
Buy an October '9' 2012 call option (priced at $1.04)

Sell an October '10' 1021 call option (priced at $0.71)

Net Debit to Start: $0.33

Maximum Profit: $0.67
Reasoning behind the Trade
With a new price target set at $12.50 from Wedbush, and the bankruptcy of Japanese DRAM chip maker Elpida, bullish momentum continues to be at the forefront of Micron's stock. Buying a 9 and selling a 10 is well within this movement. At the same time, Micron has bounced off a strong resistance level and its present bullish move has shown signs of weakness. For this reason, the stock may move sideways or even dip for a time. Therefore we needed more time decay protection. Buying out into October would give this to us.
Disclosure: I have no positions in any stocks mentioned, and no plans to initiate any positions within the next 72 hours.