Orchard Supply Hardware (OSH) was recently spun off by Sears (NASDAQ:SHLD). It operates 87 stores in California and focuses on home improvement products. Here we compare OSH with two much larger names in the sector: Lowe's (NYSE:LOW) and Home Depot (NYSE:HD).
Current Same Store Comps

| | |
| --- | --- |
| Company | Same Store Sales 2011 |
| Orchard Supply Hardware | -0.3% to -0.9% |
| Lowe's | "essentially flat" |
| Home Depot | +3.0% |
Although OSH's same store sales were negative for the year, they are now in an increasing trend:
click to enlarge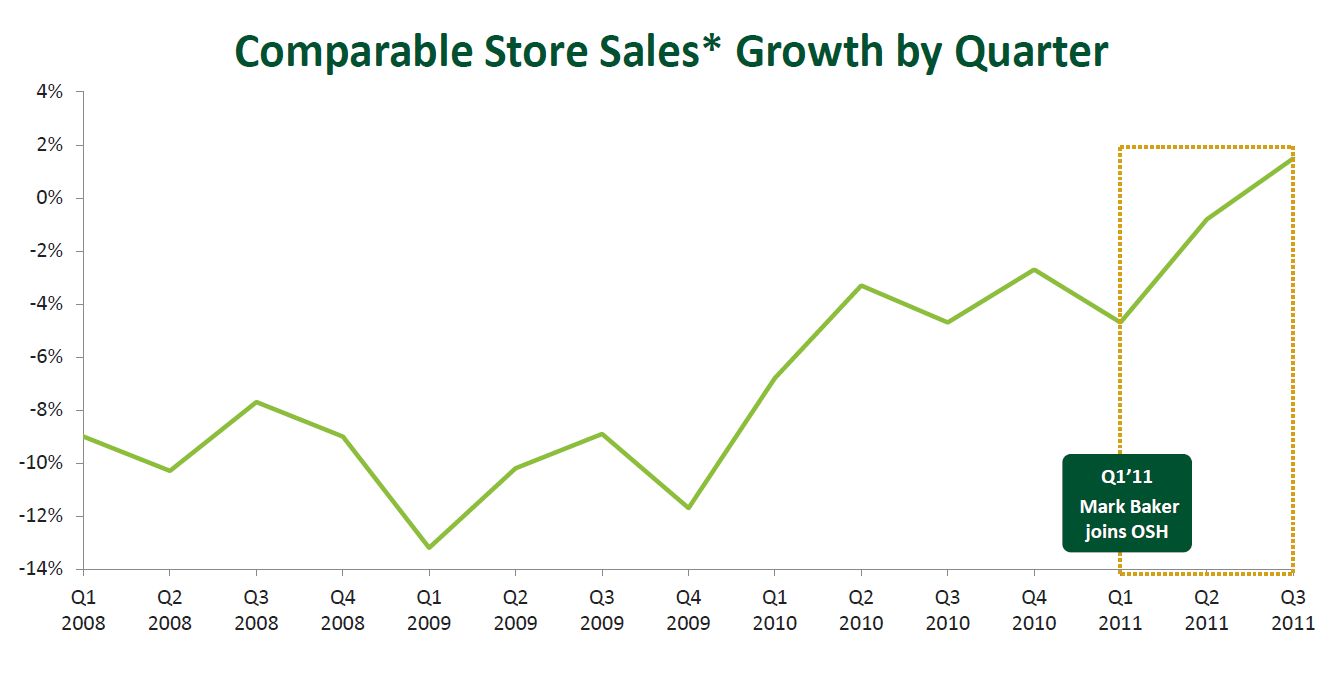 Price to Book, Sales and Cashflow

| | | | |
| --- | --- | --- | --- |
| | Price/Sales | Price/Book | Price/Cashflow |
| Orchard Supply Hardware | 0.29 | 1.54 | 9.7 (est.) |
| Lowes | 0.70 | 2.11 | 14.0 |
| Home Depot | 1.04 | 4.08 | 13.8 |
Note:
OSH FY Results due in April estimates based on Jan press release
Risks For 2012
Despite producing positive cashflow in 2011, OSH is likely to have negative earnings of roughly $16M for 2011. In addition, FY2012 is likely to see $14M of incremental costs associated with OSH's transition to being an independent company (separate from Sears). That could put earnings down to negative $30M and cause cashflow to be roughly break even for 2012.
Implications of sales growth
OSH does about $650M in sales a year with a 35% gross margin. Therefore a 5% uplift in sales would add $11M to operating profits.
The economic climate in California
Since OSH operates in California, it is worth looking at the economic climate there (blue line in the chart below) vs. the national average (red line). Unemployment in California is much higher than the national average, but is declining at a similar rate.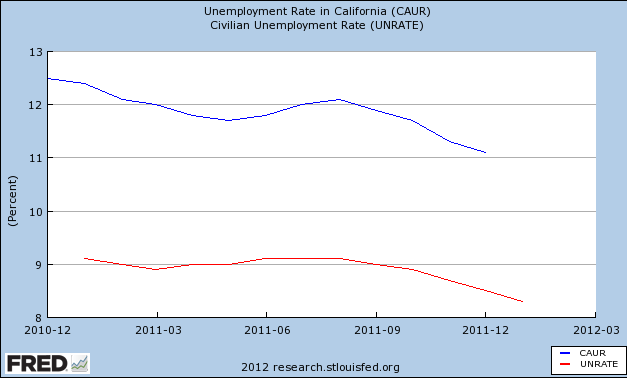 Conclusion
OSH is very risky given that it pays no dividend, currently has negative earnings and that costs are likely to increase in 2012. However, the bull case in which OSH can sustain sales growth is compelling, and as of October 2011 OSH had $29M of cash on the balance sheet vs. $145M market cap. OSH does represent a risky small cap play, but it is possible to see the stock outperform either through operational efficiency or perhaps by being acquired. It is telling that the stock appears to be trading at half the cashflow multiple of its much larger peers.
Disclosure: I have no positions in any stocks mentioned, and no plans to initiate any positions within the next 72 hours.