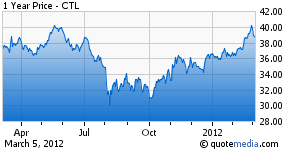 CenturyLink (NYSE:CTL) investors are aware of its presence: It is the third largest telecommunications company in the United States. The broadband, wireless, and voice services are implied and its advanced services under DirecTV (DTV) and CenturyLink PrismTM TV are the figurative icing on the intelligent diversification cake. As a provider with a hand in local, enterprise, and government markets across national and international markets, it firmly cements itself as a viable and secure investment. Past indicators have value, but a perspective on the future progression beyond the minutia of the beta mentality is required to bolster trust in the future of CenturyLink. What insight does the 2011 4th-quarter (4Q) report indicate for the future of the CenturyLink? The report delivers the framework for the direction of CenturyLink in 2012 and the silhouette of the structure to be developed in the coming year.
This past year saw numerous positives that certainly left shareholders with promise of further expansion in 2012. CenturyLink acquired Qwest and Savvis in 2011. One of the most promising features of the Savvis acquisition slated for 2012 is the launch of a small and medium business-hosting platform. Savvis is poised to lead in Gartner's Magic Quadrant for Public Cloud Infrastructure as a Service in addition to Gartner's Magic Quadrant for Cloud Infrastructure as a Service and Web Hosting. To break that statement down into more consumable pieces, CenturyLink, through its acquisition of Savvis, not only provides the broadband services, but also the next generation of computing and storage via its foundational cloud-computing infrastructure. Universal cloud data access is key to 2012 and to expand on that an exploration of its foundation, fiber optics, is required.
Broadband market penetration was fulfilled with the addition of 70,000 high-speed Internet customers firmly ending the year with the number of broadband subscribers totaling approximately 5.5 million. This builds on a projection adding 1 million living units of Fiber to the Node (OTCQB:FTTN) access; surpassing the current 6.1 million living units currently FTTN enabled. It is a significantly tantalizing prospect for CenturyLink investors in 2012.
PrismTM TV subscriber base during 4Q increased by 30% to closeout the year in excess of 70,000 users and 2012 shows no signs of slowing with plans to enable PrismTM TV in first legacy Qwest markets. What does this mean for growth? In available PrismTM TV markets, sales demonstrate a positive impact on broadband subscriber growth and line loss trends. The growth of its created market will ensure expansion without detracting revenue from its other services.
The good news in 2012: CenturyLink will be providing the total package for the direction of broadband data access creating synergistic demand of all its services beyond the depth of the figures suggested by PrismTM TV alone: The network infrastructure and the technology to harness and effectively use that data throughput for increased productivity on home unit, enterprise, and government levels makes for a sound investment in the future of CenturyLink because its promise lies directly in the path of future cycles of on-demand data storage and technology. Why is the cloud relevant for investors? A brief crash course on the importance of the cloud to the market: It is a solution for on-demand, relatively immediate and flexible increase of network data and services capacity and capability without the previously requisite investment in new physical technology infrastructure. This provides functional contraction and expansion as necessity dictates. To further build on that is the necessity of a network/broadband infrastructure intelligently implemented to accommodate that data demand; this is yet another reciprocal demand that will mutually develop CenturyLink on multiple levels. It is poised for growth and it has laid the additional foundation to add on to its already robust infrastructure.
Key indicators to ground this statement in reality include the completion of over 1,250 fiber builds in 4Q alone. This brings Fiber to the Terminal (FTTT) builds to a grand total of 10, 200 completed. 2012 brings expectations of 4,000 to 5,000 towers and the addition of FTTT contracts cements the demand for expansion in 2012. Data center capacity in 4Q expanded to 1.3 million square feet of sellable floor space and 100,000 square feet of expansion is planned for 2012.
Competition for future market dominance in the broadband television market PrismTM TV will occupy comes in form of AT&T's U-verse and Verizon's FiOS TV offerings. The direct competitor will be AT&T, because both technologies execute their services via FTTT, which is a combination of fiber optics and copper wire to deliver broadband. Advantages of this deployment model include quicker deployment to existing copper infrastructure. So in the short-term, look to CenturyLink and AT&T (NYSE:T) broadband televisions options to be more competitively priced with current satellite and cable options. Verizon (NYSE:VZ) has chosen the approach of long-term higher throughput: Fiber to the Premises (FTTP). It is more costly and will take longer to roll out because it requires fiber optic infrastructure to be laid to customer premises, thus bypassing the already existing copper wire structures. To summarize the strategies: FTTT - quicker deployment, builds subscriber base and will use revenue from that to upgrade to FTTP eventually. FTTP directly lays the infrastructure of the future, but will take longer to offer because of the actual time necessary to deliver the fiber backbone to customers. Service will be premium, and will cost more, but longevity is guaranteed. In terms of raw numbers CenturyLink falls short with PrismTM TV subscribers at just over 70,000. This compared to FiOS at 4.2 million subscribers and U-verse at 3.8 million subscribers leaves no uncertainty that PrismTM TV has to cover a lot of ground to catch up to its competitors. The strength of CenturyLink versus its competitors as a whole will not be PrismTM TV at the moment, but rather its enterprise plans for cloud computing as AT&T and Verizon are both silent regarding this burgeoning technology.
Placing these puzzle pieces together the final picture of the prospects for CenturyLink is unveiled: It has built upon existing groundwork the ability to expand and grow itself and its markets without alienating any of its current infrastructure. It is fundamentally a plan for a successful future; it is not only a plan but also a carefully investigated and implemented strategy with support structures anchored in current successes and an imminently active future that is already manifesting in broadband and cloud computing.
Disclosure: I have no positions in any stocks mentioned, and no plans to initiate any positions within the next 72 hours.