Apple Inc.'s (NASDAQ:AAPL) shares dropped from $545.18 on 3/2/2012 to $533.16 on 3/5/2012, losing as much as 2.2% of their value in a single business day. At one point, Apple shares were actually down as much as 3.5% on an intraday basis, touching $526 at around 11:18 AM. Apple shares had recorded gains in the previous seven consecutive days, and a similar daily loss hasn't been seen since 2/15/2012, when Apple shares dropped by as much as 2.37%.
Despite Apple's most recent setback, we believe there is a possibility that Apple shares may once again surprise bearish traders and analysts. Following Apple shares' drop on Feb. 15, in an article we published on 2/21/2012, "3 Indications Apple Shares Haven't peaked Yet", we examined the events behind that day and concluded that there was a possibility that Apple shares hadn't peaked. Indeed, within 4 days, Apple shares recorded a new daily close record high, and prior to the end of February, Apple shares had even surpassed the record intraday highs of February 15.
1. Apple often defies technical indicators
There were many factors that contributed to the drop in Apple shares on 3/5/2012. Most importantly, from a technical perspective, Apple broke below its 50 period moving average (with each period being 15 minutes, captured over 10 days), and once it had done so, it gapped lower.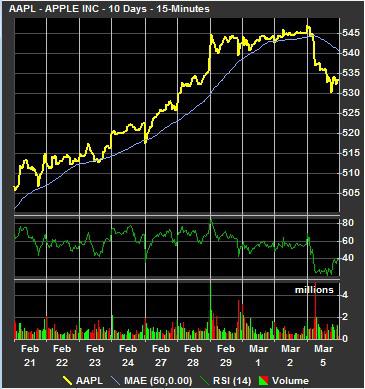 Source: Fidelity
Although it is not surprising that upon breaching such a support line Apple shares moved lower, it is highly unlikely such a catalyst will prove to be a lasting one. As a matter of a fact, on February 15, a much more reliable technical catalyst provided fuel for further possible losses when Apple shares' intraday action recorded a "key reversal day", and yet additional losses did not materialize and Apple soon moved on to new highs.
2. Low short interest ratio
Apple shares boast a very low short interest ratio (percentage of shares short as of total number of shares floating) of about 1.1%. As discussed in an article published March 2, 2012 "4 stocks heavily impacted by short interest", such low interest can possibly cause Apple shares to be volatile to the downside on any unexpected negative development. However, as such, downward volatility could be a function of lack of short sellers covering their short position; it tends to be a short term phenomenon unless there is deep fundamental change for Apple.
On March 5, 2012, there was no deep fundamental change for Apple. The overall market had faced headwinds due to a recent drop in projected Chinese growth rate, as well as an increase in the February price index of the Institute for Supply Management (ISM) Non-Manufacturing Business Survey, which increased by 4.9% to 68.4 percent. However, such an index is a diffusion index; hence, its increase is not reflective of how much prices have increased, but rather, what percentage of respondents believe that prices have increased.
More importantly, despite the increase in its price index, the NMI overall index came in at 57.3%, recording an increase of 0.5% from January, with key sub-components showing healthy gains, such as business activity (+3.1%), new orders (+1.8%) and backlog of orders (+3.5%). Although its employment component showed a drop of 1.7%, such a component is not highly correlated in the short term to the U.S. unemployment rate.
In addition, it was reported by the Commerce Department that U.S. factory orders for the month of January dropped by 1%. However, such an indicator is for the month of January; hence, looking two months back was also affected by expiring tax credits.
3- iPad 3 launch
A new product rumored to be the iPad 3 is expected to be launched on Wednesday March 7, 2012. When the March 7 event was first announced, Apple shares appreciated noticeably. In a possible "buy the rumor, sell the fact" scenario, some investors may have chosen to book some profits on Apple shares ahead of March 7 in case the "sell the fact" materializes following the event.
There was a large increase in sell orders at around 11:15 AM on 3/5/2012, and it is possible that some investor(s) or fund(s) may have dumped over 1 million Apple shares. If that did indeed occur it could be as a hedge against a possible pullback on March 7, 2012. At the same time, it could be technically driven orders, and possibly system generated, as the 50 period moving average (with each period being 15 minutes, captured over 10 days) was breached. In either case, such a factor will most likely prove to be a short term factor.
Apple Intraday Chart 3/5/2012



Source: Yahoo Finance
From an intermediate and long term perspective, the iPad 3 launch is actually expected to be quite supportive for Apple shares. In a recent article we published 3/5/2012, "The art of tablet war", it was evident how Apple's dominance of the computer tablet market, with iPad sales expected to exceed 95.5 million units in 2015, is likely to provide further support for Apple shares.
4. Low valuation
Despite Apple shares year-to-date appreciation in excess of 30%, such shares continue to be reasonable priced from a P/E multiple perspective. Apple is expected to generate about $42.72 and $47.49 in net earnings per share respectively during the years ending September 2012 and September 2013. Given Apple's closing price of $533.16 on March 5, that translates to a P/E ratio of 12.5 and 11.2, respectively.
Apple has actually beaten its earning expectations during the past year by as much as 20%. In case Apple beats its future earnings expectations by 10% (half of its previous earnings beat), the above P/E ratios would then prove to be 11.3 and 10.2, respectively. For a company with Apple's track record, such P/E ratios are still quite low.
Although it is possible that Apple may continue to be under pressure in the short run, it is highly likely that Apple will once again bounce and reach for new highs. It is possible that current jitters are also caused by a recalibration of portfolios in anticipation of possible higher interest rates. However, although such market adjustment has historical precedence, it typically has a lasting effect when valuations have become excessive from a P/E ratio perspective. In the case of Apple, as discussed in the previous paragraph, Apple's current valuation is not excessive.
According to Bloomberg, "stocks are cheaper than any U.S. peak in 23 years ". In the case of Apple, we believe that it is possible that Apple shares are even substantially cheaper than the peak of other technology stocks during past U.S. peaks.
Disclosure: I have no positions in any stocks mentioned, but may initiate a long position in AAPL over the next 72 hours.