Although it makes up less than 10% of my overall portfolio, the speculative portion of my asset allocation always is the most interesting. I mean what investor doesn't dream about finding an undiscovered gem that will double or triple in short order? I recently came across this underfollowed stock with very low valuations and who analysts predict will double based on their consensus price targets.
7 reasons TeleCommunication Systems (NASDAQ:TSYS) belongs in the speculative part of your portfolio at $2.50 a share:
The median price target for the six analysts that cover TSYS is $5 a share, an almost 100% return if bought at current prices.
The company has had 13 years of record revenues and its backlog grew 40% YOY on last earnings report. It is selling at less than 6 times forward earnings.
Although net income went down substantially from FY2008 to FY2011, operating cash flow actually increased significantly over the same time span.
The stock is selling for 59% of book value and under 3 time operating cash flow.
Investors seem to be mispricing the company's growth prospects. It has a very low five year projected PEG (.39) and is selling for just 35% of annual revenues.
The stock is selling at the very bottom of its five year valuation range based on P/S, P/CF and P/B.
The stock has long term technical support in the $2 to $3 price range. It also sold north of $10 just two years ago (See Chart).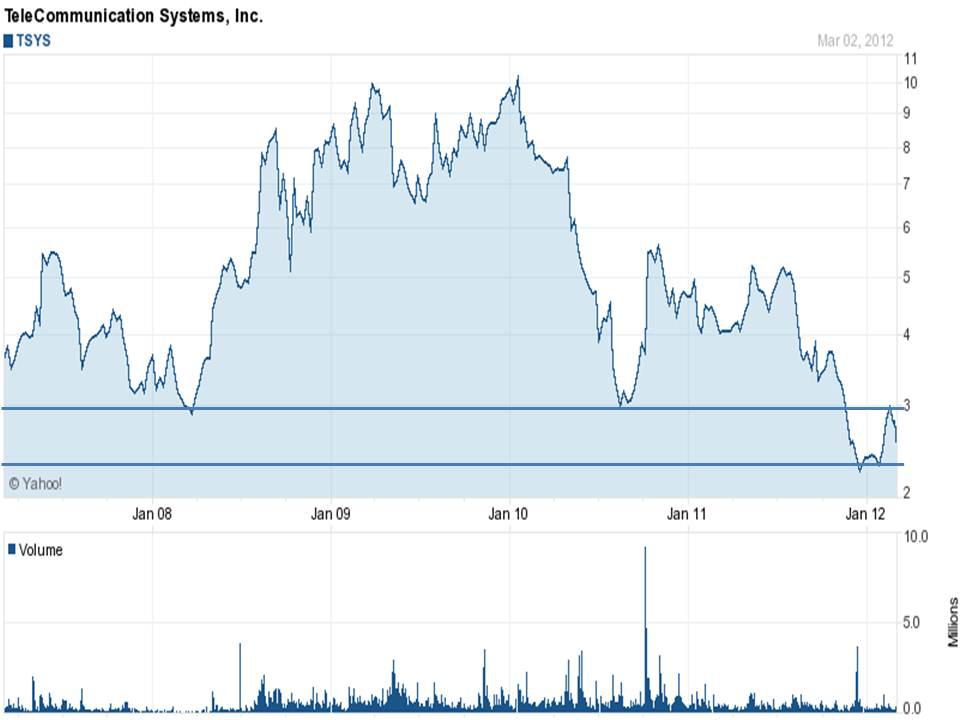 Click to enlarge
(Click to enlarge)
Disclosure: I am long TSYS.