The other day the Chinese government released a downwardly revised GDP estimate for 2012 of +7.5% (from 8.0%). This will mean there will be fewer buyers of agricultural products. Plus, the buyers there are will buy less. Gavin Ju, a researcher at CRU International Ltd., thinks potash imports by China, the largest user worldwide, may decline for the first time in three years in 2012. With a slowing economy and high inventory (expected to be 4.5 million tons by the end of 2012), Ju expects Chinese imports of potash to fall to 6 million tons in 2012 from 6.5 million in 2011.
Prices of fruits and vegetables have been falling since September of 2011. Half of China's potash is used to produce these. With still falling fruit and vegetable prices, farmers are not willing to spend more money on potash to increase productivity. On top of using less potash, China is expected to produce 1.3 million tons of potassium sulphate this year versus 840,000 tons in 2011. That extra potash will add to the inventories total. Expectations for demand from India and Brazil are also lower this year, primarily due to expectations of slowing economies.
For instance, Brazil's GDP growth for 2011 was just 2.7% versus a growth rate of +7.5% for 2010 (the Brazilian IBGE said today). India has been slowing along with China. All of these countries are expected to use less potash in 2012. India is expected to follow China by using approximately 10% less potash. It is not clear that China's GDP will accelerate upward again in another year or two. In China's case this could be a longer term down trend. We will have to wait to see more clearly about this. However, experts expect further increases in internally produced potash. Any fertilizer investor should monitor that situation closely. It fits nicely into the Chinese government's overall strategic plan of doing away with any substantial imports over time.
In light of the above, Potash Corp. (NYSE:POT) of Saskatchewan has stated that it will extend its cuts in output because buyers are delaying purchases due concerns about the global and the local economic situations. Hence both the prices paid by China and other major buyers and the volumes bought will likely be lower in 2012. This doesn't bode well for the fertilizer companies. Add to this the worsening economic situation in the EU, and you have the a recipe for a significant contraction in the fertilizer business.
Many are wondering if the tenuous situation in the EU will blow up. The powers that be may, if they are lucky, be able to prevent this. However, few deny that the EU is going into a significant recession. This will be a drag on the EU economies. Plus, it will hurt other world economies. Even China and the US are not immune. The ECRI has already predicted a recession for the US this year.
Although many would argue with the last, few would argue with prediction for a significant slow down in the US later this year as the EU recession hits harder. With this in mind, it is easy to see that the situation in the fertilizer markets is likely to get worse instead of better. Don't forget that fertilizer prices plummeted in the last recession. Planning on at least a moderate slackening of prices and volumes seems a good idea.
Potash Corp is probably the market leader of the North American potash companies. It is has the biggest market cap ($38.70B), and it produces the most potash. As such it has to be the first to cut production. Its profits will go down with lower potash sales volumes and lower prices. It currently trades at a quite reasonable P/E of 12.84 and an FPE of 11.58. It has EPS growth near the 5% level forecast for both 2012 and 2013. However, EPS estimates have been moving consistently downward for at least the last three months for both 2012 and 2013 (from $4.41/share to $ 3.68/share and from $4.61/share to $3.89/share, respectively). This trend is still firmly in place. There do not seem to be any events on the near horizon likely to reverse the trend. At the current rate of the EPS downtrend, the growth percentages for each of these two years will be negative soon. With this in mind it is time to lighten up on Potash Corp, if not to sell it outright.
The five year chart lends some technical direction to this trade.
click to enlarge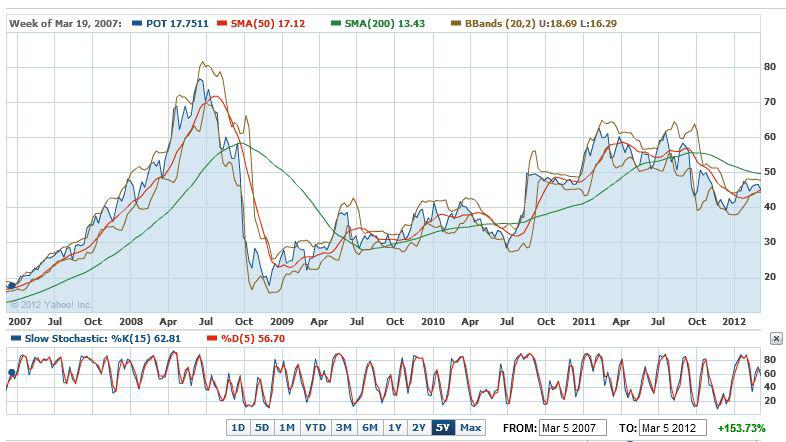 Click to enlarge
The slow stochastic sub chart shows that POT is nearer over bought levels than over sold levels. The main chart shows a consistent trend upward until early 2011 (from Oct. 2008). Since that time POT could be said to be in a weak down trend. Its 50-day SMA is significantly below its 200-day SMA. This is after the overall market has rallied in recent months over 20%. It looks like POT can expect more decay in the near term. The downtrend of the last year plus seems firmly in place.
Averaging in for a trade such as this is usually a good idea. However, you may want to exit the trade more quickly at the end to ensure that you make profits. Other North American fertilizer companies that could be hurt significantly by this down turn in the fertilizer business are: Mosaic (NYSE:MOS), Agrium (NYSE:AGU), CF Industries (NYSE:CF), Intrepid Potash (NYSE:IPI), and others. I will leave it to you to make up your mind about these.
Good Luck Trading.
Disclosure: I have no positions in any stocks mentioned, but may initiate a short position in POT, MOS, AGU, IPI, CF over the next 72 hours.