Bridgepoint Education (NYSE:BPI) reported solid earnings this morning. Their revenues beat Wall St. expectations of $217mm, coming in at $221.3mm. Their fully diluted EPS beat consensus of $.38, coming in at $.41.
They offered interesting guidance for the full year 2012. Wall St. expected BPI to garner $966.8mm in revenues in 2012. The company guided to between $1,010mm and $1,030mm for 2012 revenues. In other words, BPI expects 9.3% revenue growth at the midpoint, vs. the street which was expecting 4.1% growth for 2012 prior to the release of earnings. If one looks at the student population (the true lifeblood of the company) Wall St. was expecting about 1% maximum growth in total enrollment given that BPI instituted a 3% tuition price increase.
On the other hand, BPI guided to student enrollment of 94,500 to 96,200 (midpoint 95,350) relative to ending enrollment at 12/31/11 of 86,642. This represents about 10% growth in student enrollment. (Note how conservative BPI was in their revenue estimate given they expect 10% enrollment growth and have instituted a 3% price increase. Normally that would lead to a midpoint of revenue guidance of at least 13%, not 9.3%.) All in all, the top line appears to be extremely healthy for BPI.
Earnings guidance was not as rosy as the revenue guidance. Management guided EPS for 2012 to $2.45 to $2.55 vs. $2.84 consensus ($2.80 consensus on Bloomberg). This is obviously down from the $3.02 they earned in 2011. The company stated that:
Looking forward to 2012, the Company will continue to invest in the following areas:

Smaller class sizes, increased monitoring of faculty and student interactions, and assisting students who may need help earlier in their programs.

The selection of potential students with characteristics that are highly correlated with achieving success in our institutions by using our data analytics tools in the new student inquiry process.

Data analytics, designed to foster continued improvements in the student experience, persistence, and graduation.

Increased branding efforts highlighting our institutions' differentiation based on the use of innovation and technology to provide students with a high quality and affordable education.
So the company is saying that investments are going to impact margins and cause earnings to lag those achieved in 2011. Might we have heard a similar story before?
Let's take a look at Bridgepoint's guidance history in the past. It's ridiculously conservative, which means that in all likelihood, the numbers BPI provided today are low. Performing this exercise will likely show that Bridgepoint's fundamental performance is still on a terrific trajectory.
Here is Bridgepoint's guidance for 2010:
right click to enlarge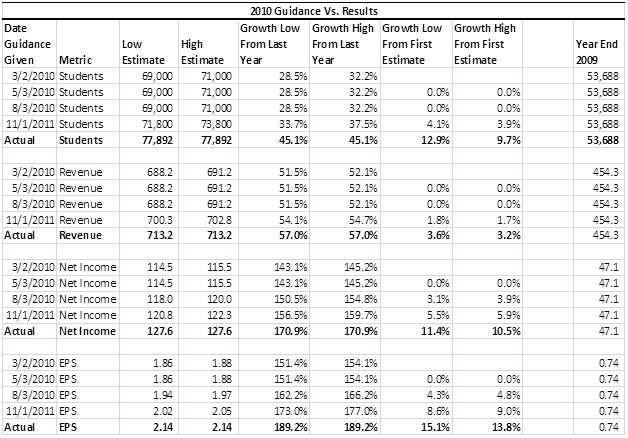 So what this tells us is that Bridgepoint gave guidance 4 times in 2010, for the year 2010 results. They first gave guidance on 3/2/2010. They said they would end the year with between 69,000 and 71,000 students, revenues between $688.2 and $691.2, and EPS of $1,86 to $1.88. What actually happened? For 2010, students came in at 77,892, revenue at $713.2 and EPS at $2.14. So their ending student enrollment guidance on 3/2/10 was about 9.7% to 12.9% too low, their revenue guidance was 3.2% to 3.6% too low, and their EPS guidance was 13.8% to 15.1% too low.
Now, let's look at their guidance performance in 2011: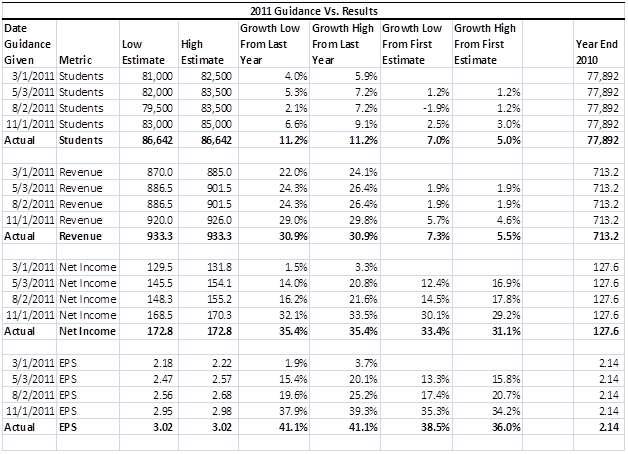 They gave guidance on 3/1/11 and said that their student enrollments would grow 4.0% to 6.0%, their revenues would grow 22% to 24.1%, and their EPS would grow 2.0% to 3.7%. ie, to start 2011, they said their margins would contract!
What happened? Their students grew 11.2%, their revenue grew 30.9% and net margins expanded as their EPS grew 41.1%.
Got that; for 2011, they said their EPS was going to come in at $2.18 to $2.22 for 2011 on 3/1/11. It came in at $3.02. What wasn't supposed to grow much at all, actually grew by 41%. Someone who sold on their 2011 EPS guidance thinking it was really going to be $2.18 to $2.22 would be greatly disappointed. Moreover, only two months later, when Q1 2011 was reported on 5/3/11, BPI increased its EPS guidance and now saw it growing to $2.47 to $2.57. While a huge improvement from the first guidance (13.3% to 15.8%) it was still woefully less than their actual results.
Take this into consideration when thinking about their 2012 EPS guidance. It doesn't include share repurchases, and factors in massive, draconian margin degradation that isn't likely to happen.
So where does this leave us when valuing BPI? Let us assume their EPS guidance is low by 15%. This gets us to an EPS number for 2012 on the midpoint of their guidance of $2.88. This is right above where Wall St. was estimating EPS before they reported earnings this morning. With $7.31 in cash per share on the balance sheet, that means BPI is currently trading ($23.49 price) at 5.6X EPS ex-cash. That's right, a 5.6X P/E for a highly profitable and growing business.
Remember, most of its peers in the education space trade near 12X earnings and are no longer growing. The knock on BPI was that it was facing the same fate. BPI has shown that with its offerings and technology leadership, it will be able to continue growing. That should be worth at least a 10X multiple (I actually think more, but will stick with BPI-like conservatism). Adding back their cash gets me to a conservative $36 price target.
As shown above, BPI doesn't really provide guidance. Instead theiy offer worst-case scenario downside estimates. Factor in the sand-bagged guidance and buy BPI.
Disclosure: I am long BPI.