Shares of Blackberry-maker Research in Motion (RIMM) hit a new 2012-low on Monday, as more analysts took down price targets and investors continued to exit the name. Northern Securities analyst Sameet Kanade cut his rating from speculative buy to sell, and reduced his price target from $24 to $7. RIMM's fiscal quarter just ended last week, and some fear the company may warn before it reports earnings later this month.
Remember, this is a company that already has taken down expectations about half a dozen times in the past year. As you can see from the following chart, RIMM's early 2012 gains have been completely wiped away.
Click to enlarge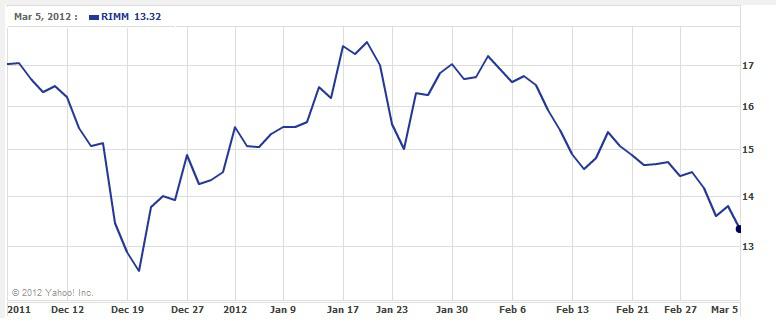 So with Research in Motion heading towards new lows, it seems that the next few months are a good time for the company to make a final stand. Another bad earnings report or reduced guidance is going to put more pressure on the company to sell itself, and we know that the company has already turned down potential offers. Now, I won't be too quick to react if RIMM disappoints again this quarter, but it will be troubling. The company just hired a new CEO, Thorsten Heins, so let's at least give him a full quarter before we ask for his head. But let me be clear, if RIMM doesn't show any improvement in the next few months, major changes will be needed.
We all know RIMM's competitive place in the marketplace is in question. Apple (NASDAQ:AAPL) sold more iPads per week in the fourth quarter than RIMM sold in its first three entire quarters. Yes, you read that right. Also, we are now hearing of individual companies starting to switch employees from Blackberry's to iPhones. We also hear that the Air Force could buy tens of thousands of iPads to replace flight manuals.
Apple's reach is getting larger and larger. RIMM's is getting smaller and smaller. Even the addition of Sprint (NYSE:S) as an iPhone carrier hurts RIMM. As a Sprint cell phone subscriber, I might upgrade to an iPhone when my contract comes up for renewal later this year. I won't be buying a Blackberry, and I sure haven't purchased one in the seven or so years I've been a Sprint subscriber.
I included a table in my last RIMM article that showed how much estimates have been coming down. I've updated the table and it is below. It shows how much analysts have taken down their estimates on the company for the just ended fiscal year, as well as the one ending in February 2013. The first table is the just-ended fiscal year.
| | | |
| --- | --- | --- |
| End Feb. 2012 | Revs. Growth | EPS Growth |
| September 19th | 2.0% | 20% |
| December 14th | -2.5% | -30% |
| December 15th | -3.7% to -5.2% | -32% to -34% |
| February 10th | -5.2% | -35% |
| March 5th | -5.3% | -35% |
Revenue estimates have ticked down a little more since my last update. Earnings per share estimates have actually increased a few pennies, but are still expected to be down about 35% over the prior year. Quite a drop considering revenues are only decreasing by 5% or so. The next table is for the current fiscal year.
| | | |
| --- | --- | --- |
| End Feb. 2013 | Revs. Growth | EPS Growth |
| September 19th | 8.0% | 2.0% |
| December 15th* | -1.8% | -7.7% |
| February 10th** | -5.4% | -29.3% |
| March 5th** | -5.8% | -30.6% |
*
EPS growth number based on midpoint of guidance given for Q4 to give full year earnings per share estimate.
**
EPS growth number based on expectations at that time for just ended fiscal year, which was $4.13 on 2/10 and now is $4.15 a share.
Well yes, Research in Motion is still profitable, but declining revenues and profits can't continue forever. You really can't buy this name for growth, because right now, there isn't any!
So what is RIMM to do? Well, if it doesn't appear that it can turn it around this year, I really think the management must sell the company, and soon. Research in Motion rallied to more than $17 earlier this year when rumors were starting out about potential acquirers such as Amazon (NASDAQ:AMZN), Apple, maybe even Microsoft (NASDAQ:MSFT), or others.
However, I personally don't think Apple would be a serious acquirer, because Apple doesn't need RIMM and doesn't make big acquisitions. Microsoft does make some big purchases from time to time, but I think it are more concerned right now about Windows 8, Xbox, and Bing. I don't think it needs to acquire a phone maker.
Amazon is an interesting case, because Amazon could benefit a bit on margins from a RIMM acquisition. If Amazon buys RIMM, it could combine some technologies from Kindle and Playbook to create a decent tablet, that might even eventually attempt to challenge the iPad. Given Amazon's issues right now relating to growth prospects not being what they seem, an acquisition would help on that front.
So where does that leave Research in Motion? Well, I think it is still a good short candidate, and there is potential we could see single digits if we get another terrible earnings report. Now when I say that, I am primarily talking about forward guidance. RIMM could easily beat this quarter's expectations, because they are so low. But beating by a few pennies won't mean much if the company takes down next year's guidance by a few dimes or quarters.
RIMM got a new CEO, and he needs to make a quick splash. I feel that RIMM could have been acquired for $20-$25 a few months ago, but if this stock heads into the single digits, investors will be lucky if they get $12 to $15.
Disclosure: I have no positions in any stocks mentioned, but may initiate a long position in AAPL over the next 72 hours.