Johnson & Johnson (NYSE:JNJ) is one of the world's leading drug manufacturers and researchers while providing medical supplies both for home use and to hospitals around the world. Its extensive portfolio of home brands includes names such as Tylenol, Sudafed, Neosporin, Band-Aid, Listerine, Neutrogena, Zyrtec and Pepcid AC.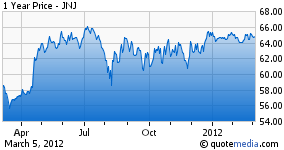 In addition to Johnson and Johnson's home brands, the company has numerous prescription medications that treat conditions ranging from bacterial infections to immune disorders such as HIV. I believe that it maintains a wide economic moat and the medications it is currently researching give the company the strong potential for growth this year.
Johnson and Johnson has a strong foothold in the home brand segment with its over the counter brands that treat common colds, headaches, arthritis and flu symptoms. Brands such as Band-Aid and Neosporin are among its line of popular first aid products that gives it an edge against competitors. It also offers baby care products and personal hygiene brands that give the company a moat and allow it to succeed regardless of how it fares in the competitive pharmaceutical market, where it is due to see minor declines in the coming years.
Some of Johnson and Johnson's leading prescription medications include Levaquin, Prezista, Concerta, Remicade and Risperdal Consta. Pharmaceutical sales account for around 36% of Johnson and Johnson's revenue each year, but it is currently facing several upcoming patent losses that could reduce this share to about 25-27% over the next decade. Johnson and Johnson is one of the leading providers of medical equipment and its equipment segment is expected to pick up to replace the share that is loss through pharmaceuticals in coming years.
While Johnson and Johnson stands to lose due to the expiration of several patents, it is always researching new medicines in order to keep patented drugs on the market. In December, it announced its ambitions to join Pharmacyclics (NASDAQ:PCYC) in the joint development of a new anti-cancer compound known as PCI-32765. A resulting medicine could be used to treat patients with lymphocytic leukemia and mantle cell lymphoma and could lead to more innovative cancer treatments in the future.
In February of 2012, Johnson and Johnson received a priority review by the FDA for its latest oral anticoagulant known as Xarelto. The medicine is being developed primarily as a treatment for Acute Coronary Syndrome as a means of breaking up blood clots that cut off circulation to coronary arteries. However, the drug will have other applications for patients with conditions that require medication to thin their blood or break up clots in other areas of the body. Rather than the standard ten month review, the FDA will be completing its review of Xarelto in as little as six months.
Of competitors such as Abbot Laboratories (NYSE:ABT) and Novartis AG (NYSE:NVS), Johnson and Johnson maintains the highest operating margin at just under 25%. Novartis follows behind at a margin of 21.5% which isn't far off of Abbot Laboratories' margin of 20.9%. Johnson and Johnson has a buffer against its pharmaceutical competitors through its medical supply business and its portfolio of home brands that allow it to compete across a broad range of medical markets.
Johnson and Johnson reported gross revenue of over $65 billion for the year of 2011, up from $61.5 billion in 2010 and $61.8 billion in 2009. It possesses total assets of over $113.6 billion and it has grown those assets over time. In 2009, it had total assets of $94.6 billion and has gained almost $20 billion in assets in only three years. Because of its growing assets and $32 billion in cash on hand, I believe that Johnson and Johnson will have no difficulty in the coming years of maintaining its dividend, which currently pays out at a ratio of 0.64 for $0.57 per share each quarter to provide a 3.5% yield.
In my opinion, Johnson and Johnson is a secure long term stock that you won't lose on and it provides a decent dividend that can be reinvested each quarter to strengthen your position in the stock. Over the last three years, Johnson and Johnson stock grew from $48 per share to $65 and I believe that it is capable of sustaining that growth over the next five years, if not longer. I don't believe there is much to lose here and while this is not an explosive stock by any means, it will provide you with a solid and dependable return on investment as part of a long term investment plan.
Disclosure: I have no positions in any stocks mentioned, and no plans to initiate any positions within the next 72 hours.