Were you ever deterred from buying a stock because it had a huge short interest?
Did you ever short a stock primarily because the short interest was so high?
If you answered yes to either question, than trust me you are not alone. Betting against the herd is not an easy thing to do; psychologically we find comfort in numbers and confirmation that many others see the flaws or opportunities we see.
Some of us are also guilty of not doing our home work and simply following the herd; rationalizing it with excuses such as "so many people can't be wrong" or "follow the trend."
Unfortunately that type of investing is not as simple and many who use herd mentality end up suffering for not doing their analysis.
A prime and recent example of when the shorts got burned, pretty badly, is the takeover of Quadra FNX Mining Ltd (QADMF.PK), a Canadian based copper producer with assets in Canada and South America.
On December 6, last year KGHM Polska (KGHPF.PK) agreed to purchase Quadra for CAD15 (USD15.16) a share in a transaction worth about CAD3.5 (USD3.54) billion. The purchase price provided a premium of more than 36 percent over the previous close.
The short interest on Quadra as of November 30, 2011, was about 27.4 million shares, representing a whopping 14.2 percent of the roughly 192 million shares outstanding. The large number of positions against the stock placed it in the top 10 stocks with the largest short position on the TSX.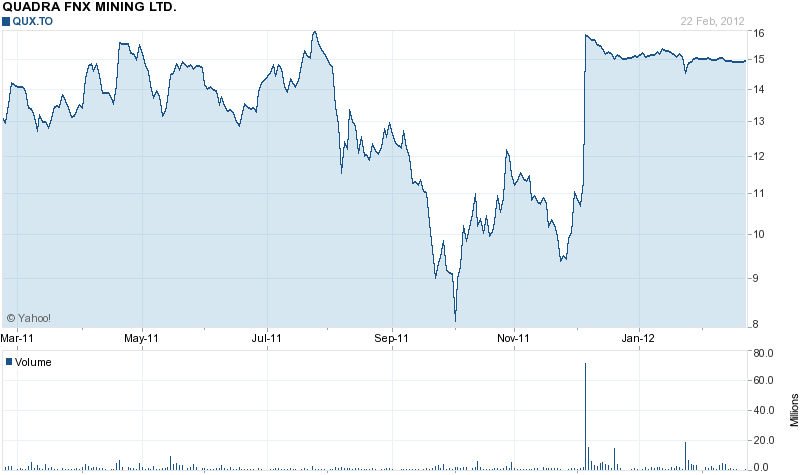 Unfortunately, those who took the miscalculated bet did not do their due diligence. It was well known that KGHM Polska was looking at a Canadian copper miner as a potential acquisition target (see here).
Those who ended up digging deeper would have also noticed that KGHM had a bit more than €3 (USD3.96) billion in cash and short-term investments as of September 30, 2011, which places Quadra and a select few of other mid-tier copper producers as potential targets.
The lesson we can learn from the Quadra FNX acquisition should not be taken lightly. Following the herd for the comfort of big numbers can result in significant losses. Likewise, betting against the herd for the sake of being a contrarian without doing adequate analysis can also result in losses. Doing the work pays off.
To get more about KGHM Polska's move into Canada, through a small exploration company see here.
Disclosure: I have no positions in any stocks mentioned, and no plans to initiate any positions within the next 72 hours.