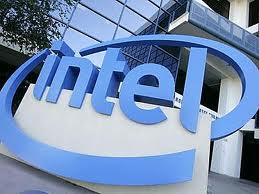 It's hard to imagine a world without computers today, but recently when adjusting my portfolio, I have tried to imagine a world without computers in 5 to 10 to 20 years from now. Remarkably, I have not been able to envision such a world as I continue to project that the demand for quick processing devices will only increase.
But it was in that last statement that I realize where I need to invest - in processors or specifically semiconductor companies. Chips are the wave of the future, and among the many names that I love to discuss such as Qualcomm (NASDAQ:QCOM) and Texas Instruments (NYSE:TXN), there is the old reliable Intel (NASDAQ:INTC) - the firm that I envision rising above the rest.
Investors should also feel encouraged by the fact that increased use of the Internet continues to drive demand for servers, where Intel processors are now the market leader. The company also is ready to launch one of the biggest marketing campaigns that it has endeavored since 2003 - one that will promote "ultrabooks," by Hewlett-Packard (NYSE:HPQ) - which are thin, light and powerful laptops that are not that far from Apple's popular MacBook Air. This is something that the company has always encouraged its PC partners to build, and it appears that they have finally obliged.
The question for Intel is, will this be enough? To the extent that it can fight off continued threats from the aforementioned Texas Instruments, Qualcomm as well as Nvidia (NASDAQ:NVDA) and possibly other names who appear to have advanced footing in cell phone chips technology. This is what investors want to know. As with anything worth pursuing, for investors, patience is going to be required here before the company can show significant strides in its attempt to secure market share in the mobile market. But the market has to be encouraged by recent signs that the company is once again prepared lead as evident by its latest quarter.
Its Recent Quarter
Excluding some one-time charges related to acquisitions, the company earned 68 cents per share, beating the 61-cent estimate of analysts polled by FactSet. Revenue rose 21 percent to $13.9 billion from $11.5 billion. Analysts were expecting $13.7 billion. For the full year, Intel had net income $12.9 billion on $54 billion in revenue. That was up from $11.5 billion on $43.6 billion in revenue in 2010. The company's annual revenue grew 15 percent from 2010 when excluding its acquisition of security software maker McAfee last year. The company says it expects between $12.3 billion and $13.3 billion in first-quarter revenue, straddling the analyst forecast of $12.8 billion.
The company reported 6 percent increase in profits in its last quarter, while analysts had expected the company to fall short of that mark. The remarkable feat is that it did this as hard-drive shortages held back PC were said to have hurt PC manufacturers such as Dell (NASDAQ:DELL) and Hewlett-Packard. The latest results were at the high end of Intel's mid-quarter forecast range where its Q4 net income arrived at $3.36 billion, or 64 cents per share, up from $3.18 billion, or 56 cents per share, a year earlier.
Growth in the core PC business fell 4% sequentially, but as it reported, it was tough to not expect that the Thailand flood would have some adverse effects on its performance. But overall, its report was broadly better than what Wall Street had been expecting. More noteworthy, was the fact that the company saw an increase in its software and services business - to the tune of 7 percent growth in revenue. This has to be a welcome signal for investors that, although competitive threats abound, the company has other streams of revenue to offset any share losses in its chip business. As good as the numbers were, I did notice that revenue for the quarter was slightly down, 2 percent sequentially, but significantly better than the year ago period.
Summary
As much as Wall Street seems to be discounting Intel, it is hard for me to do the same. With a P/E of 11 and trading at $26 per share, the stock is relatively cheap and value investors should seize an opportunity at current levels. Although several threats remain, it is clear that the company is not yet ready to give up its reign as the top chip on the market. For this reason, I have set a $35 price target and feel that the company should be able to attain that mark by the end of this year.