Over the past year, Supervalu (NYSE:SVU) has been attempting to turn itself around through cutting costs, getting rid of baggage from its acquisition of Albertson's, and paying down debt. In the last quarter, ending January 11th, the company reported a $750 million loss, but the company pointed to this being a result of goodwill accounting charges.
At the same time, Craig Herkert, SVU CEO, stated optimism about the company's efforts to pay down debt and restructure the business to bring profit to investors. Currently, SVU is near all-time lows in the midst of the company reporting efforts to become leaner by cutting 800 office jobs. For SVU, three things could happen that would prop the stock up quickly due to its weakness in the current market. If any of these occur, which is neither unlikely or a definite, SVU would increase in value dramatically.
A quarter of strong earnings:
Through the efforts of Herkert and his team, SVU has a shot at turning the ailing retailer around if they are able to control debt, cut costs from the system, and drive incremental sales at the company's successful brands, like Save-A-Lot. Though last quarter's earnings were not a bright stop in the company's history, all SVU needs is to illustrate that it can turn the tides and take a step closer to profit instead of bankruptcy, and the stock will increase dramatically. In the same way that the company currently has negative momentum and rising short-sellers, the stock would gain positive ground if positive results are delivered. In the company's past earnings call, Herkert states:
Supervalu continued to execute on its business transformation this quarter and remains on plan with its 8 Plays to Win strategy… Even with the ongoing difficult economic environment and pressured consumer, we continued to make progress against our plan, allowing us to invest in price to deliver everyday value and hyper local choices that meet the needs of our customers in the diverse neighborhoods we serve.
If SVU delivers upon these expectations in the fourth quarter, expect the stock price to increase immediately.
A buyout:
For companies like SVU that are going through transformations and attempting retail turnarounds, a buyout is never out of the question. In the grocery business, there are several key players that dominate the market, like Kroger (NYSE:KR) and Safeway (NYSE:SWY), that would see value in parts of SVU business. Even if the buyout were of a manufacturing plant or a banner the company operates, it would be a way for SVU to focus its efforts and pay off debt. With the mere rumors of a buyout, SVU could see its stock price increase dramatically.
Short-Sellers to Cover:
This third reason for SVU potential to climb is contingent upon the first two. As of February 15th, SVU had 31.5% short interest on its stock. This is extremely high and points to an expectation that the company will ultimately decrease in value further. This sentiment is rooted within investors' doubt about the company's plans to return to profitability. If SVU delivers a strong Q4, these short investors will need to cover, and the stock will rise significantly. For this reason, any positive news out of SVU has the potential to cause the stock to soar due to short-sellers covering their positions.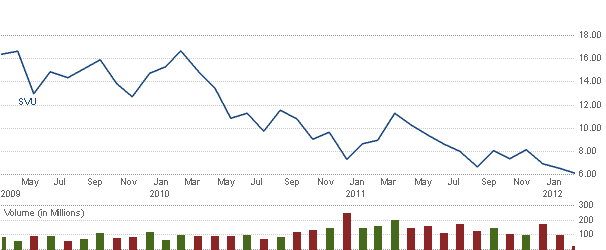 (NASDAQ:CNBC)
Conclusion: Many investors doubt that Herkert will be able to turn around the ailing retailer in the face of its current financial position. SVU is not as weak as many once thought, and this is due to the company's goodwill account from its acquisition of Albertson's. What is more important than the artificially low earnings is the company's $1.03 billion in operating cash flow that can allow the company to continue to pay down debt and take inefficiencies out their system. For the aforementioned three reasons, SVU has the potential to spike and prove short-sellers wrong.
Disclosure: I have no positions in any stocks mentioned, and no plans to initiate any positions within the next 72 hours.