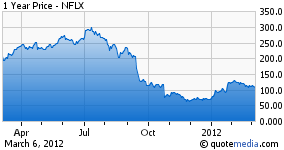 On Monday, I praised brokerage firm Stifel for its somewhat surprisingly bullish take on Pandora (NYSE:P) ahead of earnings. A day later, the house falls in line as master of the obvious when it notes, courtesy of my Briefing.com feed, that "FY12 will be another eventful and probably frustrating year for Netflix (NASDAQ:NFLX); It's business model is now broken ..."
You don't say?
Seeking Alpha, April 5, 2011: Netflix's Business Model Isn't Sustainable
The Netflix business model broke the second Reed Hastings decided to abandon the high-margin and wildly profitable DVD business for the low-margin, low-profit and, maybe more importantly, low-quality streaming segment. All the price increase and Qwikster still birth did was divert attention away from this endemic conundrum. Those things represent little more than symptoms - wild and misguided reactions - to Hastings' core problem.
You cannot ramp up streaming without a cash cow. That's why competition ranging from Amazon.com (NASDAQ:AMZN) to Google (NASDAQ:GOOG) owns the upper hand. For a while, Netflix relied on the "virtuous cycle" of subscriber growth funding content costs. That died a wholly predictable death. The company also plowed DVD profits back into its streaming business. Hastings effectively killed that plan.
But, let's look to the future. Hastings made a comment the other day that - and pardon me for being just incredibly arrogant here - proved just how right I have been about Netflix and the larger space all along. For all intents and purposes, Hastings said the day will come (and using the Netflix concept of time that could be next week) when he would consider pitching his service as part of a bundled cable television package.
Interesting ... particularly when you consider that "cord-cutting" was all the rage, apparently, in 2011. Hastings' reasoning:
... it's getting tougher to convince cable TV to share rights to their shows - "they're just being good capitalists" - so Netflix has been striking more exclusive deals with content creators and paying cable-TV prices to do so.
There's no reason for a member of the old guard - a cable company or content provider - to buy Netflix. In spirit, they already own them. Companies ranging from Comcast (NASDAQ:CMCSA) to Time Warner (NYSE:TWX) dictate the direction of Netflix's business because they, in concert, control both the means of delivery and the content. Why buy a soon-to-be unprofitable business with billions' worth of debt and a broken model, when you can run the show minus any of the day-to-day corporate hassle?
And that's been the deal all along ... ever since I started yelping about this whole thing roughly one year ago. Netflix never had and never will have any power in this relationship. When Hastings knocks on the old guard's door, its members will ultimately make the decision as to whether Netflix should live or die.
How To Play It
People often scoff at my NFLX June $40 put options. For the record, I bought them when NFLX was cratering last year. I sold half of the position for a modest profit and kept the rest, not wanting to miss the pending implosion like I did in 2011. Those contracts might turn profitable again. Just wait and see.
That said, if I was following bearish conviction on NFLX today, I would run with at- or in-the-money puts, leaving out-of-the-money contracts where they belong - in the ultra-speculative pile.
Additional disclosure: I am long NFLX June $40 put options.