Though most analysts have a rosy outlook on gold in 2012, it has not fared well in election years. The first half of 2012 may see a pullback in the GLD ETF and this provides a perfect opportunity to make money on an options play!
GLD - The investment seeks to replicate the performance, net of expenses, of the price of gold bullion. The trust holds gold, and is expected to issue baskets in exchange for deposits of gold, and to distribute gold in connection with redemption of baskets. The gold held by the trust will only be sold on an as-needed basis to pay trust expenses, in the event the trust terminates and liquidates its assets, or as otherwise required by law or regulation. (From Yahoo Finance)
In election years, Gold has ended on a negative note.
So here we are in 2012 - President Obama and his advisors are doing everything they can to communicate to us that the economy is robust, recovering, and jobs are on the way! The Republican establishment on the other hand is interested in portraying the Obama administration as an economic failure. There is no recovery and we are still in the midst of economic weakness because of the current administration - enemies of economic recovery. And so this is the influence on the markets we will deal with this year!
(Click chart to enlarge)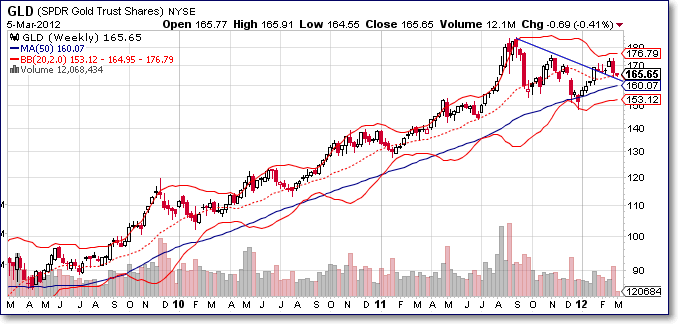 Will this mean a bearish year for gold?
In years where an incumbent president has run for reelection, the markets have beaten "election year" performances on average. And that statistic has no reflection on winning or losing, it has just done better. If the markets continue to do better on economic news and investors believe that the economy is going to continue to grow, there is a good chance that money will flow to the markets on not into gold that has been seen as a safe haven often in troubled times. This would bring gold down in value.
BNP Paribas has this outlook on gold for the first half of 2012:
With high uncertainty likely to remain a major feature of the markets, gold could be vulnerable to further episodes of price correction. This could be the case particularly in the first half of 2012.
TD Securities writes about gold:
The downside moves heading into 2012 have been very sharp owing to a significant reduction in open interest and less liquidity, as both commercial and noncommercial longs and shorts have greatly reduced holdings. If we continue to see robust moves away from risk assets, along with a spike in systemic uncertainty, gold could still move sharply lower. Based on our analysis, it would not be surprising to see gold drop through the $1,500/oz level at some point in the next three months.
Even Barclay Capital says that gold will trade as low as $1400 an ounce before it grows to new highs this year.
With this in mind, we can get a good picture on trading GLD the first half of 2012. And we are looking at the opportunity to trade the GLD using options.
The Options Play
Since we are expecting a down turn the first half of the year and then a possible increase to new highs, we are looking at a Bear Put Spread strategy like this:
Buy a September 2012 '165' put option (priced at $9.45)
Sell a September 2012 '164' put option (priced at $9.05)
Net Debit to start: $0.40
Maximum profit: $0.60
Reasoning behind the Trade
Considering that we have a negative divergence in the daily chart it looks like the current attempt at a turn up is weakening. While the analysts believe a pullback is eminent, the probability of a correction looms strong the first half of 2012.