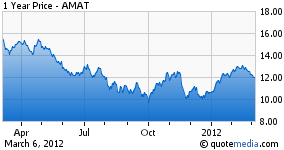 Applied Materials (NASDAQ:AMAT), the manufacturer of semiconductors and displays trades up 1% after hours as it announced a 13% increase in its quarterly dividend. On top of that comes the news of a new $3 billion repurchase program.
The decision "demonstrates the ongoing commitment to return capital to our shareholders" according to CEO and Chairman Splinter.
Back on track
In 2011 Applied Materials reported a record $10.5 billion in revenue. This was roughly twice the $5.0 billion reported in the disaster year of 2009. Margins peaked at 18.3% surpassing the previous record year of 2007.
Management is confident about the future and has decided to raise the quarterly dividend to $0.09, equivalent to a 3% annual dividend yield.
Despite all the operational and financial progress made over the last two years, shares have not recovered in line with the general market.
Shares closed today at $12 which is still some 40% from the highs off 2007.
First quarter 2012
In the first quarter of 2012 revenue came in at $2.19 billion, down 18% from last year's $2.69 billion. Net income fell 77% to $117 million as margins collapsed from 18.8% to a mere 5.3%
New orders came in at $2 billion implying that the order backlog decreased by some $200 million to $2.2 billion, roughly one quarter worth of revenue.
For the second quarter Applied Materials expects a 5-15% sales increase to $2.3-$2.6 billion. This implies a 14% year on year revenue vs. the $2.85 billion in revenue the company reported last year.

Valuation & Investment thesis
Applied Materials has a very strong balance sheet. It holds $4.2 billion in net cash. At today's valuation of $15.5 billion, this values the operating assets at $11.3 billion. The $3 billion repurchase program is enough to retire some 230 million shares at this level in the stock, leaving approximately 1.06 billion shares outstanding by the time the program has ended in 2015.
It is obvious that 2012 will not be as great as 2011 in terms of revenue and profitability. Average revenues over the last years came in at roughly $9 billion. Applying a through-the-cycle net margin of 10% yields roughly $900 million in sustainable net profits, or $0.85 per share. This would value the company at a mere 14 times earnings and a 3% dividend yield.
The shareholder friendly strategy which got reconfirmed today will provide shareholders with returns at some point in the future. At these levels I am a buyer for the long term.
Disclosure: I have no positions in any stocks mentioned, and no plans to initiate any positions within the next 72 hours.